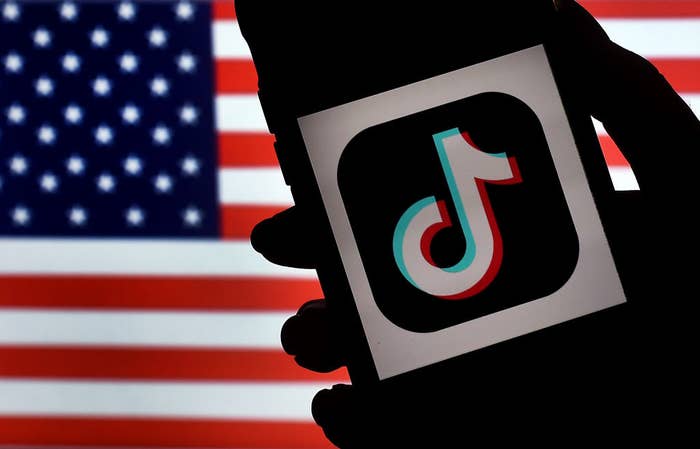 President Donald Trump on Monday signed an executive order declaring the popular video app TikTok a national emergency and saying that it would be effectively banned from the country in 45 days if US operations aren't first sold to an American company.
Under the order, in 45 days, the US would bar anyone "subject to the jurisdiction of the United States" from carrying out transactions with ByteDance, TikTok's Chinese-owned parent company. A connected order also bans in the same timeframe transactions with WeChat, a Chinese social networking app, and Tencent, its parent company.
In both orders, Trump argued the apps "automatically" capture "vast swaths of information from its users" that could be used by the Chinese government against American interests.

TikTok, the order says, "reportedly censors" content the Chinese government finds "sensitive," like protests and treatment of Uighur Muslims. The order adds that TikTok "may also be used for disinformation campaigns that benefit the Chinese Communist Party, such as when TikTok videos spread debunked conspiracy theories about the origins of the 2019 Novel Coronavirus."

Trump himself has spread misinformation on social media regarding the coronavirus and has been repeatedly reprimanded by major social platforms.

In the order addressing WeChat, Trump asserted that "the application captures the personal and proprietary information of Chinese nationals visiting the United States, thereby allowing the Chinese Communist Party a mechanism for keeping tabs on Chinese citizens who may be enjoying the benefits of a free society for the first time in their lives."
It's unclear how exactly the US government could prevent Americans from using TikTok or bar transactions with Tencent, which led to confusion over the company's video game investments.
Tencent has investments in many video game and tech companies, including American video game developers Epic Games, which makes Fortnite, and Riot Games, which makes League of Legends. A White House official later said the order only bans transactions with WeChat and not other Tencent holdings, the Los Angeles Times reported.
The orders cites the International Emergency Economic Powers Act and the National Emergencies Act as giving Trump power for the actions.
In a blog post on Sunday, Microsoft confirmed that it hopes to wrap up talks to buy TikTok before Sept. 15, which would come just before the new executive orders would go into effect.

Trump said Monday that Microsoft — or any other large American company — could buy TikTok as long as the federal government received a "lot of money" from the sale.
"I said a very substantial portion of that price is going to have to come into the Treasury of the United States," Trump told reporters at the White House. "Because we're making it possible for this deal to happen. Right now they don't have any rights unless we give it to them. So if we're going to give them the rights, then it has to come into, it has to come into this country."
Trump's comments came just two days after he first said that he would ban TikTok in the United States, citing national security concerns around ByteDance.
On Friday morning, TikTok issued a strongly worded statement saying that the company was "shocked" by the order, and accused the Trump administration "trying to insert itself into negotiations between private businesses."
A Tencent spokesperson said the company was reviewing the executive order "to get a full understanding."

A ban on TikTok would be unprecedented. On Thursday, Facebook CEO Mark Zuckerberg said a ban on TikTok would set "a really bad long-term precedent" BuzzFeed News exclusively reported on Thursday. "I just think it's a really bad long-term precedent, and that it needs to be handled with the utmost care and gravity whatever the solution is," Zuckerberg said. "I am really worried…it could very well have long-term consequences in other countries around the world."
TikTok is the first Chinese app to have caught on in any significant way outside its home country. Over the last few years, the app, which lets people create and share dance videos and fun viral clips, has become a hit, particularly with teens and young millennials. More than 100 million people in the United States use TikTok, the company said.
But TikTok's Chinese connections have drawn scrutiny from around the world. Last year, the Committee on Foreign Investment in the United States opened a national security review into ByteDance. In July, Secretary of State Mike Pompeo said Americans should only download TikTok if "you want your private information in the hands of the Chinese Communist Party," in an interview on Fox News.
This is a developing story. Check back for updates and follow BuzzFeed News on Twitter.