This Is Obama's Eulogy That Brought Down The House
Addressing race relations at Sen. Clementa Pinckney's memorial service Friday, Obama said we must guard against "the sudden impulse to call Johnny back for a job interview, but not Jamal."
President Obama on Friday delivered a powerful eulogy for Sen. Clementa Pinckney, bringing the crowd gathered at Emanuel AME to its feet multiple times with his comments about race relations in the U.S.
From launching into "Amazing Grace," to calling out the impulse of some to "call Johnny back for a job interview, but not Jamal," here are the president's comments that elicited the strongest reactions.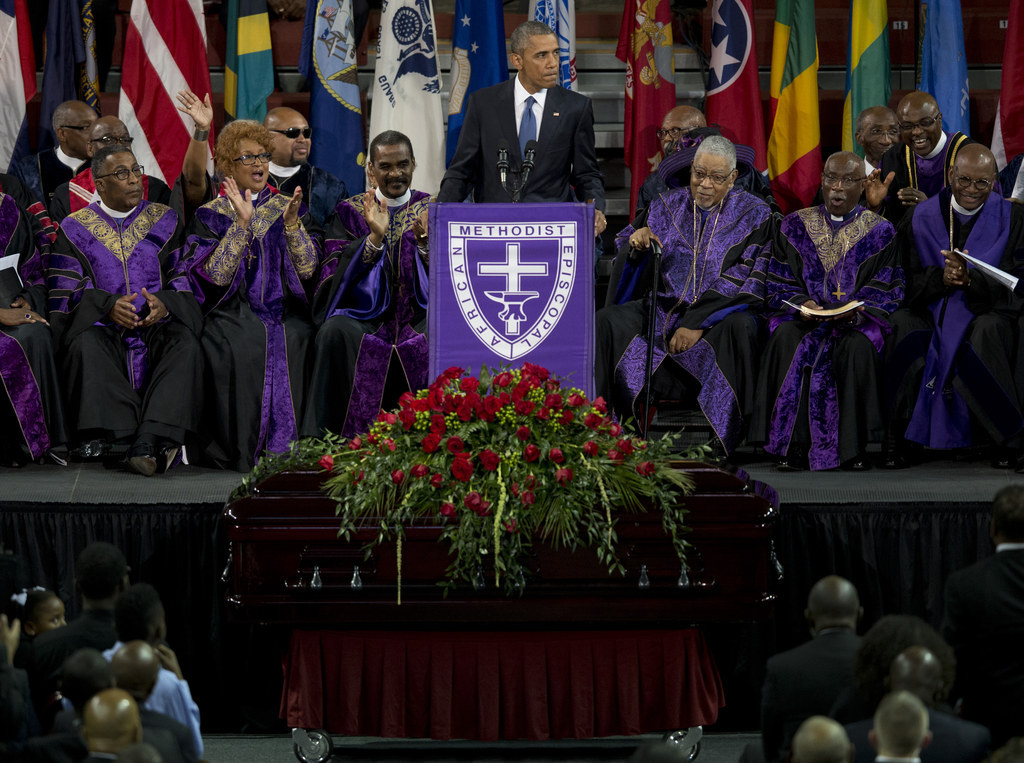 "Maybe we now realize the way racial bias can infect us, even when we don't realize it. So that we're guarding against not just racial slurs, but we're guarding against the sudden impulse to call Johnny back for a job interview, but not Jamal."
Obama made the comment while noting how the shooting at Emanuel AME Church last week in Charleston, in which Pinckney and eight others were shot dead by 21-year-old white supremacist Dylann Roof, may serve to open our eyes to how "past injustices continued to shape the present."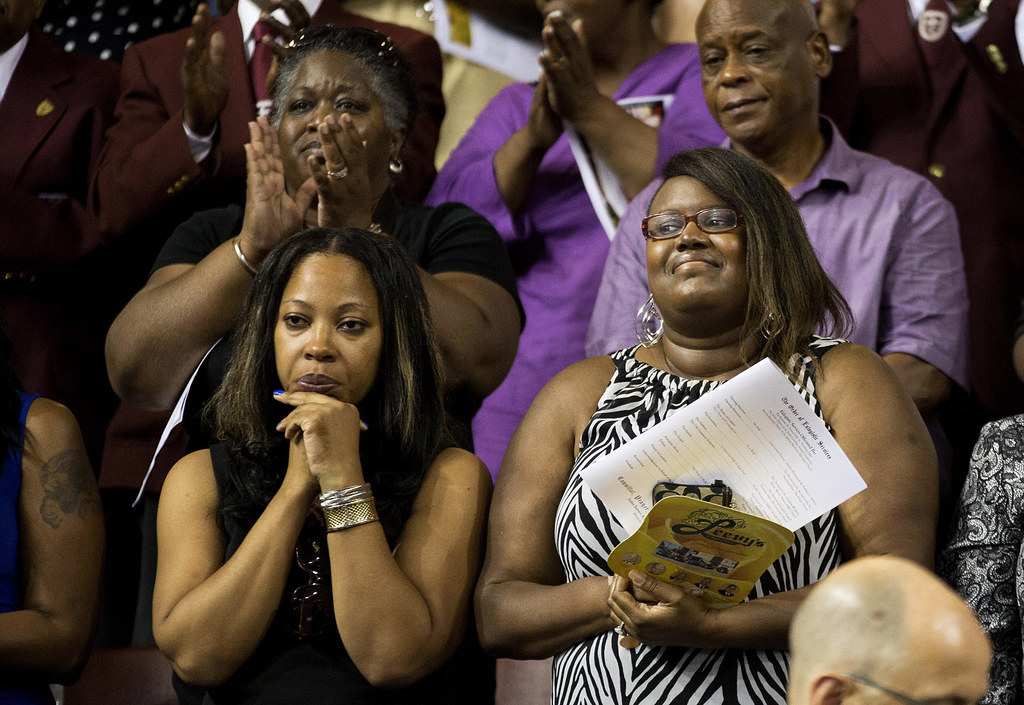 "For too long we were blind to the pain that the Confederate flag stirred in too many of our citizens."
Obama brought many in the audience to their feet after addressing the Confederate flag issue, which has come to the fore in the days since the Charleston church massacre. The accused killer, Dylann Roof, posed with the flag in several photographs.
"It's true a flag did not cause these murders, but as people from all walks of life, Republicans and Democrats, now acknowledge…the flag has always represented more than just ancestral pride," he said to a standing ovation. "For many, black and white, that flag was a reminder of systemic oppression, and racial subjugation. We see that now."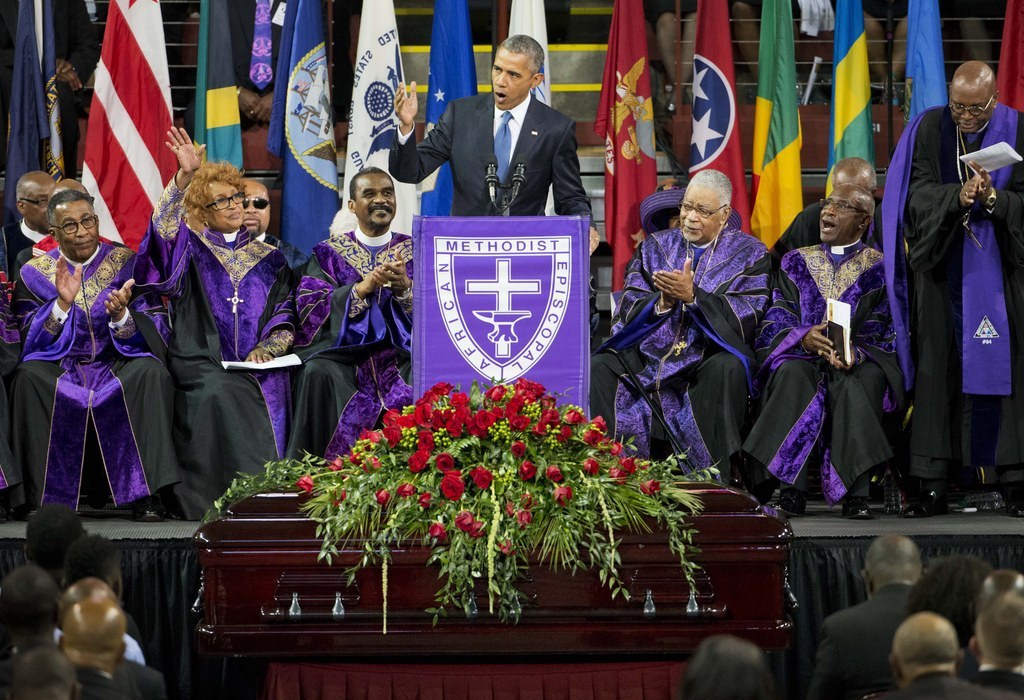 "Removing the flag from this state's capitol would not be an act of political correctness, it would not be an insult to the valor of Confederate soldiers."
Referring to political movement to remove the Confederate flag from the campus of South Carolina's statehouse, Obama said that instead, "it would simply be an acknowledgment that the cause for which they fought, the cause of slavery, was wrong."
The audience responded with yet another standing ovation.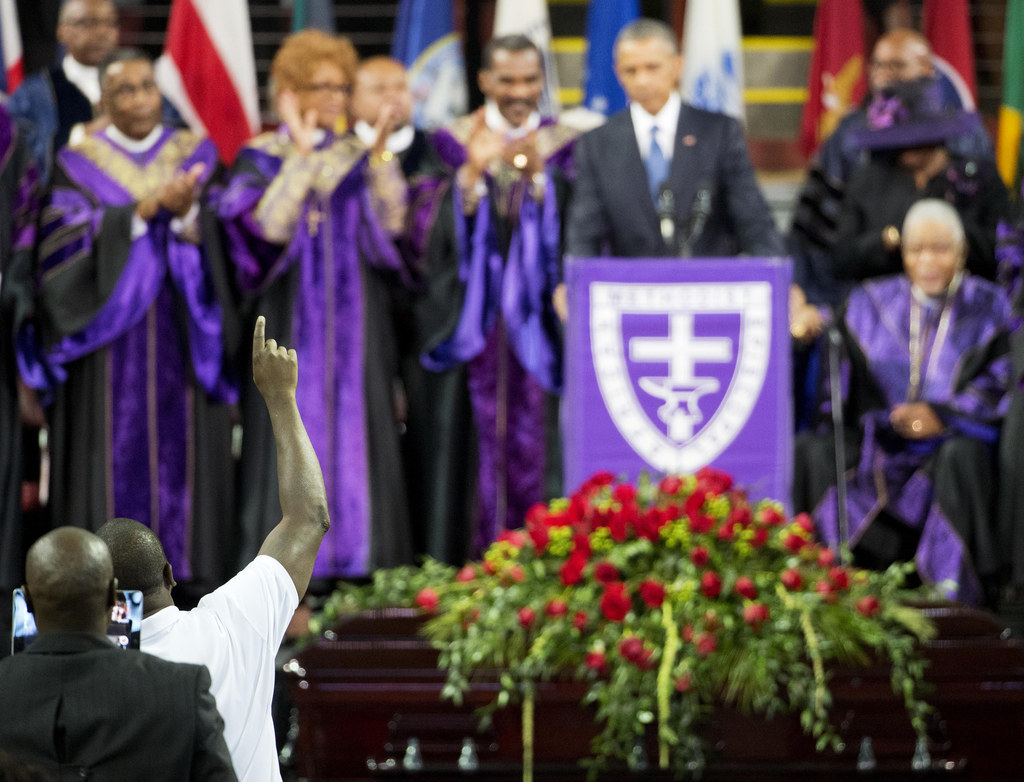 "For too long, we've been blind to the unique mayhem that gun violence inflicts on this nation."
Obama noted that dozens die every day in the U.S. from gun violence, a reality that must also change, he said.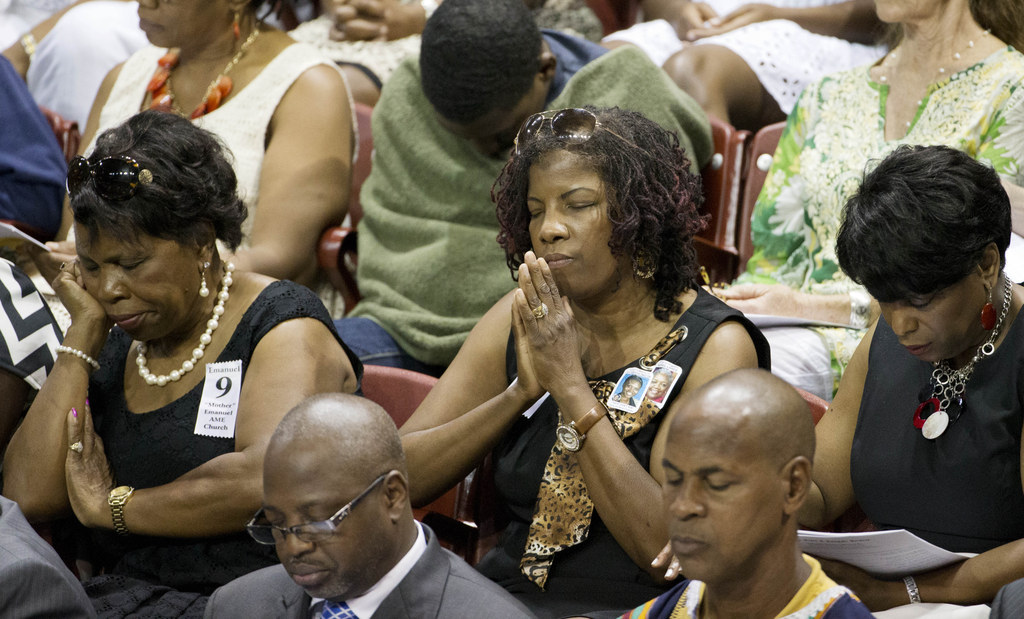 "History can't be a sword to justify injustice, or a shield against progress, but must be a manual for how to avoid repeating the mistakes of the past."
Obama said we must all learn to appreciate each other's history, but know that there are things rooted in the past that have no place in a more unified future.
"Amazing grace, how sweet the sound...."
Toward the end of his eulogy, Obama launched into the hymn "Amazing Grace," and the audience slowly joined him in song.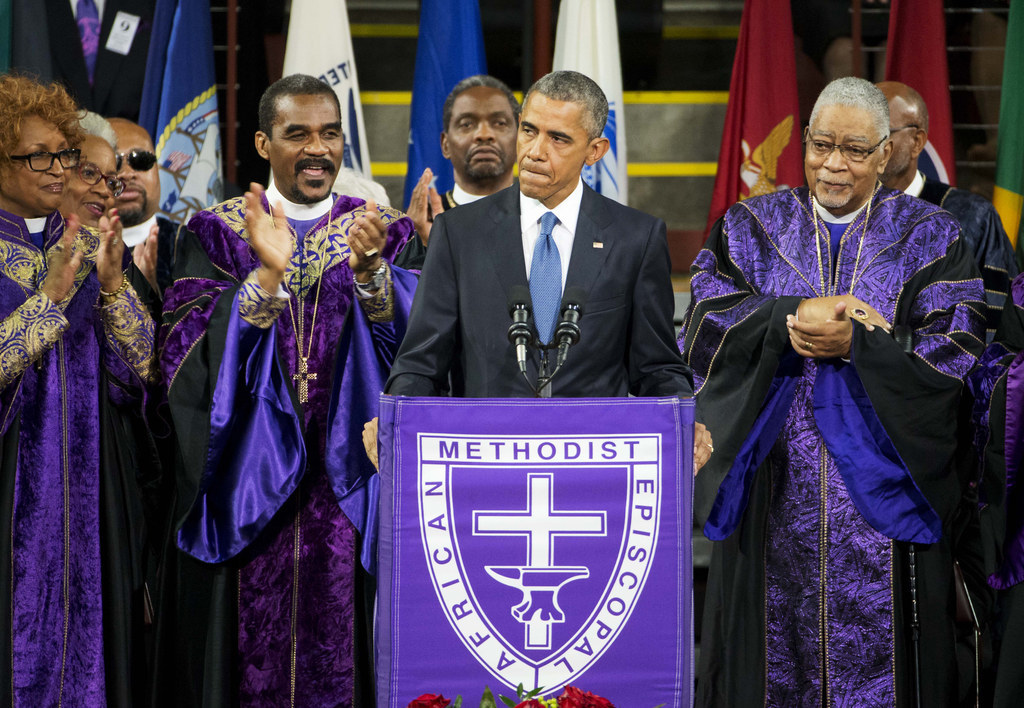 "May grace now lead them home. May god continue to shed his grace, on the United States of America."
Obama ended his eulogy by telling the audience how the Charleston killings served as a reminder of the power of grace, something that had been extended even to the alleged shooter.
"We don't earn grace — we're all sinners, we don't deserve it," he said. "But god gives it to us anyway, and we choose how to receive it. It's our decision how to honor it."