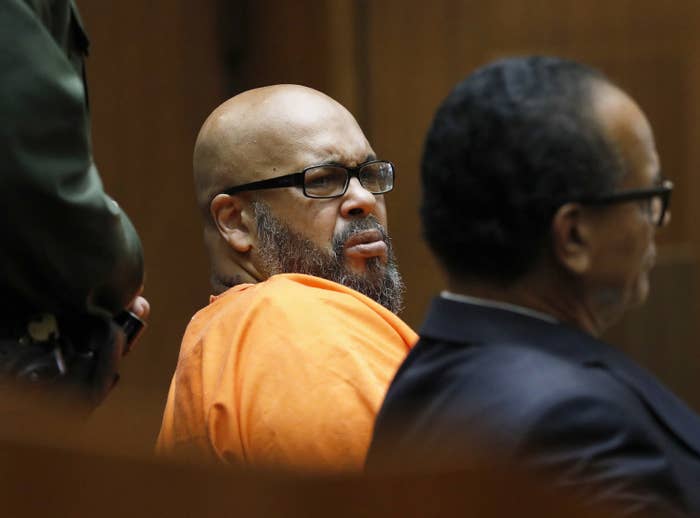 Marion "Suge" Knight was officially sentenced to 28 years in prison for killing a man by running him over in a Compton, California, parking lot after an argument in 2015.
Before officially sentencing the Death Row Records cofounder, Judge Ronald S. Coen addressed the victim's family members, who according to the Los Angeles Times were crying softly in the courtroom.
"If it hasn't been said to you by anyone else, let me tell you that my heart goes out to you," Coen said.

The sentence was part of a plea deal reached in September when Knight pleaded no contest to manslaughter. He had been facing life in state prison.
Knight hit two men in the incident — Cle "Bone" Sloan, a consultant on the biopic Straight Outta Compton, survived, but Terry Carter died. In the confrontation, which was captured on surveillance video, Knight backed his truck into Sloan before driving forward into Carter.
Knight's attorneys argued it was self-defense.
The lead-up to the rap mogul's trial was full of controversy. Knight collapsed in court when the judge set his bail at $25 million. And his then-girlfriend, Toi-Lin Kelly, and business partner, Mark Blankenship, were indicted for allegedly violating a court order by selling video that was under seal in the case to TMZ for $55,000.
Two of the lawyers who represented Knight were also indicted on conspiracy charges for allegedly attempting to bribe witnesses and obstruct justice.