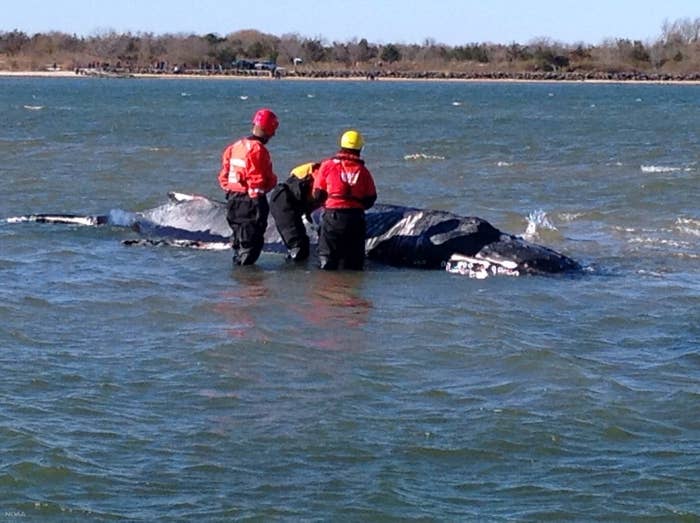 A sickly humpback whale was euthanized Wednesday off Long Island in Moriches Bay after repeated failed attempts to dislodge it from a sandbar, officials said.
Onlookers watched in dismay as the whale — underweight, weak, and exhibiting "neurological abnormalities" — struggled in 1 to 2 feet of water atop a sandbar in Hart's Cove as rescuers tried to use incoming tides to dislodge the 25-foot cetacean.
The whale was spotted last week feeding in Seatuck Cove, but several days ago it became stranded on the sandbar, seagulls pecking away at its exposed body.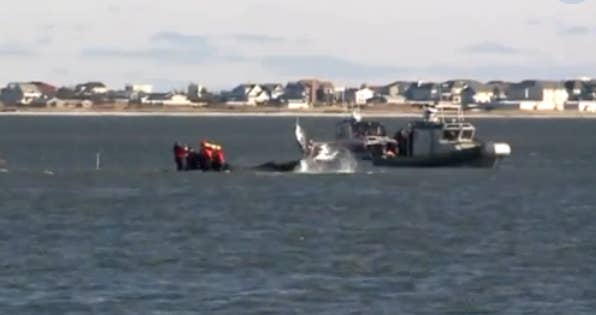 One rescuer told WPIX-TV that every time the whale flapped its tail flat on the sand, you could hear it "crying with, like, a baby crying sound."
On Wednesday, a veterinary team from the National Oceanic and Atmospheric Administration (NOAA) determined the most humane course of action was to euthanize the whale, noting that it was "thin, limp, weak, minimally responsive, had evidence of neurological abnormalities, and extensive skin injuries with evidence of infection."
"Based upon these findings, the most humane option was to euthanize the whale since its chance of surviving in the wild was minimal," NOAA said in a statement.
Whales typically get stranded when sick or malnourished, so "re-floating" them may not be in their best interest, NOAA added.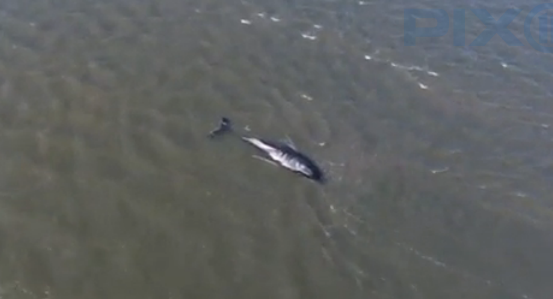 After the whale was euthanized using "injectable medications," officials said a necropsy will be performed to determine the cause of death.
It is not uncommon for whales to venture in from the eastern seaboard. In fact, last week, another humpback whale was spotted in the Hudson River, perhaps lured by the promise of fish.
The Coast Guard advised people navigating the river to slow down and experts believe, after examining photos, that the whale is healthy.