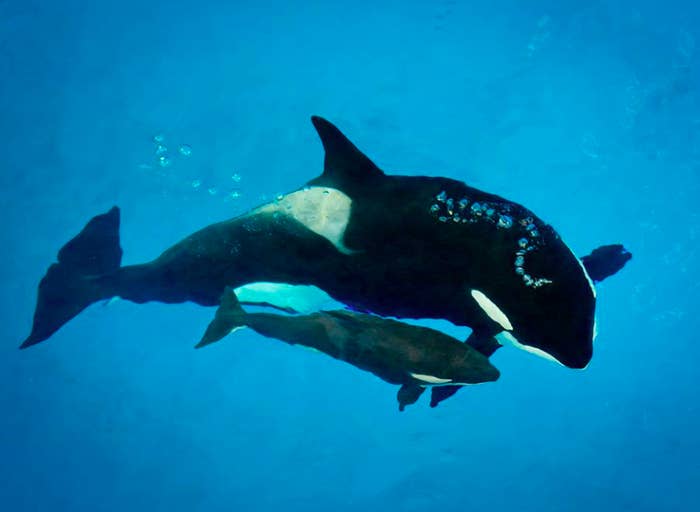 A 3-month-old baby killer whale that was the last to be born in captivity at SeaWorld has died, most likely because of an infection, the park announced.
Kyara was treated for the infection, most likely pneumonia, over the weekend at SeaWorld San Antonio's animal hospital, but died on Monday.

"Kyara had a tremendous impact on each of her care staff, not to mention all of the guests that had the chance to see her," the park said in a statement. "From late nights to early morning, rain or shine, we dedicate our lives to these animals, and this loss will be felt throughout the entire SeaWorld family."

The veterinarian team's attention will now turn to the rest of the orca pod, particularly Kyara's mother, Takara, as they monitor their health needs and ensure the infection did not spread, SeaWorld said.
A necropsy is also planned to determine Kyara's cause of death, with results expected in several weeks.

There are now 22 orcas remaining at SeaWorld parks in Orlando, San Antonio, and San Diego. They are the last generation of captive killer whales after the company announced last year that it was ending its breeding program and would start phasing out their hallmark orca shows.
The decision, as part of an agreement with the Humane Society of the United States, was largely in response to public pressure that increased significantly after a male orca, Tilikum, killed a trainer in front of visitors at SeaWorld Orlando in 2010.
Three years later, the documentary Blackfish — which detailed issues park staff had with Tilikum, as well as the stresses killer whales face in captivity — spurred a public relations crisis for SeaWorld.
In California, lawmakers also increased pressure by banning orca breeding and captivity programs in 2016. Parks were also prohibited from featuring killer whales in performances.
Kyara, who was conceived before SeaWorld announced it was winding down the orca program, was the last to be born in captivity. The youngest orca among the three parks is now 2-year-old Amaya in San Diego.