Roberta Vinci, an unseeded Italian tennis player, pulled off a stunning upset against top-seeded Serena Williams Friday at the US Open — an outcome not even she expected.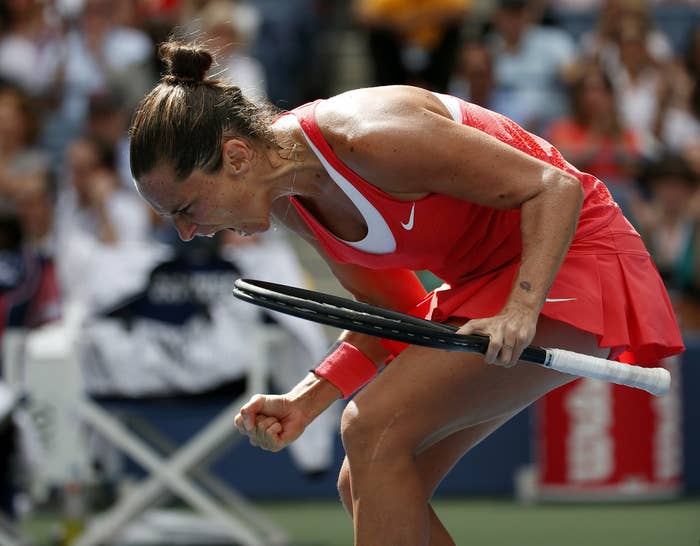 "Serena is an incredible player, so this is the best moment of my life," Vinci said in a post-match interview on the court.
Vinci, playing in her first Grand Slam semifinal, won the match 2-6, 6-4, 6-4, ending Williams' highly touted effort to become the first player since Steffi Graf in 1988 to win a calendar year Grand Slam.
To that, Vinci had, of all things, an endearing apology: "Sorry everyone."
Vinci went on, in between rounds of growing applause from the stands, to acknowledge the collective let-down Williams fans were surely feeling in the moment of what she felt was her own greatest professional achievement.
"For the American people, for Serena, for the Grand Slam and everything — but today is my day," she said. "Sorry, guys."
Prior to Friday, Vinci had never won a set against Williams in four previous match-ups.
Asked what her strategy was against Williams, Vinci said it was all about "my fight, my game."
"My mind say, 'Put the balls in the court…don't think about the Serena on the other court,'" Vinci said.
And that she did, no matter how hard Williams tried to change up her strategy against the unrelenting Italian with swift, sharp moves.
Vinci has, until now, been known more for her prowess as a doubles player, recently holding the No. 1 rank.
However, Friday's victory brings Vinci the furthest she has ever gotten as a singles player at a Grand Slam tournament. At the 2012 US Open, Vinci reached the quarterfinal by defeating then-No. 2 ranked Agnieszka Radwańska, but ended up losing to her doubles partner at the time, Sara Errani. She made it to the same bracket the next year, only to lose again.
So on Friday, as the player almost everyone expected to be rolled over by Williams, Vinci stood in amazement.
"It's an incredible moment for me," she said. "It's like a dream."
Vinci will now go on to face the 26th-seeded Flavia Pennetta, also an Italian who advanced after pulling off her own upset against No.2-ranked Simona Halep with a 6-1, 6-3 victory.