A reporter may have been run over on live TV early Tuesday were it not for a last-second warning from his cameraman.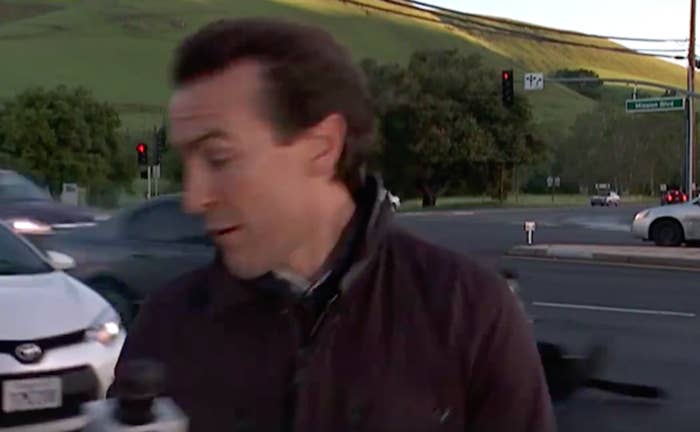 The reporter, Alex Savidge of station KTVU in the Bay Area, managed to jump out of the white car's path after his cameraman, Chip Vaughan, yelled a warning. Neither of the men were injured, and no serious injuries were reported as a result of the crash that preceded the close call.
And what a close call it was.
Savidge was in Fremont reporting on the previous night's ACE train derailment at the time, filming a live shot at an intersection near a 7-Eleven parking lot, when two cars apparently collided behind him, sending the white sedan careening toward the news crew.
Savidge later told KTVU anchors Gasia Mikaelian and Dave Clark that he likely would have been hit had Vaughan not warned him.
Seconds after the collision, Savidge and others can be heard yelling out that everyone appeared to be OK.
In a follow-up segment, a clearly still emotional Savidge took time out to thank his cameraman and to assure his wife and family that he was OK.
"I don't know if my wife, she's not watching, I haven't been able to call her, I just want to tell my wife I'm OK, and my family...in case they hear it online," Savidge told the anchors.
In a statement posted to Facebook, KTVU said everyone at the station was grateful no one was harmed in the incident.
"We are like a family here at KTVU and we're so glad Chip and Alex are looking out for each other."
Take a long pour tonight, Alex. You deserve it.