More than a month after Rachel Dolezal went from an online viral curiosity to a national fixation, the former NAACP leader in Spokane, Washington, isn't backing down, telling Vanity Fair that she continues to identify as black despite being born to white parents.
Quickly overshadowed by the mass shooting in Charleston, South Carolina, and the burgeoning Black Lives Matter movement, Dolezal has remained resolute, insistent, and, still, somewhat evasive:
"It's not a costume. I don't know spiritually and metaphysically how this goes, but I do know that from my earliest memories I have awareness and connection with the black experience, and that's never left me. It's not something that I can put on and take off anymore.

Like I said, I've had my years of confusion and wondering who I really [was] and why and how do I live my life and make sense of it all, but I'm not confused about that any longer. I think the world might be — but I'm not."
She is, however, running out of money. In the wake of revelations that the woman who'd been posing as black for years was actually been born to Caucasian parents, Dolezal lost her positions at the local NAACP chapter just months after becoming its president. And a local college were she taught black studies declined to renew her part-time contract.
Dolezal told Vanity Fair she now gets by as a hairstylist at the home she shares with her son. She also plans to write a book "so that I can send [it to] everybody there as opposed to having to continue explaining."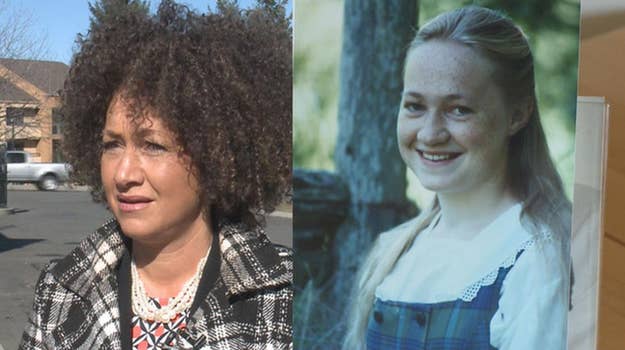 The unrelenting attention exploded after a local reporter confronted her about her heritage on video, the footage of which went viral.
When asked by a KXLY reporter if the black man in a picture she had identified as her father on Facebook was her father, Dolezal responded, "Yes, that is my dad."
The reporter followed up with: "Is your father an African-American man?"
Dolezal responded: "I don't know what you are implying."
The reporter then asked her directly: "Are you African-American?"
After telling the reporter she didn't understand the question, Dolezal abruptly walked away.
Despite the ensuing firestorm and widespread scrutiny, Dolezal told Vanity Fair the only thing she wished she could have done differently was explain her position to people she knew earlier, insisting that much of the blowback was just one big misunderstanding:
"I don't know. I just feel like I didn't mislead anybody; I didn't deceive anybody.

If people feel misled or deceived, then sorry that they feel that way, but I believe that's more due to their definition and construct of race in their own minds than it is to my integrity or honesty, because I wouldn't say I'm African American, but I would say I'm black, and there's a difference in those terms."
ReadVanity Fair's full article, "Rachel Dolezal's True Lies," here.