Pablo Picasso's 1955 cubist masterpiece "Les femmes d'Alger" — or "Women of Algiers" — (Version "O") smashed the world record for artwork sold at auction Monday, coming in at just under $180 million, Christie's announced.
The auction price includes a presale commission, which according to CNBC was estimated at just over 12%, and other fees. The identity of the buyer was not immediately disclosed.
The last time the Version "O" was featured at auction was in 1997, when it sold for $31.9 million, more than double what had been estimated. It was the last of 15 variations in the "Les femmes d'Alger" series, designated A to O.
For the series, Picasso looked back to 19th-century French master Eugène Delacroix for inspiration and, according to Christie's auction house, created a new style of painting in the process.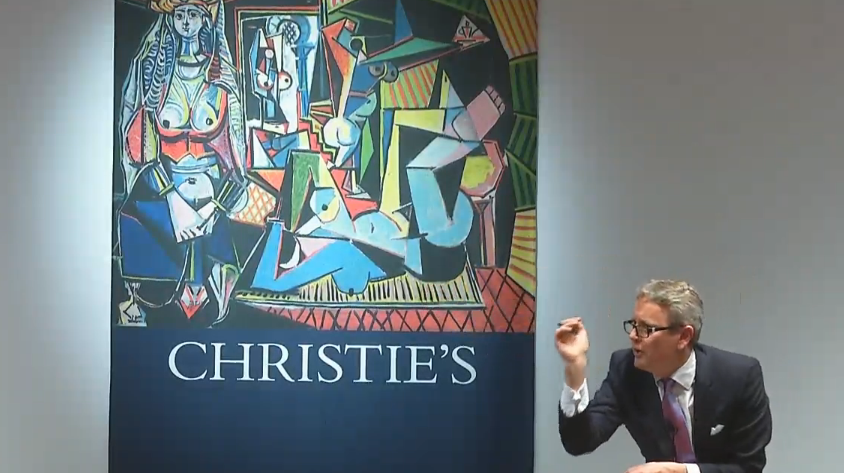 In addition to an homage to Delacroix, the "Les femmes d'Alger" endeavor was also meant to be an elegy to his friend and artistic rival, Henri Matisse, who died shortly before Picasso began the series.

In a statement, Loic Gouzer, an international specialist in postwar and contemporary art who curated the exhibit, said the work was "remarkable" in its ability to retain the "freshness of perspective" Picasso uncovered during the project.

"In today's fast-paced world, it is remarkable to think that Picasso's 'Les femmes d'Alger' exhibits as much freshness of perspective and approach as it did when it was painted," Gouzer said.
Picasso's Version "O" was just one in a series of record-breaking sales at the auction Monday.
At nearly $141.3 million, Alberto Giacometti's iconic bronze sculpture "L'homme au doigt" — or "Pointing Man" — set the world record for a sculpture sold at auction, Christie's announced.
Standing at 5 feet 10 inches tall, Giacometti's spindly Pointing Man is widely considered to be one of the most important sculptural achievements of the modern era, having been cast in 1948.

It was the third Giacometti sculpture to break the rarefied $100 million mark. His "Walking Man I" sold at a Sotheby's auction in 2010 for $103.9 million. And last year, his "Chariot" sculpture sold at the same auction house for $100.9 million.

Other records were also set for individual artists.