No Death Penalty In Case Of Mother Gunned Down Outside Her Home
The shooting death of Tammy Meyers attracted national attention after Las Vegas police initially suspected she was gunned down in a fit of road rage. But the prosecutor in charge said her death doesn't represent the "worst of the worst."
Two men accused of killing a woman outside her suburban Las Vegas home in a hail of gunfire will not face the death penalty, prosecutors announced Wednesday.
In a statement to BuzzFeed News, Clark County District Attorney Steve Wolfson said he would not seek the death penalty against Erich Nowsch, 19, and Derrick Andrews, 26, because the fatal shooting of Tammy Meyers outside did not represent the "worst of the worst."
"The death penalty is reserved for the worst of the worst," Wolfson said. "With that in mind, the facts presented in this case do not warrant the death penalty."
The circumstances leading up to the Feb. 12 shooting changed rapidly amid initial speculation that Meyers, 44, was gunned down in a fit of road rage, which garnered national news coverage.
The shooting, however, appears to be the result of a double case of mistaken identity. Earlier that night, Meyers had been giving her daughter a driving lesson in a school parking lot when they were suddenly confronted and threatened by a young man who jumped out of a gray car.
That prompted her to go home, where she asked her son bring his handgun and drive back out in search of the gray car. That's when prosecutors say they came upon a silver Audi in which Nowsch was passenger. Andrews, who was arrested last week, is accused of being the driver.
At the same time, Nowsch mistook the Meyer's green Buick for a car carrying people who he claimed had also earlier threatened him and his family.
"Ms. Meyers ultimately was mistaken," prosecutor David Stanton said, according to the Las Vegas Review-Journal. "Coincidentally, now you have kind of a series of dominoes falling, with Ms. Meyers pulling behind what she thinks is the earlier car."
Authorities allege that Andrews stopped in the street a couple blocks from the Meyers' Buick as Nowsch got out and opened fire. When the Meyers turned around to head home, Nowsch and Andrews allegedly gave chase, according to grand jury testimony cited by the Review-Journal.
When Tammy Meyers parked the car in front of her house, her son, Brandon, bolted for the front door, but by then, prosecutors allege Andrews had caught up, and Nowsch unleashed a hail of bullets.
Brandon Meyers returned fire with his 9mm Beretta before the duo drove away, switched cars, and tried to delete evidence on their cell phones, prosecutors allege.
Tammy Meyers was struck in the head and died two days later in a hospital.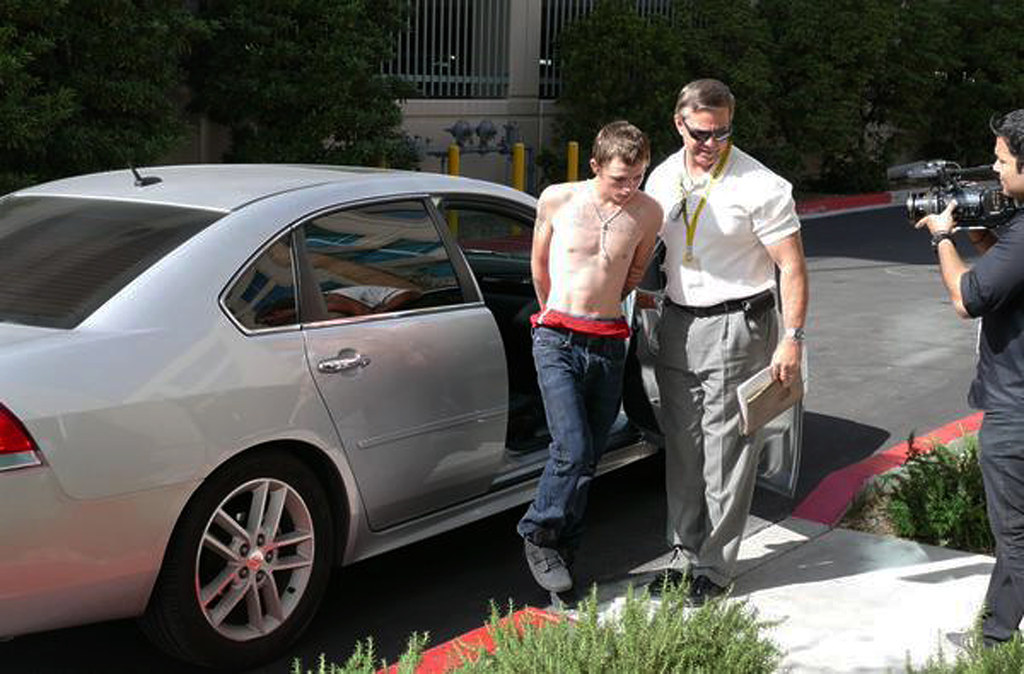 The case took an unexpected turn when, a few days later, police got into a standoff roughly one block from the Meyers home with a suspect in Tammy's killing. He would later be identified as Nowsch, who, as it turned out, knew the Meyers.
According to a police arrest report, after the shooting, Nowsch went to a friend's home, who described him to detectives as "excited, happy and coherent." The friend also told police that Nowsch described firing multiple times on the street, then again at the cul-de-sac outside Meyers' home.
Despite being spared the death penalty, Nowsch and Andrews still face a number of charges, including murder, conspiracy to commit murder, attempted murder with a deadly weapon and discharging a firearm from a vehicle.
Both remain in custody after they were denied bail.