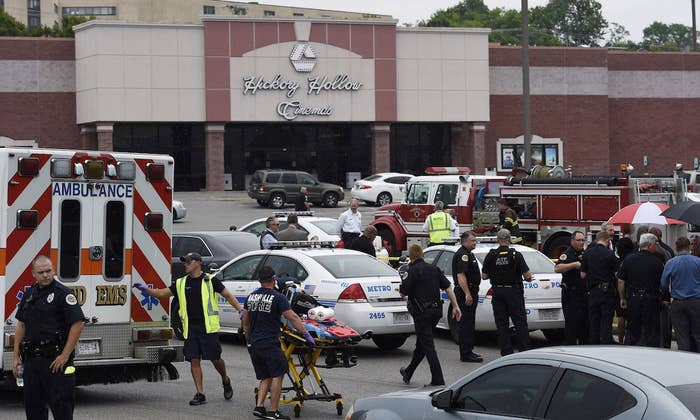 The man who walked into a Nashville theater with a hatchet and airsoft pistol was also carrying canisters of tear gas and propane that he hurled at police officers, police officials said Thursday.
But one day later, officials said there was no indication as to why Vincente David Montano decided to violently confront people at the theater, dousing movie-goers with pepper spray and swinging a hatchet at a man. There was also little information regarding what Montano had been up to, or where he had been, in the weeks before the deadly confrontation.
"We have talked to a number of witnesses," Don Aaron, spokesman for the Metropolitan Nashville Police Department said during a news conference Thursday. "We have yet to find anyone who had any dialogue with Montano other than the purchase of the movie theater ticket, and the request for a cup of water."
Police also released more details about their encounter with Montano Wednesday afternoon, and the events that led to the shooting.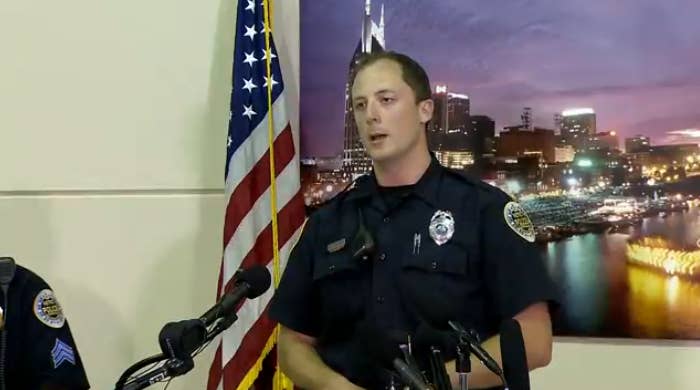 Nashville police on Wednesday shot and killed Montano after he attacked patrons with pepper spray and a hatchet.
The incident began in a screening of Mad Max: Fury Road when Montano hit a man in the shoulder with an ax, then doused the man's wife and daughter with pepper spray, according to a statement from the Metropolitan Nashville Police Department.
Officer Jonathan Frith, who was in the area when the incident began, was the first to confront the assailant in the theater.
"It was just by chance that I was the one who engaged him," Frith said during the news conference Thursday.
Frith said the theater was dimly lit and the movie was still playing he first saw Montano, holding what appeared to be a handgun. The air was thick with pepper spray and tear gas, officials said, and Frith could see only a silhouette when he heard three pops.
Frith fired one shot from his rifle, he said, and backed up to wait for more officers to arrive.
Aaron told reporters that while Montano was in the theater, he "unleashed pepper spray throughout the theater," requiring first responders to retrieve gas masks before mounting a second advance into the theater.
"It was really thick with chemical spray irritant," he said.
Soon thereafter, officers from a SWAT team entered the theater. According to the police statement, the assailant "engaged" the officers for several minutes and as his "gun popped, sounding like a small caliber pistol, four SWAT members fired."
The man was killed in the gunfire.
Authorities later said the man's gun was in fact an airsoft pistol.
The suspect was initially identified as a local 51-year-old white male, but Metropolitan Nashville Police Chief Steve Anderson said hours later the suspect was in fact 29-year-old Montano. He had been reported missing two days earlier and was committed for mental health issues on four previous occasions.
During a press conference Wednesday night, police spokesman Don Aaron said Montano had also been arrested on an assault charge in Murfreesboro in 2004.
Between 2004 and 2007, he was committed four times, he said. In a statement, police said they believe Montano was homeless.
On Thursday, Aaron said investigators were still trying to piece together Montano's whereabouts in the weeks leading up to the shooting.
Investigators believe Montano spent the night at a rescue facility in downtown Nashville on May 6, Aug. 3 and Aug. 4, but there is no record of him spending the night there.
On Monday, an officer tried to reach Montano at the rescue facility when a missing person's reprot was filed by his mother, but he was not there at the time.
Montano's mother, Aaron said, told authorities she had contact with her son for about three years.
Montano is believed to have arrived at the theater on foot about 25 minutes before the movie began, Aaron said, carrying a duffel bag and a backpack.
He bought a ticket and asked for a cup of water before walking into the theater were two women were already seated.
Aaron said the two women later told police Montano, "was staring them down."
At one point, he walked toward them while carrying his bags, but suddenly took a seat.
"He then gets back up, goes to the row, and abruptly and suddenly and without provocation began dousing them with pepper spray," Aaron said.
The daughter and mother, ages 17 and 53, were treated at the scene and released for pepper spray exposure, authorities said. No patients were transported to the hospital.
"We're very very grateful…this could have been a lot worse," Haas said.
When SWAT officer arrived, Montano appeared to be hurling objects at them, Aaron said, including canisters of tear gas and a canister of propane that appeared to have been gashed with the hatchet.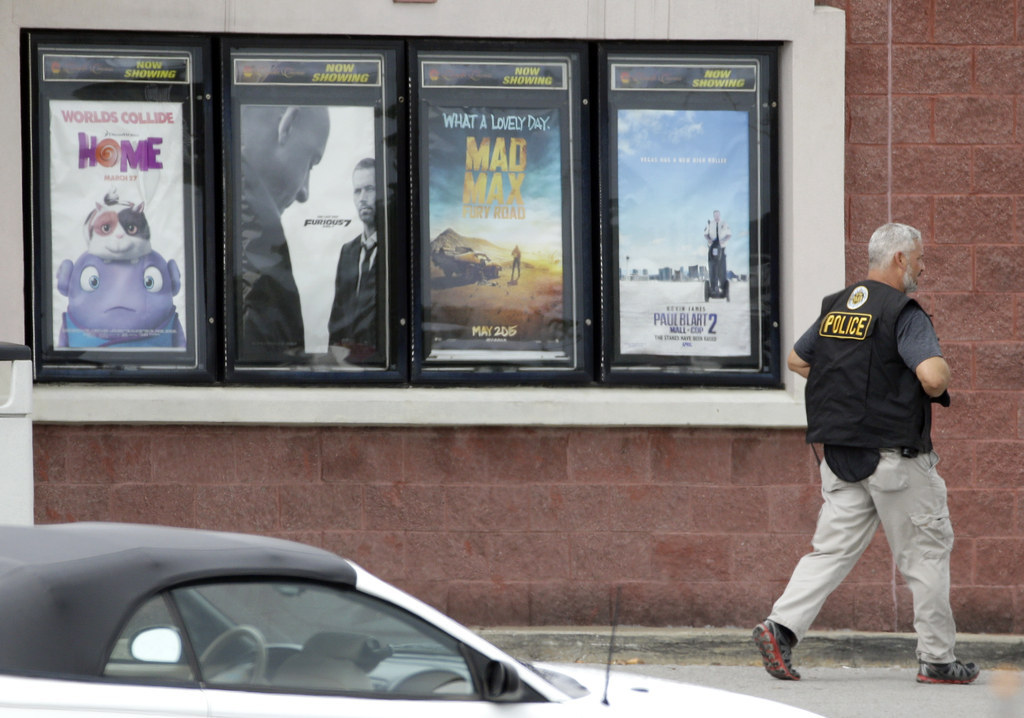 One of the bags, later destroyed by the department's bomb squad, had what police described as a "fake bomb."
In a 911 call released early Thursday morning, a man at the scene can be heard saying a "shady looking guy" pulled out a hatchet and "started attacking this family."
"And then he pulled out a gun and we all ran out of the theater," the caller says.
Witnesses told local media that the suspect appeared to be armed with a knife and attacked people inside a showing of Mad Max: Fury Road at the Hickory Hollow Cinemas in the suburb of Antioch shortly after 1:15 p.m.
WKRN News captured audio of multiple gunshots being fired while officers from the Metropolitan Nashville Police Department responded to the theater.
As many as 20 rapidly fired shots could be heard in the video.
Eric Vale, an Uber driver who was dropping off passengers at the theater, told The Tennessean it was "utter chaos" when shots rang out.
"I just couldn't believe this was happening again," he told the paper.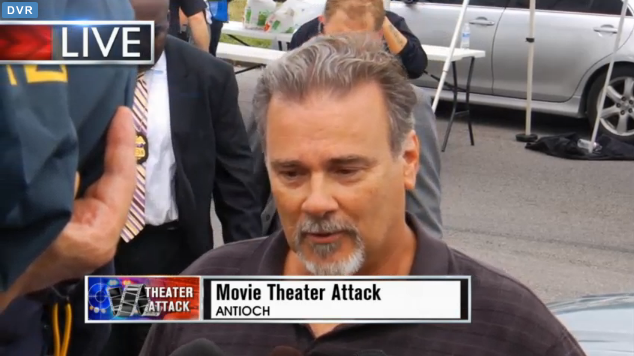 A man who identified himself as Steve told reporters at the scene he was one of eight people in the movie theater when the suspect began spraying people with what appeared to be pepper spray.
The man was injured by the suspect's hatchet, and his daughter was pepper-sprayed by the suspect, he said.
"We did nothing to bring this upon ourselves," he said.
Steve thanked the quick response of police and paramedics to the theater.
"I would ask anyone to pray for [the suspect's] family because he obviously has some mental problems or something else," he said. "I have no idea why this gentleman decided to attack us."
Cell phone video of the shooting posted by WSMV.com also showed people running away from the theater as multiple gunshots rang out. An officer in the background could be heard telling people to get out of the way.
Police were able to quickly respond to the attack in large part because two officers, Frith and Sgt. Mike Swoner, were already in the area.
The air was thick with pepper spray when officers arrived, Swoner said Thursday, and they requested gas masks.
"It made it nearly impossible to breathe," Swoner said.
Federal agents, meanwhile, were also at the scene to assist with the investigation.
The Nashville attack comes just two weeks after a man opened fire inside a movie theater in Lafayette, Louisiana, killing two people before turning the gun on himself. Nine others were also injured.