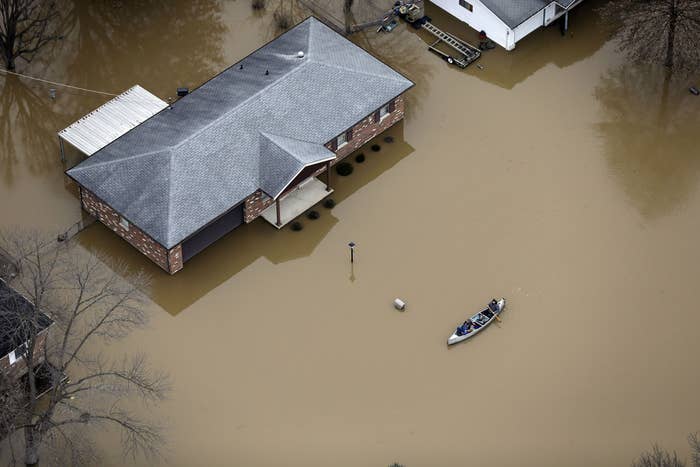 President Obama declared a state of emergency Saturday in Missouri, where at least 15 people have been killed after flooding devastated the area.
The President's declaration would authorize federal assistance to the state, which has faced severe storms, tornados and heavy flooding for days.
The Federal Emergency Management Agency, or FEMA, has been authorized to provide equipment and resources to local state officials as part of the order, with the federal government taking up most of the costs, according to a statement issued by the White House.
Meanwhile, some communities devastated by flood waters in Missouri were getting slight relief Friday as water began to recede in some areas, and a major highway was reopened Friday morning.
Still, first-responders in some towns continued to tell residents to remain on alert after three days of constant rain damaged hundreds of homes and left several communities underwater.
A total of nine levees were topped by water, the Associated Press reported.
At least 15 deaths in Missouri were attributed to the flooding. Another seven deaths in Illinois are believed to have been caused by the more than 10 inches that fell in three days, according to the AP.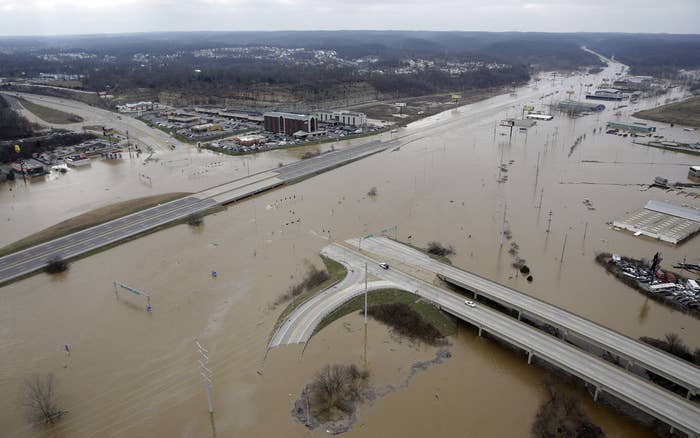 The latest death was confirmed by the Missouri Department of Public Safety as officials in towns along major rivers waited anxiously for flood waters to start subsiding.
Gov. Jay Nixon said most of the deaths involved those who were in vehicles that drove onto flooded roadways, where swift currents can prove deadly. He made the announcement in Perry County, where the Mississippi River is expected to a make a record crest in the coming days.
On Friday morning, the Missouri Department of Transportation announced it was reopening four lanes of Interstate 55 at the Meramac River. The major road just south of St. Louis had been closed Thursday because of floodwaters from the river.
Nixon also declared a state of emergency as officials struggled with the rising flood waters after a storm system dropped more than six inches of rain.
Rising flood waters also prompted Nixon to activate the Missouri National Guard, which was to be deployed in areas that have been evacuated and to direct traffic away from closed and submerged roads. The governor said he expected several hundred troops to be in place by Wednesday.
"These citizen soldiers will provide much-needed support to state and local first responders, many of whom have spent the last several days working around the clock and responding to record rainfall and flooding," the governor said in a statement.
This drone video recorded Thursday shows how the Meramac River overflowed its banks and reached homes in Oakville.
On Friday, Illinois Gov. Bruce Rauner visited some of the most heavily damaged areas in Illinois.
Rauner has declared 12 counties in the state disaster areas.
"We are committed to help local responders in these and other impacted counties ensure the safety of people affected by this unusual December flooding," he said in a statement.
Water purification and distribution, especially in High Ridge, was among the key tasks being handled by the Missouri Guardsmen, officials said in a statement Friday.
"We currently have Soldiers working to provide water to approximately 20,000 people, but the need is greater than our capacity to produce potable water," Maj. Gen. Steve Danner, adjutant general of the Missouri National Guard said in a statement.
The Missouri Guard can produce about 30,000 gallons per day, officials said, but were reaching out to the Iowa National Guard for assistance.
The state's guard was also staffing at traffic control points, assisting in evacuations, and filling sandbags to protect some areas.
Still, the National Weather Service reported some rivers and tributaries had yet to crest in some areas, including the Mississippi.
Local authorities were warning residents to exercise caution, and that some levees still ran the danger of failing.
City of Portage Sioux, for example, told residents protective measures were holding as of Friday morning, but people who planned to leave the city should get ready to do so because the city could be isolated within hours if levees did not hold.
Meanwhile, a levee just north of the St. Louis area was breached, prompting officials there to order everyone out of the town of West Alton, which sits near where the Missouri and Mississippi rivers converge.
Jim Kramper of the National Weather Service said Tuesday afternoon that forecasters expected roads to remain underwater for several days.
"You simply can't drive into those roads," he said. "It's very simple. You turn around, don't drown."
The rising flood waters are the result of a massive weekend storm moving up from the southwest that was also blamed for at least three deaths in Oklahoma, state health officials reported.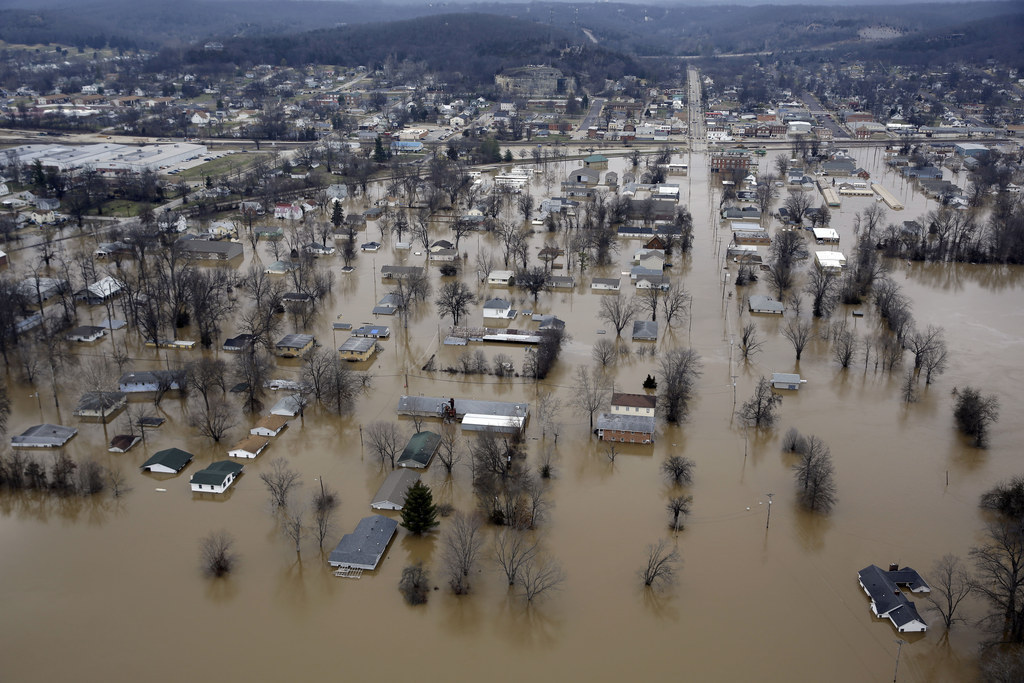 Those killed in the flooding include Kevin Lee, 53, of the Missouri State Highway Patrol. The local CBS affiliate reported that Lee was swept down the Spring River when he drove his pickup truck into a flooded low-water crossing. He later drowned.
Four international soldiers — part of an exchange program at Fort Leonard Wood — also drowned Saturday night when their vehicle was swept off a flooded road in Pulaski County, according to the local sheriff's office, which did not immediately release their identities. A fifth soldier remained missing.
On Monday, authorities confirmed that they had recovered the body of Craig Strickland, the lead singer of the Arkansas-based country-rock band Backroad Anthem, who went missing a week ago during the storms. The body of Strickland's hunting companion, Chase Morland, from Kaw Lake, had been recovered days ago.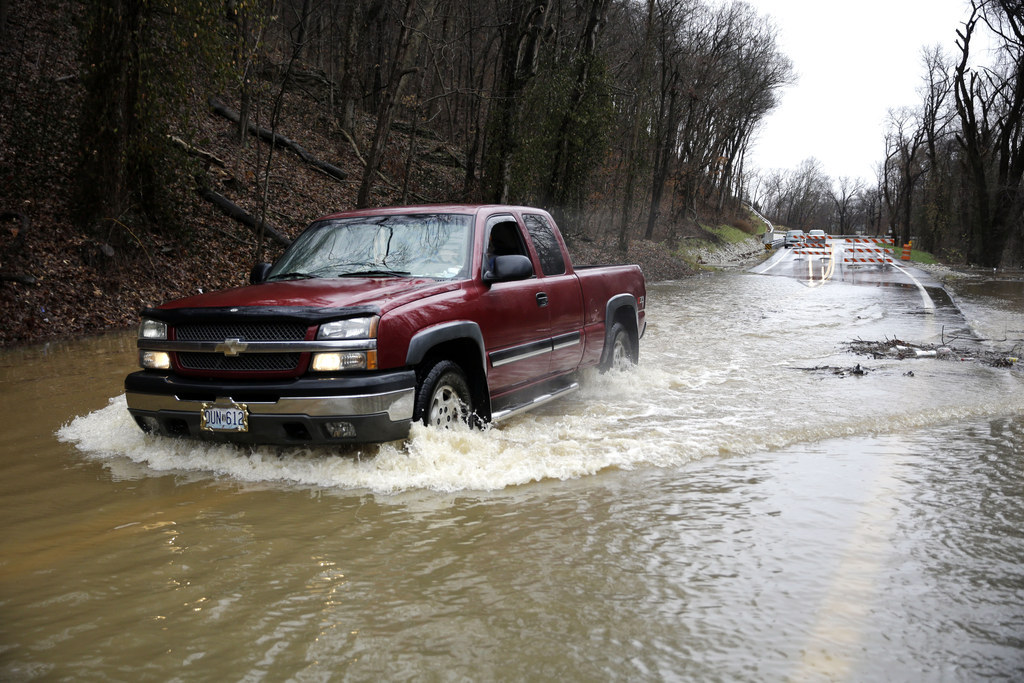 Rain is expected to continue drenching the area and filling some rivers to a level local officials have not experienced in more than 22 years.
According to the National Weather Service, the Mississippi River at St. Louis is expected to crest at its second-highest recorded level, just short of the 49.6 feet it reached during a flood in 1993.
Nixon's office said the U.S. Army Corps of Engineers is working with Perryville officials to strengthen the Bois Brule levee there, to protect local homes and businesses.
The Meramec River at Valley Park, his office said in a statement, is also expected to set a record with a crest at 42 feet.