Live Nation, Country Duo Sugarland Settle Lawsuit Over Deadly Indiana Stage Collapse
A total of 18 defendants have agreed to pay $39 million to victims and their families. Seven people were killed when high winds knocked the stage down in 2011 prior to the concert beginning.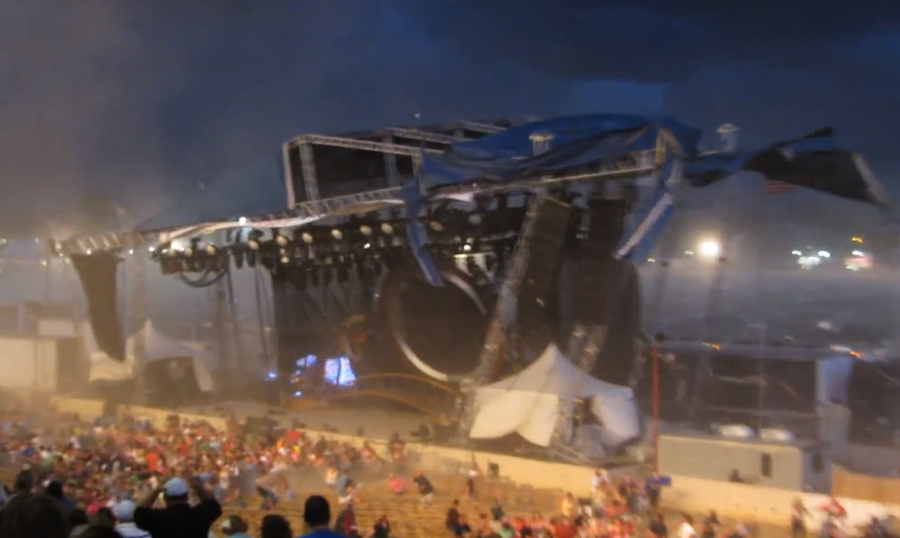 Country duo Sugarland, concert promoter Live Nation, and 16 other defendants have agreed to pay $39 million to settle claims stemming from the Indiana State Fair stage collapse 2011.
The collapse, which occurred during powerful winds, killed seven people and injured nearly 100 others in August 2011 as concert-goers were waiting for Sugarland to take the stage.
Two investigative reports found that the stage rigging didn't meet industry safety standards and that fair officials did not have an adequate emergency plan in place, the Associated Press reported.
On Friday, attorneys for the victims and their families announced the settlement agreement that was reached in mediation. The amount is in addition to an earlier $11-million settlement reached with the state.
Kenneth J. Allen, an attorney for the plaintiffs, told the AP that a confidentiality clause prevented him from disclosing how much each defendant agreed to pay. The money will be distributed based on the severity of each victim's injury and whether a death was involved, he added.
"Those that have lost loved ones will never have the harm erased from their lives," Allen said.
Video footage of the stage collapse shows how powerful the winds were that night.
The venue was criticized after the collapse for not taking an advancing weather system seriously enough, despite warnings from officials.
The day of the concert, the National Weather Service issued repeated warnings of high winds and possible thunderstorms. But minutes before the concert, venue officials told the crowd that the show would go on.
Minutes after that, at about 8:45 p.m., a gust of wind toppled the stage.
Sugarland was still in a tour bus when the stage collapsed. The opening act, Sara Bareilles, had just completed her performance and was not harmed.
The collapse led to new regulations on the rigging of stages for outdoor events.
One defendant, ESG Security, is not part of the settlement announced Friday. That case could go to trial next year if no settlement is reached, Allen said.