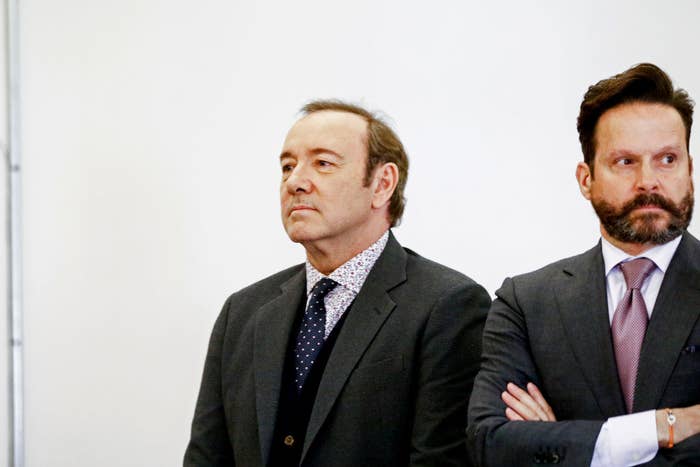 Prosecutors in Massachusetts on Wednesday dropped their sexual assault case against Kevin Spacey after several setbacks in court, including the man who said the House of Cards actor groped him invoking his right not to testify.
Spacey, 59, pleaded not guilty in January to getting an 18-year-old man drunk and groping him at the Club Car restaurant in Nantucket where the man worked as a busser in 2016.
In November 2017, the busser's mother, former Boston TV news anchor Heather Unruh, held a press conference and went public with the allegations.
According to the criminal complaint, Spacey plied the teen with several drinks before putting his hands down his pants and groping his genitals for about three minutes.
But the case was hampered when the man invoked his Fifth Amendment right against self-incrimination and refused to answer questions, particularly regarding whether any text messages on his cellphone from that night were deleted.
His family said the phone went missing after the initial investigation, but Spacey's defense attorneys said they believe it contains evidence bolstering his case.
On Wednesday, the Associated Press reported that Cape and Island District Attorney Michael O'Keefe filed court documents stating that his office was dropping the case "due to an unavailability of the complaining witness."
"My client and his family have shown an enormous amount of courage under difficult circumstances," the man's attorney, Mitchell Garabedian, said in a statement after the decision Wednesday.
Earlier this month, the man dropped his civil complaint against Spacey because, his mother told the court, he wanted to focus on the criminal case.
Spacey's attorney did not immediately respond to a request for comment.
The Nantucket case came on the heels of several other men accusing Spacey of sexual assault. They came forward after Rent actor Anthony Rapp told BuzzFeed News in October 2017 that Spacey had made an unwanted sexual advance on him when he was 14.