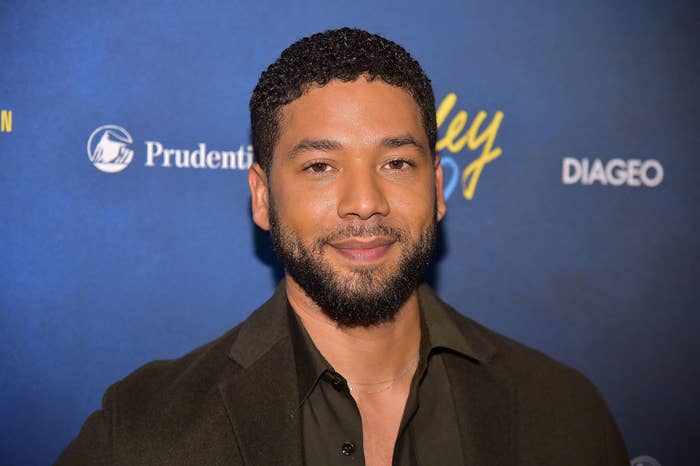 Jussie Smollett was charged Wednesday for allegedly filing a false police report in which he claimed he was attacked last month in Chicago, officials said.
The felony charge, which in Illinois falls under disorderly conduct, was approved by the Cook County State's Attorney's Office hours after the actor was officially classified by Chicago police as a suspect in the case.
Police spokesperson Anthony Guglielmi said detectives will now negotiate with the actor's legal team to set terms for "a reasonable surrender" for his arrest.
"Like any other citizen, Mr. Smollett enjoys the presumption of innocence, particularly when there has been an investigation like this one where information, both true and false, has been repeatedly leaked," his attorneys, Todd Pugh and Victor Henderson, said in a statement. "Given these circumstances, we intend to conduct a thorough investigation and to mount an aggressive defense."
The decision to charge comes weeks after the Empire actor told Chicago police he was attacked early Jan. 29 by two men who threw a bleachlike chemical on him, called him anti-gay slurs, and put a rope around his neck. In a follow-up interview with police, Smollett also said one of the attackers shouted, "This is MAGA country."
Smollett, who is black and openly gay, has maintained that he was the victim of a hate crime, and the reported attack quickly received national attention, putting immediate pressure on Chicago police to solve the case.
With little initial evidence of the attack located, police released grainy images of two persons of interest who were captured on surveillance video in Smollett's neighborhood around the time the actor said he was attacked.
However, the case took several turns that prompted Smollett to double down in public statements insisting it wasn't all a hoax, telling Good Morning America he was "pissed off" that people were doubting his story.
The hoax theory was fanned by the arrest of two potential suspects who, it turns out, had appeared as extras on Empire and, according to their attorney, knew Smollett personally.
The men, Olabinjo and Abimbola Osundairo, are brothers and were detained Feb. 15. A search warrant served at their home turned up "a black face mask hat, an Empire script, a phone, receipts, a red hat, and bleach," CBS Chicago reported.
The station also obtained store surveillance footage released Wednesday that appeared to show the two men buying black masks and a red hat, matching Smollett's description of his alleged attackers.
Local news outlets reported that the brothers told investigators Smollett had paid them to stage the attack out of fear that he was being written off of Empire. But Chicago police pushed back on the reports, and Fox said Smollett's character is still a major part of the show. (The network declined to comment on the latest events Wednesday.)
The two brothers were eventually released after police said they came across information that had "shifted the trajectory" of the investigation. On Wednesday, the brothers arrived at a grand jury room with their attorney and soon afterward Chicago police announced that Smollett was classified as a suspect and that detectives were presenting evidence before a Cook County grand jury.
Gloria Schmidt, the attorney who is representing the Osundairo brothers, declined to offer specific details about what her clients told the grand jury, but said outside court that they did receive money from Smollett. However, she noted, "It's not fitting the narrative that is out there right now."
She also said the two brothers had not been offered a plea deal or immunity for their cooperation.
"There was a point when this story needed to be told, and they manned up and they said, 'You know what, we're going to correct this,'" Schmidt said.
She also called on Smollett to come clean about his account.
"I think Jussie's conscience is probably not letting him sleep right now," Schmidt said.
Police have said they want to reinterview Smollett, who at one point turned over redacted cellphone records. The felony count he now faces carries a maximum sentence of three years in prison. He is reportedly due in bond court on Thursday.
Last week, State's Attorney Kim Foxx recused herself from the case "out of an abundance of caution" because she spoke to one of Smollett's relatives to act as a go-between with police, the Chicago Tribune reported.
Salvador Hernandez contributed reporting.