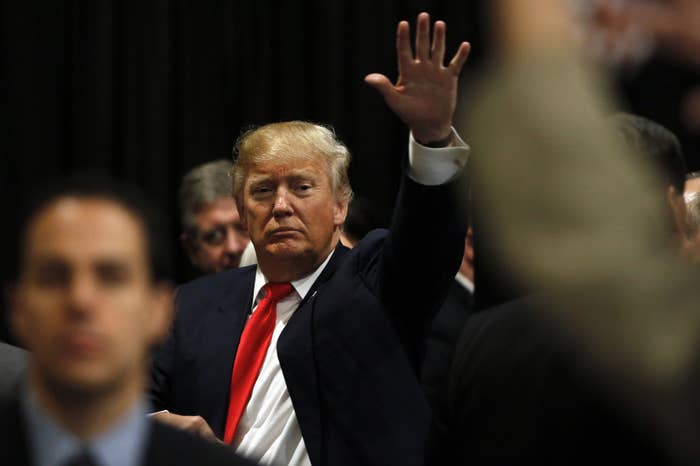 Hillary Clinton and Donald Trump emerged victorious in their respective contests Saturday, strengthening their positions ahead of Super Tuesday.
Clinton defeated Bernie Sanders in the Nevada caucus by holding on to a more than 52% lead, successfully beating back the momentum her sole rival had gained in recent months.
At the same time, Trump, who was projected to be the winner soon after polls closed in South Carolina, told a boisterous crowd that he expects to do "very, very well" in Nevada when it holds its Republican contest.
With 99% of precincts reporting, Trump took 33% of the vote, but he got a stronger than expected challenge from freshman senators Marco Rubio and Ted Cruz.
Rubio went on to edge out Cruz for second place amid record-breaking voter turnout. The two have been jockeying to stay within arms reach of Trump as the primary season nears an all-important March packed with contests.
Despite a few jeers from the crowd, Trump congratulated Cruz and Rubio on their campaigns, noting that running for president is "tough, nasty, mean, vicious, beautiful. When you win, it is beautiful."

If that's the case, Jeb Bush — the heavily favored candidate early on — had an ugly night and suspended his campaign after disappointing showings in South Carolina and New Hampshire.
The new top three could prove meaningful as the race continues in Nevada and beyond, and as Republicans look for a Trump alternative.

"After tonight, this has become a three-person race and we will win the nomination," Rubio told his supporters.
Cruz, meanwhile, sought to position himself as the only alternative who could succeed in that role.
"I'm the only candidate who has beaten, and can beat, Donald Trump," he said, referring to the Iowa caucus.

In Nevada, Clinton's close-call victory was a far cry from what her campaign had previously considered a firewall to Sanders' momentum, which has continued to gain steam in recent months as the young and disaffected gravitate to his populist message.

In a statement, Sanders said he congratulated Clinton in a phone call, but said he was "very proud" of his campaign and looked forward to Super Tuesday.

"Five weeks ago we were 25 points behind and we ended up in a very close election," he said.
In her victory speech, Clinton touched on everything from immigration and racial discrimination to health care and campaign finance reform, and took aim at the need to improve the middle class — a common refrain for Sanders.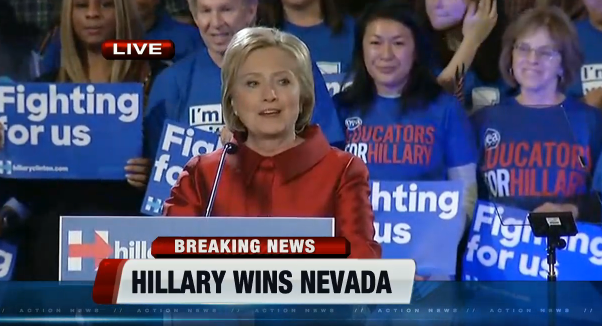 "The truth is, we aren't a single-issue country," she said.
Clinton also had a direct message for college students and recent graduates, a demographic that has flocked to Sanders in recent months.
"I know what you're up against," she said while vowing to push debt relief. "You need help right now with the debt you already have."
With a win in Nevada, Clinton now looks ahead to the Feb. 27 South Carolina primary with more drive behind her message on Sanders: that the Vermont senator's appeal is limited to a relatively narrow swath of voters.
As opposed to New Hampshire and Iowa, the Nevada caucus is seen as a more accurate assessment of a candidate's appeal to a more diverse electorate, and thus, the rest of the nation. Nearly half of Nevada's transient population is nonwhite: 28% Latino, 9% African-American, and 9% Asian-American/Pacific Islander, according to the Nevada State Democratic Party.
In South Carolina, nearly 28% of the population is black and 5% is Latino, according to the U.S. Census Bureau — though nearly half of the last two open Democratic primaries have featured an electorate that is approximately half black.
Clinton leads by a significant margin in South Carolina, and among black voters. A win there would put the wind at Clinton's back going into March, when the majority of states hold their primaries.