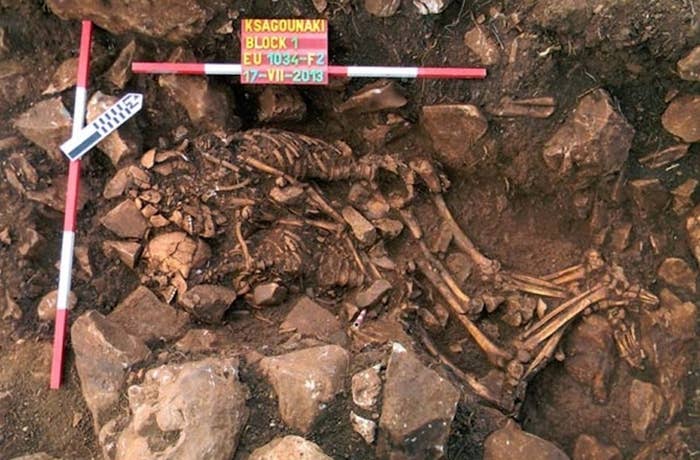 They were discovered as they died some 5,800 years ago — a couple in their 20s locked in a tight embrace.
The remains of a man and woman were found buried in a cave in Diros, southern Greece.
Archeologists did not speculate on what may have killed the couple, but the Alepotrypa Cave where they were found collapsed during a severe earthquake in 3200 B.C., burying the inhabitants alive, the Associated Press reported.
The discovery was only announced on Friday — just in time for Valentine's Day — after DNA tests determined their sexes, according to the AP.
The extremely uncommon double burial is the oldest of its kind in Greece, archaeologist Anastassia Papathanassiou told the AP.
The cave, discovered in 1958, was used as both a settlement and cemetery between 6000 and 3200 B.C.
"We can safely assume that this area operated in the collective memory of these groups as a place to deposit their dead over thousands of years," the Greek Culture Ministry said in a statement.
During the five-year excavation of the site, archeologists uncovered the remains of dozens of people, including an infant and that of a fetus.
The main phase of excavation was finished last year.