More Than 400 Earthquakes Hit East Of San Francisco In Past Two Weeks
The earthquake swarm that started Oct. 13 has beat a previous record set in 1990, but experts say residents shouldn't panic.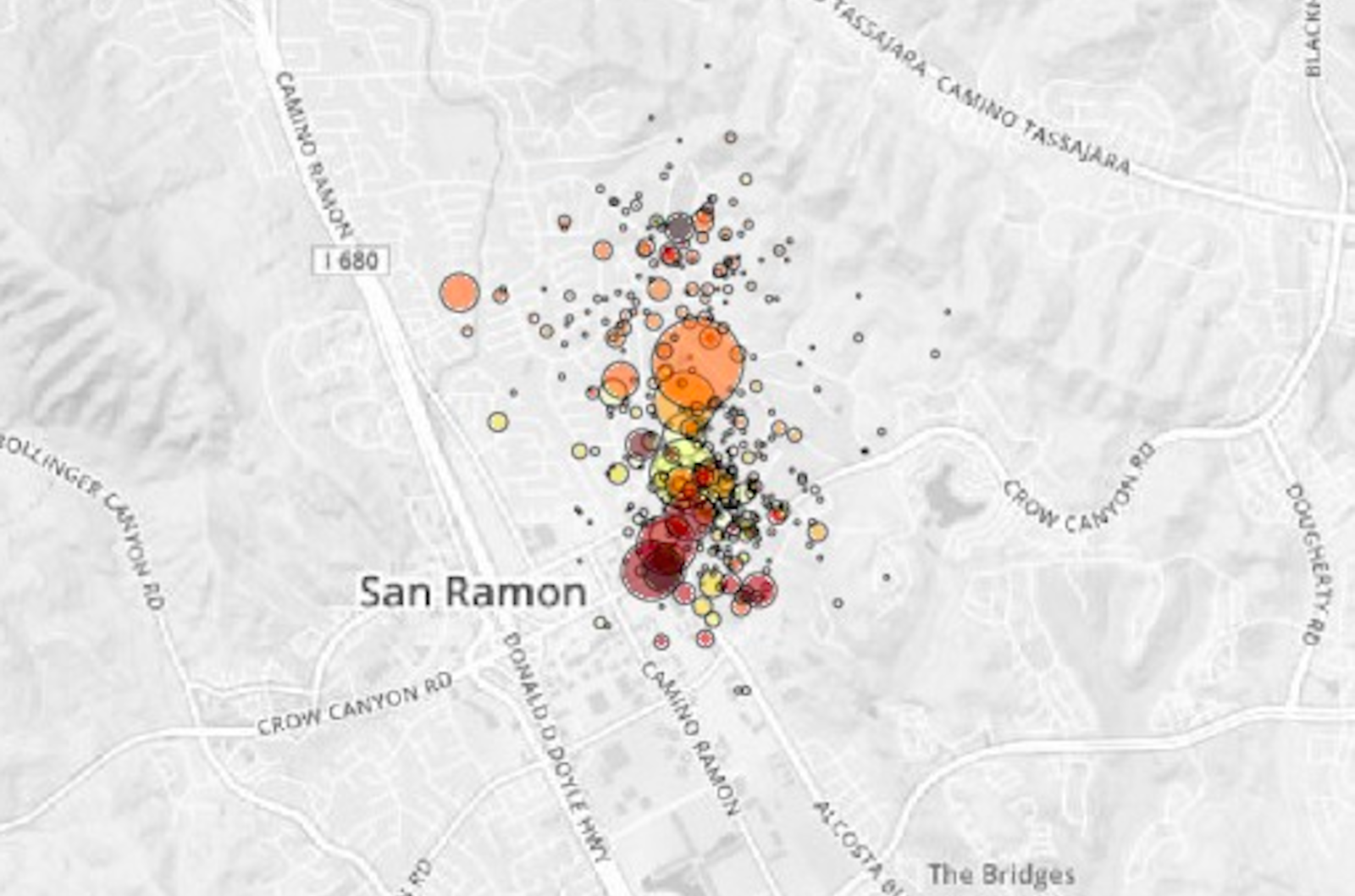 A seismic activity map of San Ramon Valley, at left, and identified geographically at right.
A swarm of more than 400 minor earthquakes have rumbled a region east of San Francisco in recent weeks, setting a new record, but experts say it shouldn't cause too much concern.
Since Oct. 13, the Northern California Seismic Network has detected 408 earthquakes in the San Ramon region, beating the previous record set over the course of 42 days in 1990, when 351 earthquakes struck in neighboring Alamo.

The record-setting number of earthquakes in a region infamously susceptible to a "big one" has, unsurprisingly, captured the public's attention, but seismologists say the Calaveras Fault is simply releasing tension.
In its latest assessment, the U.S. Geological Survey (USGS) said the quake swarm along the fault may continue for several more weeks "and is unlikely to be a foreshock to a large, damaging earthquake."


The northern Calaveras Fault has not seen a significant earthquake since at least the 1860s, and according to the USGS, the likelihood of it experiencing a magnitude-6.7 or larger temblor in the next 30 years is about 8%.
Most of the earthquakes in the current swarm have been too small and deep to be felt, although there have been several measuring above magnitude 3.0.

The largest temblor in the San Ramon swarm so far was a magnitude-3.6 on Oct. 19.
David Schwartz, a senior USGS research geologist, told NBC Bay Area that the swarm is not unusual for the San Ramon Valley, although scientists know little about how they are set off.

"We just don't understand the structural geology of the swarms — why they turn on and shut off quickly," Schwartz said. "We just don't understand."