The Only Known Jaguar In The U.S. Is Roaming Around Arizona
The jaguar's Spanish names translates to "The Boss."
Video footage of the only known wild jaguar in the U.S. was released Wednesday, showing the large cat roaming in wooded areas near Tucson, Arizona.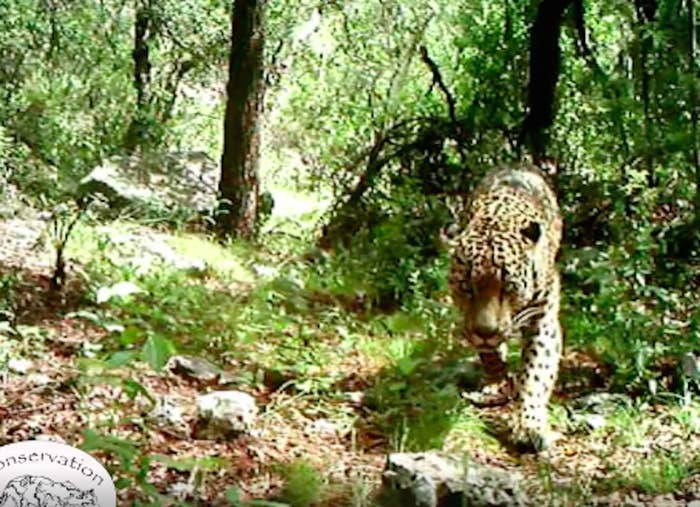 The video is the first-ever publicly released video of the jaguar, known as "El Jefe," which is Spanish for "the boss."
The roughly 7-year-old animal is an extremely rare track for researchers.
While El Jefe is one of only four or five jaguars that have been spotted in the U.S. over the last 20 years, he is the only one to actually be documented, according to the Center for Biodiversity, which released the footage.
Researchers used a specially trained scat detection dog in their effort to catch El Jefe on video, spending three years tracking the big cat in rugged mountains, collecting data, and refining camera sites.
"Studying these elusive cats anywhere is extremely difficult, but following the only known individual in the U.S. is especially challenging," Chris Bugbee, a biologist with Conservation CATalys, which works with the center on the project, said in a statement.
The video footage is considered a major breakthrough in the effort to understand more about the elusive cat, particularly as conservationists try to stave off a possible mining development.
A Canadian mining company is pushing to develop a massive open-pit copper mine in the heart of El Jefe's territory, and destroy thousands of acres of federally protected jaguar habitat in the process, according to the Center for Biological Diversity.
Researchers have been able to determine that El Jefe is currently an adult male jaguar and in prime condition.
"These glimpses into his behavior offer the keys to unlocking the mysteries of these cryptic cats," said Aletris Neils, executive director of Conservation CATalyst. "Every new piece of information is important for conserving northern jaguars and we look forward to building upon on these data so that we can collectively make better decisions on how to manage these fascinating and endangered cats."
Jaguars — the third-largest cats in the world after tigers and lions — once lived throughout the Southwest, but they disappeared over the past 150 years, victims to habitat loss and predator control programs intended to protect livestock, researchers say.
The last verified jaguar in the U.S. was a female shot by a hunter in 1963 in Arizona's Mogollon Rim.