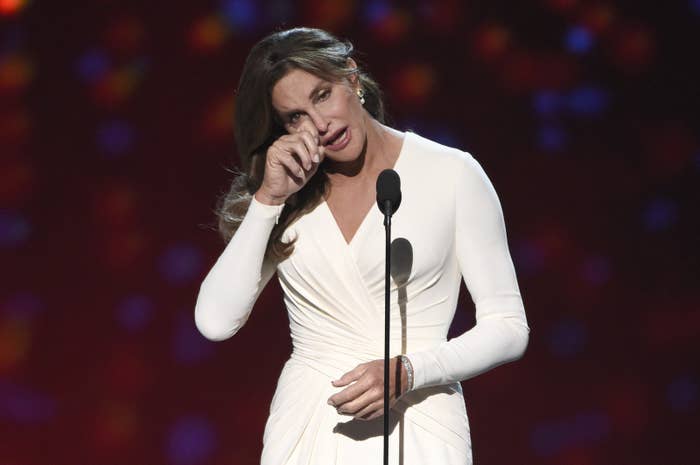 In Caitlyn Jenner's first major public appearance since announcing she is transgender, the Olympic gold medalist — who became a role model for a generation of athletes — took the stage at ESPN's annual awards Wednesday to assume the role yet again, only this time for a different community.
Accepting the Arthur Ashe Courage Award, Jenner noted how she has repeatedly put herself in, and overcome, high-pressure challenges over the years.
"But this transition has been harder on me than anything I could have imagined," she said. "For that reason alone, trans people deserve something vital — they deserve your respect."
Jenner used the platform of her highly anticipated appearance at ESPN's annual ESPY Awards to assert that she would use the prominence she's gained since her big debut on the cover of Vanity Fair in June to advocate for greater acceptance of trans people.

The private journey she took to get there, after decades of internal turmoil, pain, and confusion, was "eye-opening, inspiring, but also frightening," she said.
Also part of that journey, Jenner said, was the steep learning curve regarding the trans community and the issues it faces. She took a moment to list a recent homicide and suicide involving trans people covered in the national media.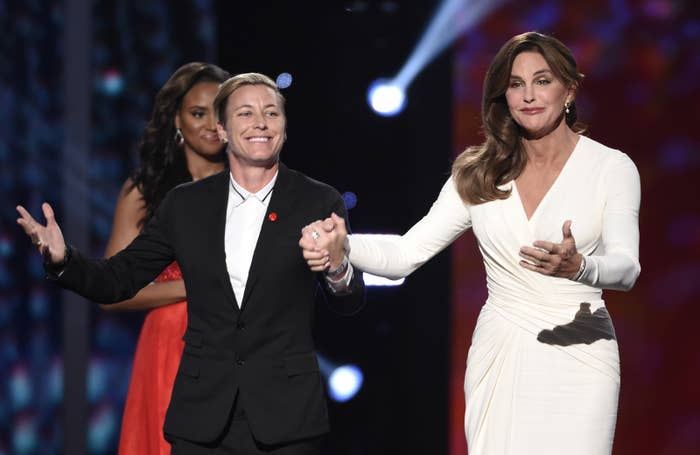 "They're getting bullied, they're getting beaten up, they're getting murdered, and they're committing suicide," Jenner said.
Despite the word "courage" having been attached to her name, Jenner said she felt something else: fortunate.
"I owe a lot to sports," she said, "it's showed me the world, it's given me an identity."
It also gave her a powerful spotlight, "but with attention, comes responsibility," she said.
"I know I'm clear with my responsibility going forward, to tell my story the right way — for me, to keep learning, to reshape the landscape of how trans issues are viewed, how trans people are treated," Jenner said. "And then more prominently to promote a very simple idea: accepting people for who they are."

The selection of Jenner for the Arthur Ashe Courage Award, while largely praised, did generate some controversy among those who felt the honor should have gone to Lauren Hill — the 19-year-old freshman from Mount St. Joseph University in Cincinnati who died in April of an inoperable brain tumor after achieving her dream of playing college basketball. Instead, her parents were presented with a special posthumous ESPY award.
Other critics said the honor would have been better suited for someone more actively connected to sports.

Unlike past recipients of the Ashe award, such as boxer Muhammad Ali and pro tennis great Billie Jean King, Jenner largely walked away from the sports arena after a dominating performance at the 1976 Olympics.
In June, NBC sports commentator Bob Costas told radio host Dan Patrick that while he wished Jenner "all the happiness and peace of mind in the world," he felt ESPN's decision was a "crass exploitation play, a tabloid play."
"In the broad world of sports — and this is not anything against Caitlyn Jenner — I am pretty sure they could have found someone who was much closer to actively [being] involved in sports who would have been deserving of what that award represents," he said.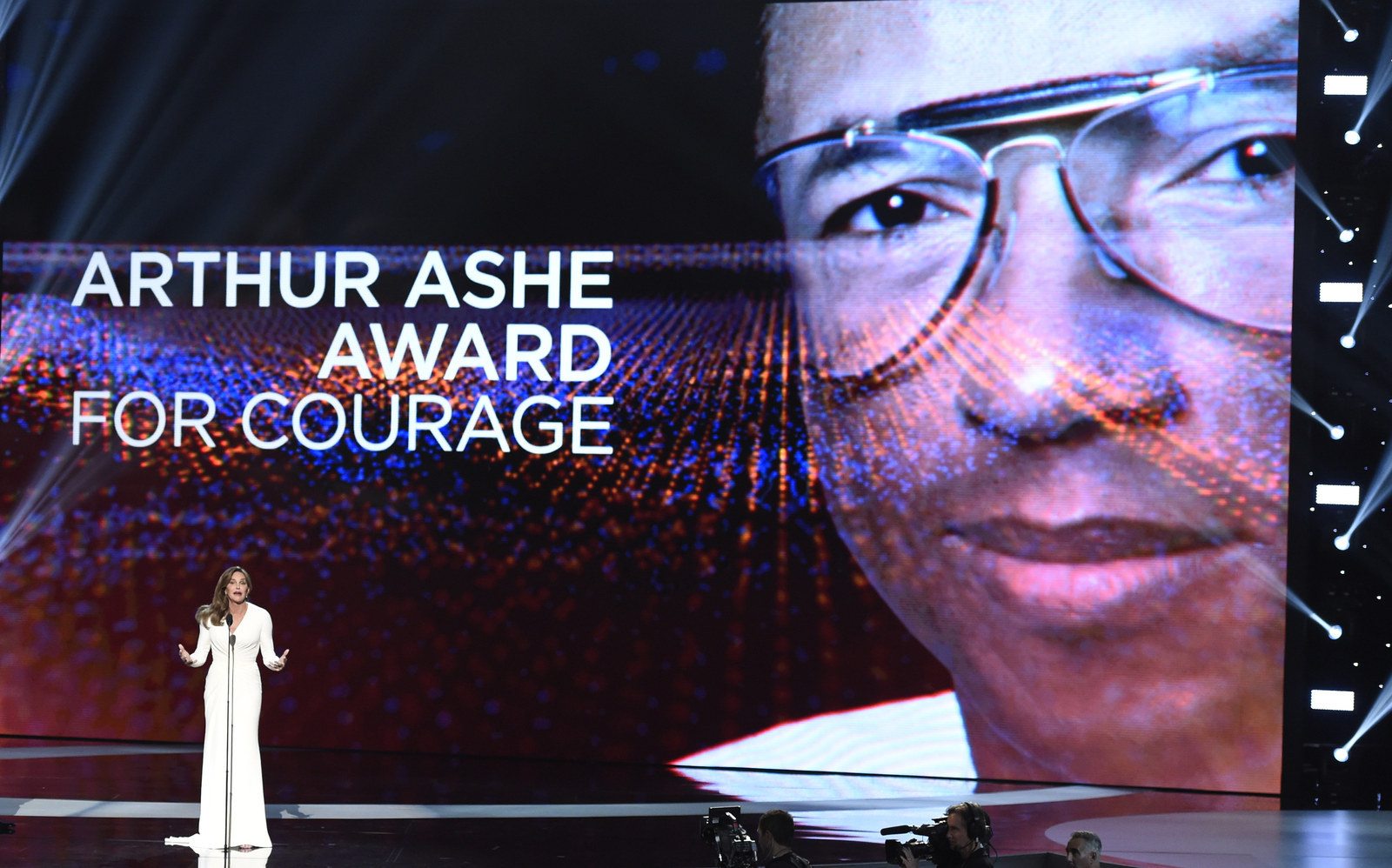 Prior to Jenner's speech, ESPN ran a glossy intro video recapping her history through the years, and then her decision to transition and the subsequent journey — including clips of her exclusive interview in April with ABC's Diane Sawyer.
"Wow, I have to talk after that?" Jenner quipped as she took the stage to a standing ovation.
According to ESPN, the Arthur Ashe Courage Award is meant to honor those whose contributions "transcend sports through courageous action."
"Sometimes that courage is demonstrated over the course of a lifetime and sometimes it is demonstrated in a single act that shines a light on an important contemporary issue," the network said in a statement. "This year, we are proud to honor Caitlyn Jenner embracing her identity and doing so in a public way to help move forward a constructive dialogue about progress and acceptance."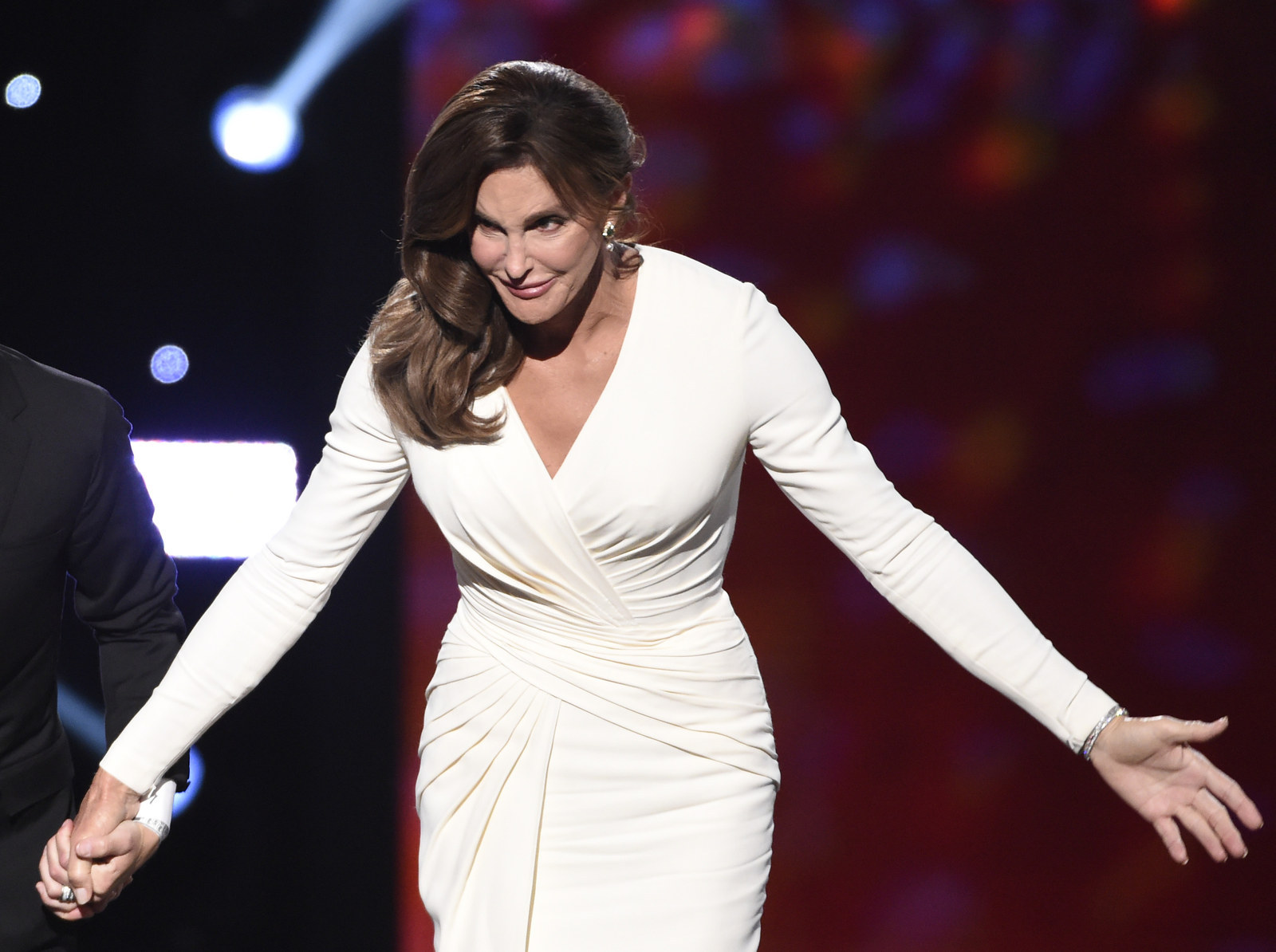 Whatever the pre-telecast drama, Jenner appeared resolute to use the nationally televised moment to once again seize control of the narrative and stake her flag on a new turf.
"It's not just about me, it's about all of us accepting one another," she said. "We're all different — that's not a bad thing, that's a good thing."

The Olympian turned reality TV star turned trans advocate also had a message for her critics.
"If you want to call me names, make jokes, doubt my intentions, go ahead, because the reality is, I can take it," Jenner said. "But for the thousands of kids out there coming to terms with being true to who they are, they shouldn't have to take it."