Baseball Great Yogi Berra Dies At Age 90
Baseball legend Lawrence Peter "Yogi" Berra — considered one of the greatest catchers to play the game — died Tuesday night at the age of 90.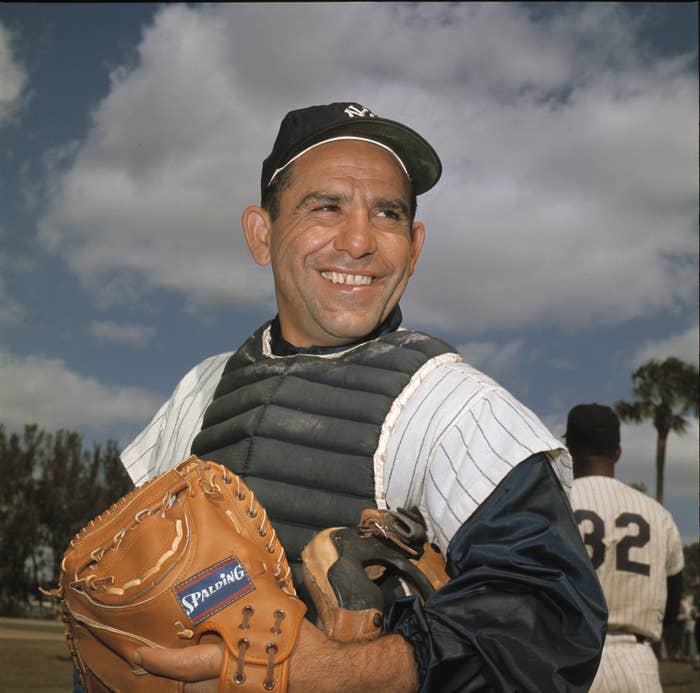 Baseball Hall of Famer Lawrence Peter "Yogi" Berra — widely considered one of the greatest catchers to play the game — died Tuesday night. He was 90.
Born May 12, 1925, Berra played 19 years in MLB — 18 of which for the New York Yankees — and was elected to the Baseball Hall of Fame in 1972.
He died 69 years to the day of his MLB debut: Sept. 22, 1946.
Berra was also known for his unique phrases such as "It ain't over 'til it's over," and, "When you come to a fork in the road, take it." It was those so-called Yogi-isms that eventually inspired the cartoon character Yogi Bear, who debuted on television in 1958.

As a boy, Berra was known as Larry, but he came to be known as "Yogi" in his teens when he and his friends saw a program about India. A Hindu yogi appeared on screen sitting cross-legged — much in the same way Berra would sit while waiting for his turn at bat, the New York Times reported. From then on, he became known simply as Yogi.

At age 19, Berra served in the Navy during World War II, and was part of a crew on the front lines of D-Day, during which the future baseball legend was shot at by German defenders.
Berra survived the storied military assault and two years later, on Sept. 22, 1946, he made his MLB debut for the New York Yankees at the age of 21. He appeared in seven games during the 1946 season, logging eight hits and two home runs over 22 plate appearances.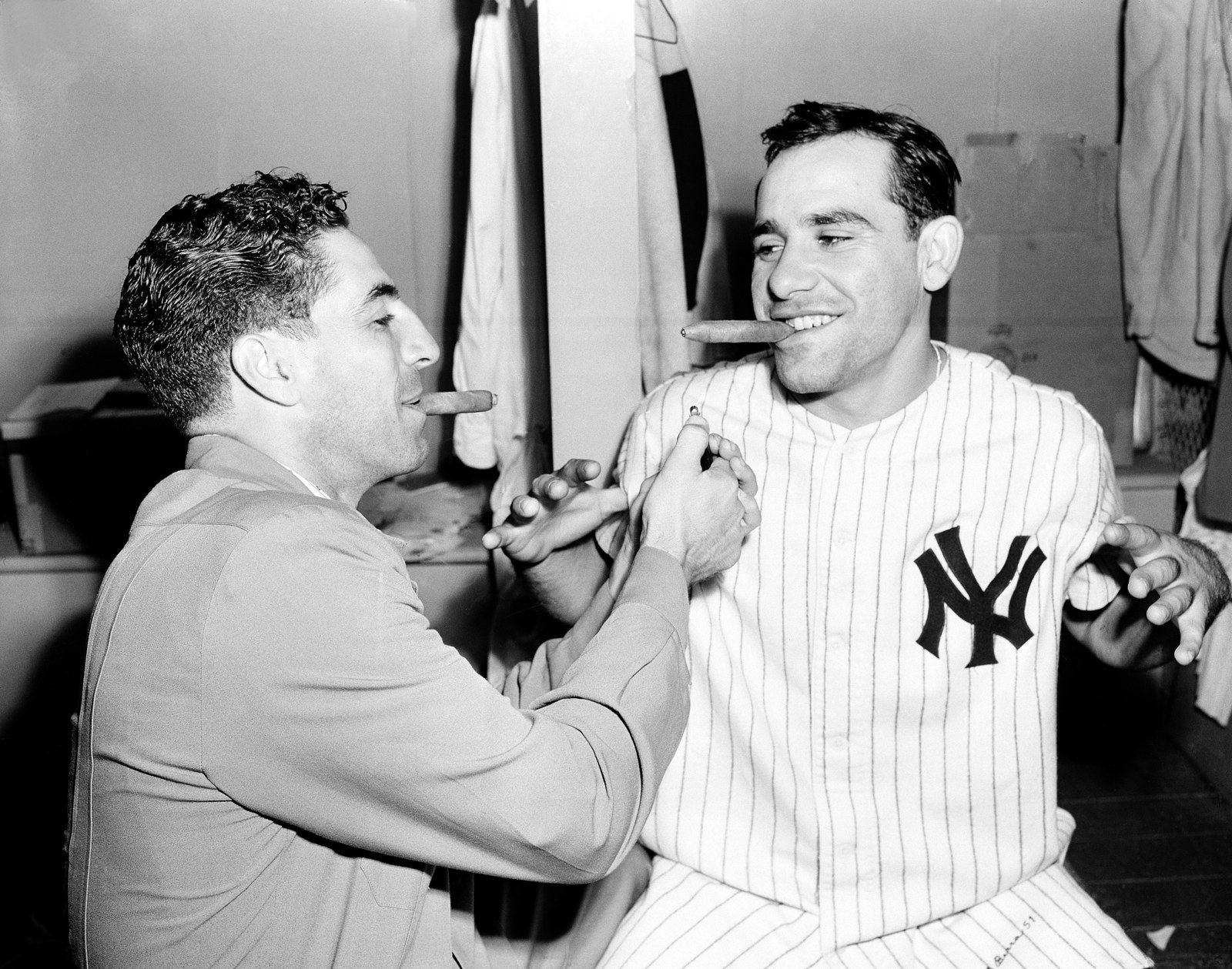 Berra went on to anchor the legendary Yankees teams of the 1950s, considered to be one of the best baseball dynasties of all time.
In 19 MLB seasons, the first 18 of which were with the Yankees, Berra appeared in a total of 2,120 games, logging 358 home runs, and a higher-than-league-average hitting percentage through the bulk of his career.
Berra was a part of 10 World Series Championship teams and played a total of 75 World Series games. He was named American League MVP in 1951, 1954, and 1955. He was named an All-Star every year from 1948-1962, with appearances in both All-Star Games hosted in 1961 and 1962.

In 1972, Berra's number — #8 — was retired by the New York Yankees, and he was inducted into the National Baseball Hall of Fame by 85.6% of voters.
Berra would go on to win three more World Series rings during his career as a manager.
He claimed the most World Series titles as player — 10 — beating Joe DiMaggio's nine.
In 1963, Berra was named manager of the Yankees, but he would go on to become a player-coach at the New York Mets. According to the Society for Baseball Research, Berra caught only two games and batted .222. He played his final game three days before turning 40.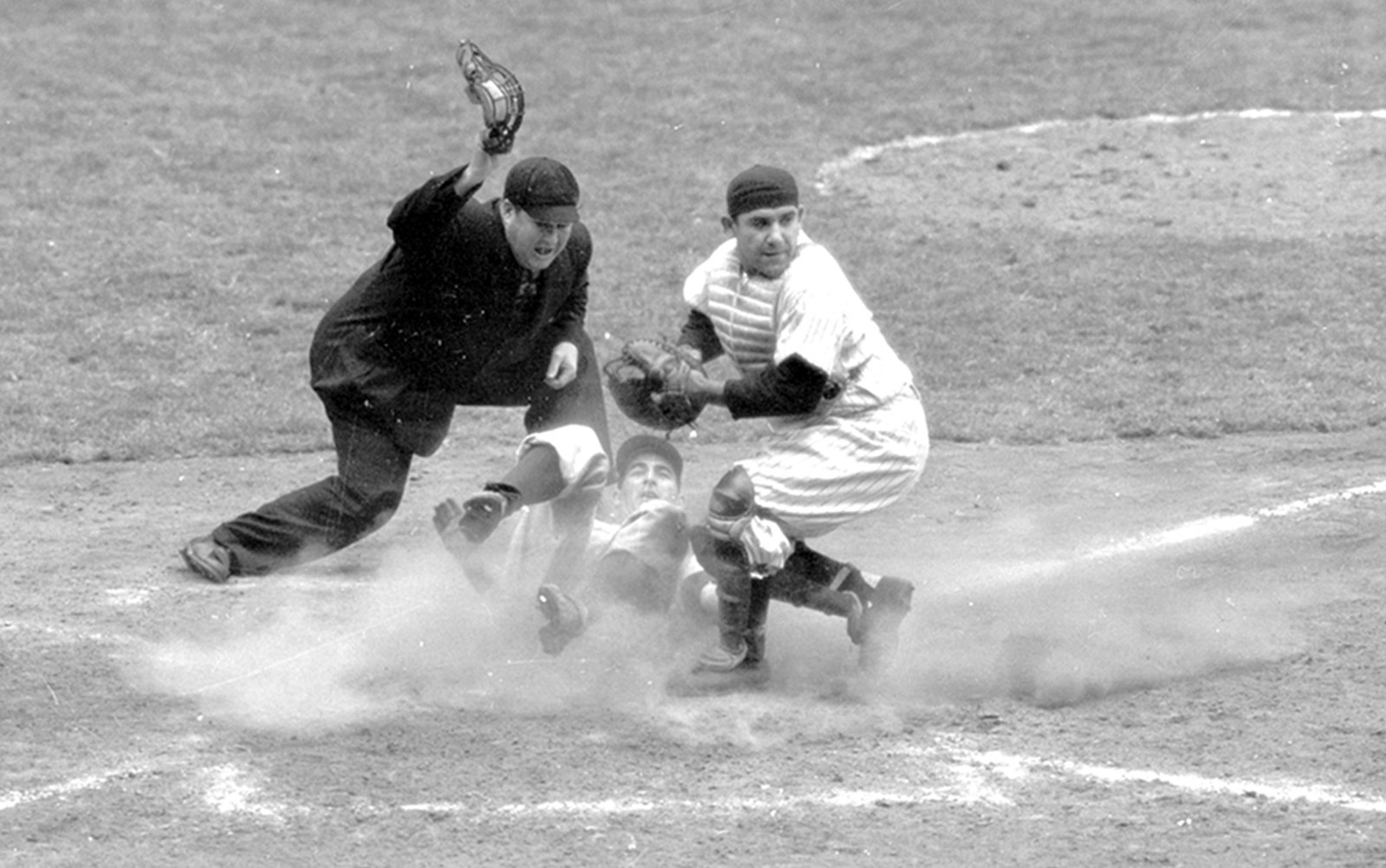 Married to his wife, Carmen, for 65 years — who died in March 2014 — Berra had three sons: Larry, a former minor-league catcher, Tim; a former NFL receiver, and Dale, a former major-league infielder.

One of his many grand children sits on the board of the Yogi Berra Museum and Learning Center, which sits on the campus of Montclair State University in New Jersey.
A cause of death was not immediately given.
On Wednesday, President Obama issued a statement on Berra's passing:
"Yogi Berra was an American original – a Hall of Famer and humble veteran; prolific jokester and jovial prophet. He epitomized what it meant to be a sportsman and a citizen, with a big heart, competitive spirit, and a selfless desire to open baseball to everyone, no matter their background. Michelle and I offer our deepest condolences to his family, his friends, and his fans in New York and across the world."
Watch a tribute on Berra's life here: