A Bullet Fragment Was Pulled From A Rhino At San Diego Zoo
The 5-year-old southern white rhino was likely shot by a poacher in South Africa, but the bullet became lodged and a piece of it spent all this time working its way to the surface.
The San Diego Zoo says a veterinarian used a pair of pliers to pull a bullet fragment from a white rhinoceros after it worked its way to the surface.
Wallis, a 5-year-old southern white rhino, had previously lived on a reserve in South Africa, and was likely the target of a poacher, the zoo said.
Upon arriving in November 2015, zoo officials began treating the skin wound, but after several surgical procedures, it continued to fester. Suspecting a bullet, zoo staff brought in a powerful metal detector to scan for any foreign object and got a hit.
The decision was made to perform surgery to find and remove the metallic object, but during a final inspection earlier this month, staffed noticed a "tiny, hard, black object." That's when Safari Park veterinarian Jim Oosterhuis whipped out his pliers, "grasped the object, made a quick jerking motion, and out popped the bullet fragment with jagged edges," he said in a statement.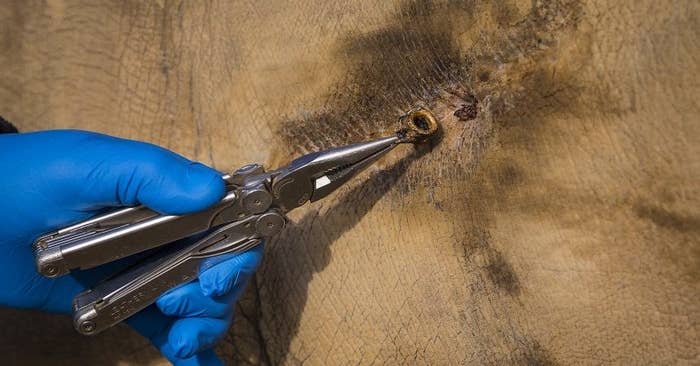 "It feels great to know that we finally have found what we believe to be the source of her infection," he said. "By having the fragment work itself out, it eliminated the need for surgery."
The bullet fragment appeared to be lodged under Wallis's rib, and every time she moved, the jagged edges were irritating her tissue, Oosterhuis added.
Since removing the fragment, the wound is healing rapidly, and the 3,000-pound rhino is expected to be completely healed in a week, the zoo said.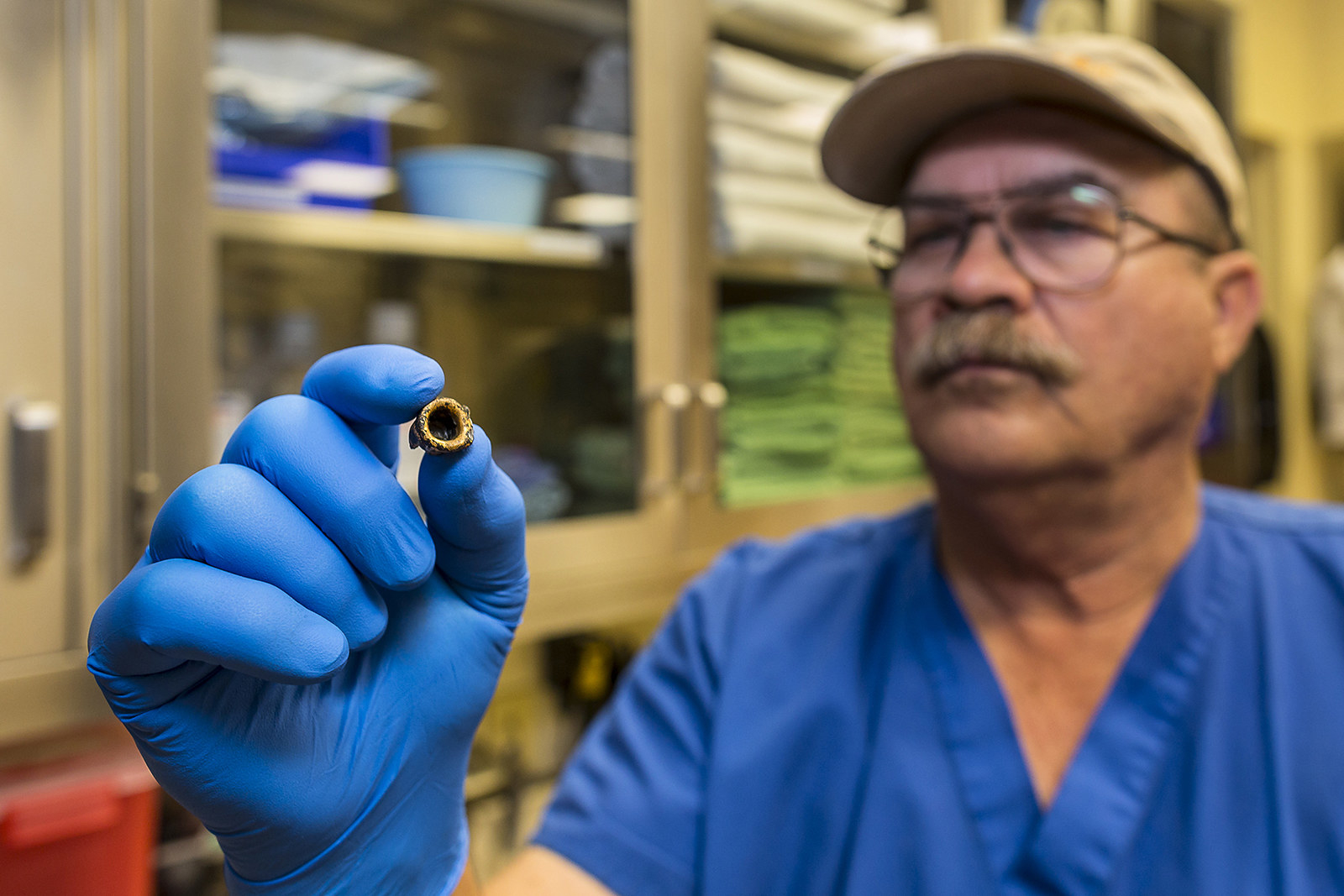 Wallis is one of six southern white rhinos that were brought over from preserves in South Africa in 2015 to take part in a breeding program that is trying to keep northern white rhinos from going extinct.
There are now just three northern whites remaining in the world, but they're too old to breed, so southern whites are being used to carry embryos grown in labs.
Ultimately, the zoo hopes to perfect the procedure and use genetic samples collected from northern whites to, via stem cells, produce northern white rhino sperm and eggs, which southern surrogates like Wallis would carry to term.