61 Wingsuited Skydivers Set A World Record Over California
Whoa.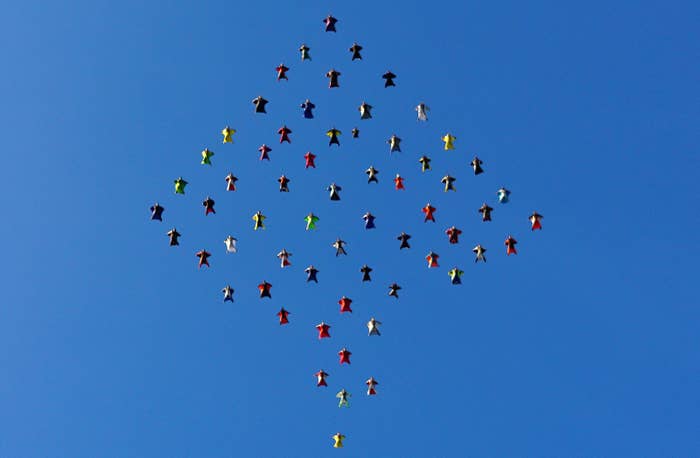 A group of 61 wingsuited divers created a diamond-shaped formation over California this weekend to set a new world record, organizers announced Tuesday.
The record for the largest such formation was set Saturday at Skydive Perris, 80 miles southeast of Los Angeles, shattering the old record set by 42 flyers in June.
Taya Weiss, the lead organizer, told the Associated Press on Tuesday that the new record was verified by a panel of judges from Fédération Aéronautique Internationale, the international group that keeps track skydiving and aviation-related records.

The wingsuited divers leapt from three aircraft at 13,500 feet to create the formation before breaking apart at 5,500 feet, and parachuting to safety. The jump was reviewed and confirmed by two other judges on Monday, the AP reported.
Jumpers from 12 nations took part in the coordinated dive, including from Canada, Britain, Australia, Russia, Poland, South Africa and Israel.

A full-scale high-resolution version of the jump, by Mark Harris, can be viewed here.