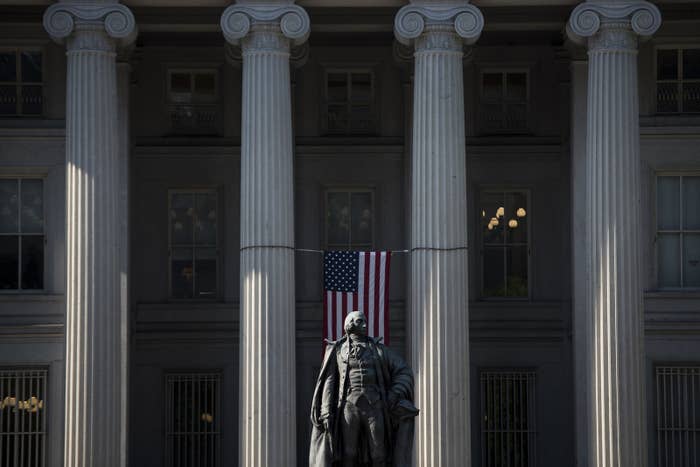 Treasury Department intelligence officials did not repeatedly violate domestic surveillance laws by trawling through Americans' financial records, according to a 17-page audit released last month.
The report was sparked by an internecine battle within the Treasury Department. Staff at one Treasury office — the Financial Crimes Enforcement Network, or FinCEN — alleged that employees in another Treasury branch, the Office of Intelligence and Analysis, were systemically spying on US citizens' financial records.

Last fall, BuzzFeed News published a story about the allegations, which had been passed to the Treasury Department officials, its inspector general, and congressional investigators.
That story prompted Sens. Orrin Hatch and Ron Wyden, the Republican chair and ranking Democrat on the Senate Finance Committee, to send a letter to Treasury Inspector General Eric Thorson requesting additional information about the allegations and a briefing about the matter.
After months of investigation, Thorson's office concluded there was no merit to the complaints, which included the allegation that OIA analysts contacted "financial institutions to make inquiries about individual bank accounts and transactions involving US citizens."
"We found that the BuzzFeed claims were not supported," wrote Deborah Harker, the Treasury's assistant inspector general for audit.
She noted, however, that OIA has been working without attorney general–approved guidelines for a decade. The department has been working on the guidelines — which spell out how intelligence agencies handle the collection, retention, and dissemination of US persons' information — for 10 years. The audit report recommended that OIA "as expeditiously as possible" submit its draft guidelines to the Department of Justice for approval.
Additionally, the audit report recommended that OIA establish a compliance monitoring program "to assess whether intelligence analysts' activities are conducted in accordance with OIA authorities, and electronic searches and other queries are performed in a manner that fully protects the rights of US persons."
Those recommendations were accepted by Sigal Mandelker, the undersecretary for the Treasury's Office of Terrorism and Financial Intelligence.
The report noted that the inspector general's office "interviewed 13 OIA analysts, and they all told us that they do not reach out directly to financial institutions to request financial information. They said that they contact FinCEN if they require additional information from financial institutions beyond what is available" from a vast banking database controlled by FinCEN.
Spokespeople for Hatch and Wyden declined to comment on the report's conclusions.
The OIA is charged with monitoring suspicious financial activity that occurs outside the US. According to interviews and documents reviewed by BuzzFeed News, FinCEN employees had alleged that analysts in the OIA had called US banks to obtain information on US citizens, unmasked their identities, as well as those of US-based businesses that were blacked out in internal reports, and collected and retained domestic financial information from a vast banking database, in violation of a landmark executive order that sets the ground rules for how intelligence agencies can operate.
But the audit determined that the OIA did not do anything improper and that the division has the legal authority to collect US citizens' information from financial institutions, even though investigators determined that OIA had not done so.
FinCEN employees told BuzzFeed News that the audit report is a "cover-up" and called into question the integrity of the investigation, which they allege was designed to find no wrongdoing.
"They basically asked OIA if they were violating the law and OIA said no," a FinCEN employee said. "The research was unscientific and shoddy. If the inspector general properly went through their searches of the BSA database" — a government trove of closely guarded financial information — "they would find multiple violations. If they looked at OIA travel records they would find trips to visit banks," the employee said.
Another FinCEN employee said, "There are too many emails and documents that refute their conclusions."