Some In Congress Don't Get The "Gravity" Of Russian Election Meddling, Former CIA Director Said
John Brennan, CIA director under President Barack Obama, also bemoaned a "barrage" of "inaccurate and misleading" news reports. He made these statements in an internal memo to CIA employees obtained through a Freedom of Information Act lawsuit.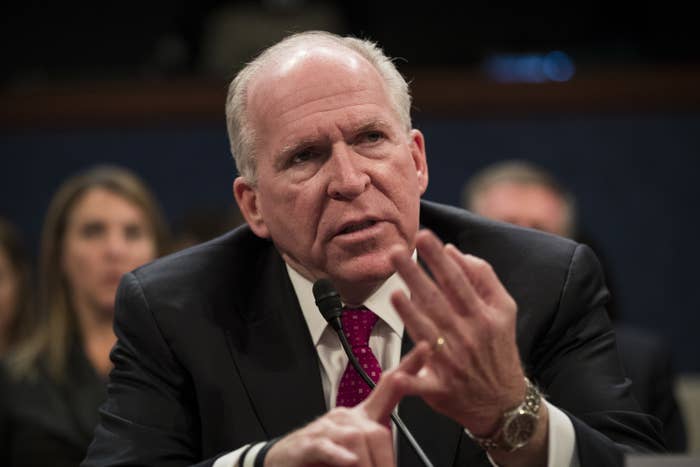 In an internal memo to CIA employees last December, CIA Director John Brennan complained that some members of Congress he had briefed about the agency's assessment that Russia interfered in the US presidential election did not "understand and appreciate the importance and gravity of the issue."
Brennan's Dec. 16, 2016, memo did not identify the lawmakers who expressed skepticism about the CIA's judgment that Russia helped Donald Trump win the election. But three intelligence sources told BuzzFeed News that Brennan's criticism was directed at Senate Majority Leader Mitch McConnell and Sen. John Cornyn, the majority whip. At the time, the two Republican lawmakers downplayed the importance of the CIA's intelligence. Cornyn said it was "hardly news."
Four congressional committees and a special counsel are now investigating Russia's role in the presidential election and ties between Trump's campaign and Russian officials.
The Brennan memo offers rare insight into a tense time when the CIA was under pressure by the White House and Congress to produce evidence to support its conclusions about Russia's meddling in the election. It was obtained by BuzzFeed News and Ryan Shapiro, an MIT doctoral candidate and cofounder of the transparency project Operation 45, in response to a Freedom of Information Act lawsuit against the CIA and other intelligence agencies for documents about Russia's role in the election.
The CIA declined to comment about Brennan's memo. Brennan, who was appointed CIA director by President Barack Obama and left the agency when Trump became president, did not respond to requests for comment.
Brennan circulated the memo the same day the Washington Post reported that the FBI agreed with the CIA's secret intelligence assessment. Less than a week earlier, the Washington Post, Fox News, Reuters, and CNN reported, citing unnamed US officials, that the FBI and the Office of the Director of National Intelligence, which oversees the US intelligence community, did not agree with the CIA.
However, Brennan's memo said he met separately with then-FBI director James Comey and then-director of national intelligence James Clapper earlier that week "and there is strong consensus among us on the scope, nature, and intent of Russian interference in our recent Presidential election."
The CIA director was particularly angered by reports in the Washington Post, the three sources said, which had led news coverage of the CIA's election assessment, sparking follow-up stories across the news media. In his memo, Brennan characterized the "barrage" of stories as "misleading and inaccurate."
In a separate memo he sent CIA employees on Dec. 13, 2016, after details about the secret CIA assessment leaked to the media, Brennan warned that "there will likely be additional uninformed public discourse and speculation on this matter that will surface in the media in the days and weeks ahead."
"I understand how frustrating such reports can be, but this is one of the many challenges we face in our line of work," Brennan wrote.
Brennan also slammed the "named and anonymous sources" in news reports who dismissed the value of intelligence and "impugn the integrity of intelligence officers." Such comments in "inaccurate and misleading" news reports, the CIA director said, were "distractions." He urged his staff to ignore them and stay focused on their work.
Five days before Brennan sent that memo, then-president elect Donald Trump's transition team had ridiculed the CIA's conclusions and belittled intelligence officers.

"These are the same people that said Saddam Hussein had weapons of mass destruction," the Trump transition team said in a statement about the CIA's Russia assessment.
Trump himself, in an interview with Fox News that same day, said of the CIA's conclusion: "I think it's ridiculous. I think it's just another excuse. I don't believe it." Intelligence has been "politicized in the Obama administration to a very significant degree," he added.
Brennan told his employees, "Never have our national security challenges been so numerous and complex, nor has the need for your service been so great."
Jason Leopold is a senior investigative reporter for BuzzFeed News and is based in Los Angeles. He is a 2018 Pulitzer finalist for international reporting, recipient of the IRE 2016 FOI award and a 2016 Newseum Institute National Freedom of Information Hall of Fame inductee.

Contact Jason Leopold at jason.leopold@buzzfeed.com.

Got a confidential tip? Submit it here.