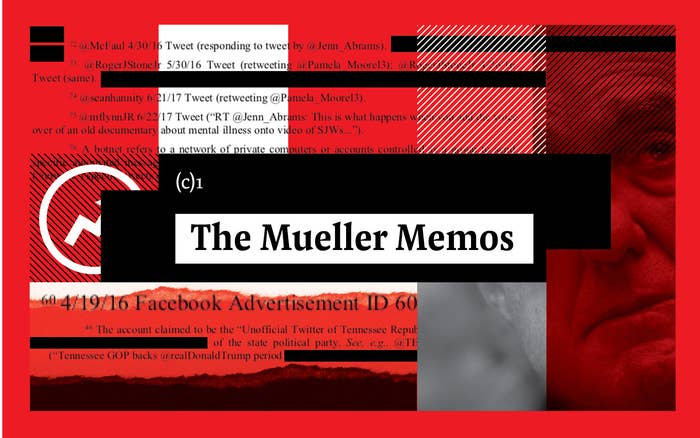 A new cache of witness interview summaries from special counsel Robert Mueller's two-year probe into Russia's interference in the 2016 presidential election was released Monday in response to Freedom of Information Act lawsuits by BuzzFeed News and CNN.
These documents, known as FBI 302s, shed light on what Trump administration officials and campaign staffers, as well as other people close to the president, told federal law enforcement agents about events during and after the campaign. In the last set of summaries that were released, one witness said people in Trump's "orbit" didn't care whom they hurt, believed their "deep state narrative," "read books like 'The Turner Diaries,'" and "downloaded military manuals from the internet."
A person whose name was withheld on privacy grounds told investigators during an Aug. 11, 2017 interview that after the 2016 election Trump's "hardest" supporters were "shut out" of the new administration by the Republican National Committee, which cut a deal with Reince Priebus, the former White House chief of staff.

"They had many favors to repay the Committee. Trump gave Priebus a chance but Priebus didn't get the healthcare bill passed," the person told Mueller's investigators.
On Nov. 21, 2017, an FBI agent and two lawyers from Mueller's office interviewed Jeffrey Getzel, who had worked as an accountant for Trump's former lawyer and fixer Michael Cohen. Getzel was under the impression that Cohen was up for a job in the White House. He told investigators that roughly a month to a month and a half before the interview, someone (whose name is redacted) told Getzel that Cohen "was going to the White House and that COHEN needed to liquidate his assets."
Getzel said he respected Cohen's "significant position" in the Trump Organization. He noted to investigators that Cohen had a statue of himself in his office with the phrase, "Trump's pitbull" written on it, a phrase that Cohen used to describe himself in the past, according to CNN.

A White House job never materialized, though. Cohen would eventually turn on his former boss and cooperate with Mueller's investigation. He pleaded guilty to financial crimes unrelated to his dealings with Trump as well as campaign finance violations related to his role orchestrating hush-money payments to two women who claimed to have had affairs with Trump.
Getzel told investigators that Cohen was "an extremely sharp individual," but also a "difficult client" who didn't pay his bills on time. Cohen "resented paying taxes more than most people" that Getzel did work for, he said, and would pay penalties at the end of the year rather than paying quarterly estimated taxes.
Much of Getzel's interview summary is redacted, but one section makes clear that he spoke with Mueller's team about Essential Consultants, the corporate entity that Cohen created to facilitate the hush-money payments. Getzel said that if he'd known more about Essential Consultants, he would have "pushed harder to encourage COHEN to include his interest in the company" in a personal financial statement.
Getzel knew about another corporate entity that Cohen recently created, Michael D. Cohen & Associates P.C. Getzel told investigators that he didn't think the company had "any real value" because its only client was Trump, "who had a propensity for firing people." The Washington Post reported Cohen used that business to pitch himself as a consultant to companies based on his close ties to Trump.
"As such," the summary reads, "MDCPC was not really a company COHEN could sell to anyone."
One of the interview summaries is of Cassandra Ford, an Ohio woman who caught the attention of the special counsel's office because in 2016 she renamed her Twitter account @Guccifer2, after the character credited with hacking and leaking Democratic emails. Ford's identity and the interest she attracted from Mueller's investigators were first revealed in October 2018, in an article in BuzzFeed News.
Ford was interviewed by the FBI in April 2018. In the six-page summary of that encounter, much of which is redacted on privacy grounds, she explained why she created @Guccifer2 and chose to give the impression that she was Russian.
"In creating her own twitter account @Guccifer2, Ford wanted to see of the account would be censored by Twitter, because of the notoriety of Guccifer2.0," the interview summary said. She went on to say that she chose the Volgograd time zone for her Twitter account in order to "appear to be Russian."

"Ford used the photo of Felix Dzerzhinsky as her Twitter profile photo. Ford read in the article on Smoking Gun that some of the documents released by Guccifer2.0 persona had the name of Dzerzhinsky on internet and thought he had a 'creative background,'" the summary said.
In a separate interview, the Republican strategist Jason Miller, who was chief spokesperson of Trump's 2016 presidential campaign, told the FBI he sought assistance from the Republican National Committee in 2016 poring over the hacked Democratic National Committee emails that WikiLeaks released. Moreover, he said he recalled hearing stories "about there potentially being a tape in which Trump used the 'N-word."' When the campaign learned it was the infamous Access Hollywood tape, Miller said he and the campaign went into damage control. He said he was responsible for disseminating the statement that Trump's "grab em by the pussy" line "amounted to locker room talk."
Although the Mueller investigation led to 37 indictments and seven convictions, Trump has aggressively sought to discredit it, repeatedly referring to it as a "witch hunt." His efforts have been supported by Attorney General Bill Barr, who has intervened in several cases related to the investigation, including the prosecutions of former national security adviser Michael Flynn and political consultant Roger Stone. Last year, Barr also tapped a US attorney in Connecticut, John Durham, to investigate the origins of the Russia probe.
Last month — after Trump commuted Stone's prison sentence and referred to the probe as a "hoax" and "witch hunt" that the "Left and its allies in the media perpetuated for years in an attempt to undermine the Trump Presidency" — Mueller broke his silence by writing an op-ed in the Washington Post defending his investigation. In June, in response to a separate lawsuit filed by BuzzFeed News and the Electronic Privacy Information Center, a previously blacked-out portion of the Mueller report was disclosed; it showed that Mueller's team suspected Trump had lied to investigators in his written responses to their questions about Stone.
The final 448-page Mueller report, released in April 2019, was the most hotly anticipated prosecutorial document in a generation. But it reflected only a tiny fraction of the primary-source documents that Mueller's team had amassed over the course of its two-year probe; much of the content of the typewritten interview summaries taken by the special counsel's office has never before been reviewed publicly. A month after the report was released, BuzzFeed News sued the FBI and the Department of Justice, seeking access to those records. That litigation was subsequently joined by CNN.
In October, a federal judge ordered the release of the documents, and the two agencies began releasing 302s last November. Under the court order, records must be disclosed every month; to date, the government has produced about 3,000 pages of summaries from interviews with more than 500 witnesses who spoke to Mueller's team during the course of the investigation.
The vast majority of the 302s have been heavily redacted, leaving vast swaths of information about what witnesses told investigators obscured from view. BuzzFeed News has challenged some of those redactions, arguing in court that one category of exemption the government has cited to justify the withholdings was legally unfounded, politically motivated, and implemented solely to protect the president.