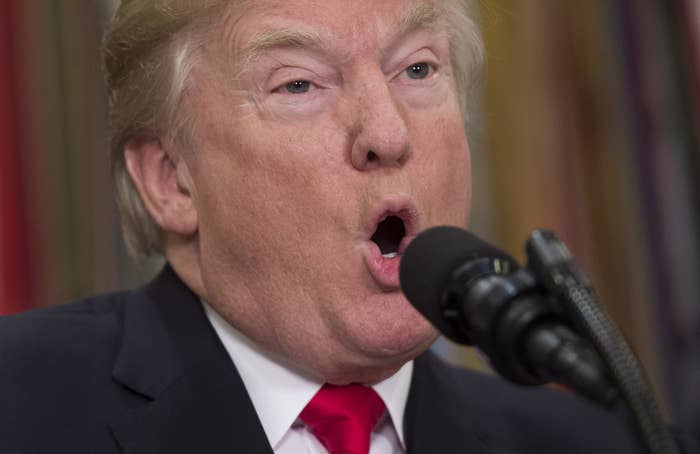 When CNN and NBC broadcast the word "shithole" to report on President Donald Trump's use of the epithet to describe some African nations, some viewers were furious — with the networks.
"Now my nephew is running around calling everything a shithole," complained one viewer from Fenton, Michigan. "NBC must be fined for this, there's no excuse to use these words on broadcast television."
That complaint was one of nearly 200 lodged on Jan. 11 and 12 with the Federal Communications Commission and obtained by BuzzFeed News through a Freedom of Information Act request. The names and identifying information of the complainants were redacted.
The Washington Post first reported that Trump used the word during a meeting about immigration with Democratic and Republican lawmakers on Jan. 11, and news media around the world followed up. Fearful of offending their audience, some outlets referred to "a profanity" instead of repeating "shithole." Others opted for "S-hole." But CNN and NBC, as well as NPR and its affiliates, decided there was news value in repeating Trump's alleged language.
That did not go over well with some viewers, many of whom said they were watching the news with their children. The FCC allows the public to register complaints online and by phone about programs on radio, broadcast television, and cable television.
"I was watching CNN and saw that they broadcast they word, 'shithole' on their graphic banner," wrote a viewer from Jersey City, New Jersey. "I understand that it was used in context about the President's words this past week. I don't believe that word belongs on Television verbally or written, in fear of our children being exposed to it at a younger than desired age and should not become the norm under ANY circumstances. That word typed out as, "Sh***ole", would suffice. I hope the FCC has a shared understanding of the importance of this issue and for the sake of our youth at 5 o'clock in the afternoon."
Profanity is prohibited on the public airwaves between the hours of 6 a.m. and 10 p.m. But the FCC will take news value into consideration when determining if a broadcaster should be fined. The regulator has not taken enforcement actions on any of the indecency complaints it has received about broadcasters repeating Trump's use of "shithole."
The FCC's indecency regulations do not apply to cable television or satellite radio.
At least one person who wrote to the FCC believed it was important for news organizations to report Trump's alleged use of the word "shithole" unedited, "so that everyone in our country can see what we are sinking to because of this man," referring to Trump. "Just when you think it can't get any worse, it does. This needs to be reported so I support the news reports as they happened."