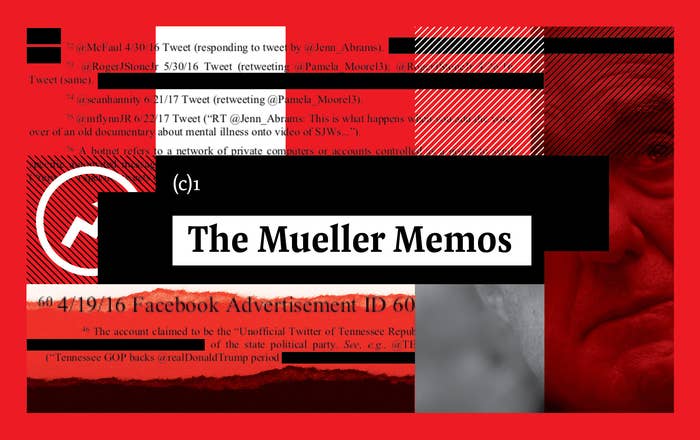 A new batch of interview summaries from special counsel Robert Mueller's investigation into the 2016 election was released on Tuesday in response to Freedom of Information Act lawsuits by BuzzFeed News and CNN.
The documents, known as FBI 302s, reveal what Trump administration and campaign officials, as well as other people close to the president, told federal law enforcement agents and prosecutors about issues relating to Russia's interference in the 2016 presidential election and potential attempts by President Donald Trump to obstruct the probe.
Bannon: Trump Wanted Those Emails
Bannon, who joined Trump's campaign in August 2016, described numerous discussions within the Trump campaign related to "dirt" that could be used to harm Hillary Clinton's campaign. He "was always interested in the missing 33,000 emails," an FBI agent wrote in a summary of the February 2018 interview, but expressed doubts that Roger Stone had a relationship with Julian Assange of WikiLeaks or would know about an impending leak.
According to Bannon, Trump "every now and then" would "bring up the 33,000 emails." The then-candidate, Bannon told investigators, thought the missing emails might contain info on a connection linking "crooked Hillary" to a widely circulated conspiracy theory about uranium.
At one point, Bannon wondered if Michael Flynn, who would go on to be named Trump's national security adviser, "might have an idea about using an outside company and finding the 33,000 missing emails."

After WikiLeaks published then–Democratic National Committee chair John Podesta's hacked emails in October 2016, Trump asked Bannon "if it was a big deal," according to the 302. Bannon said he had never believed they were that important and that they would not have a big impact on the campaign.
"Nasty Piece of Work"
In his interview, Bannon pulled few punches in regard to other advisers in Trump's orbit. He described Roger Stone as someone with a "sketchy background" and a "nasty piece of work" who leaked stories to the press in order to get Trump's first campaign manager, Corey Lewandowski, removed from the job. Lewandwoski left the campaign in June and was replaced by Stone's former business partner, Paul Manafort.
In addition, Bannon called campaign advisers Sam Clovis and George Papadopoulos "clowns."
Vladimir Putin Is Short
An unnamed male witness told investigators that when the FBI agents who showed up at his house confirmed that they were looking for information about the campaign and Erik Prince, he replied, "Fuck, fuck, I knew you guys would come, it was so fucked up." The witness said he never saw Prince with Trump or around the campaign.
The next section of the interview is redacted and ends with an out-of-context reference to "information about Eliot Spitzer and the escort service," a reference to the sex scandal that brought down the former New York governor in 2008.
The witness said Prince wanted to throw a fundraiser for Trump, but it didn't happen because Prince, the former CEO of Blackwater, was too controversial.
The witness told agents that Trump campaign officials didn't know what they were doing. He said the campaign didn't have a plan or organization when they arrived in a state to stump for Trump — he said he would go on Craigslist to look for office space.
Once Trump secured the nomination, the witness said he and other campaign workers were advised to switch over to the Republican National Committee's payroll, where they could earn more, but that the campaign still owed him money for expenses.
He said he didn't hear about any contacts between Russia and the campaign, but added that Trump said he wasn't impressed with Russian President Vladimir Putin and noted Putin was "only 5'6."
Evicting Julian Assange
Paul Manafort resigned from Trump's campaign in August 2016, but months later he was open about his efforts to keep a finger on policy issues of interest to the Trump administration. An unnamed witness told an agent that when he "ran into" Manafort in early 2017, Manafort said he was going to try to convince the incoming president of Ecuador to kick Julian Assange out of the nation's London embassy. The witness didn't know if Manafort followed through. (The New York Times and others previously reported on Manafort's plan.)
The witness had called the FBI agent in November 2018 after reading a report in The Guardian that stated Manafort had several secret meetings with Assange at the embassy, where Assange lived for years while claiming asylum. Manafort denied the story, calling it "100% false." The Guardian story also noted that Wikileaks denied that the two men met.
The witness told the FBI agent that they had two conversations with Manafort about Manafort's plan to pitch his services to the Ecuadorian president as a political adviser, but that Manafort had never said whether or not he met with Assange.
My Kingdom for a Diet Coke
An unidentified witness told investigators in 2017 that during a VIP reception at the Mayflower Hotel a year earlier, at which the president delivered his foreign policy speech, Trump and his son Donald Trump Jr. would snap their fingers to get people to wait on them.
"Trump, Jr. tried to [redacted] attention by snapping his fingers at him and asking him to take him to a different part of the reception. [Redacted] explained that he was not secret service. Trump Jr. then snapped his fingers at agents who escorted him wherever he went. [Redacted] explained that Trump also snapped his fingers at this former Campaign Manager Paul Manafort or Corey Lewandowski during a review of the location for a Diet Coke."
Charlie Black Steps Into the Light
The documents show that Charlie Black, a veteran Republican political strategist, appears to have spoken with the Mueller's team. One August 2018 interview summary described a witness, whose name is redacted, as someone who began a political consulting firm with Paul Manafort and Roger Stone — a description that could only refer to Black. The witness "does not trust Manafort and would not believe his version of events," the summary read.
Other parts of the interview summary match publicly available information about Black — including that he first hired Rick Gates to work at the firm with Manafort and Stone, which the Associated Press noted in a feature about Gates, and that he spent time with Manafort and Stone the night before Trump's inauguration, a story that Black himself told Washingtonian.
Black declined to comment on Tuesday evening. According to the interview summary, Black told investigators that he wasn't aware of Manafort doing anything illegal when they worked together, but he did note that Manafort billed clients when he traveled via the Concorde to London.
"Manafort always had a taste for the finer things," the summary read.
Black told investigators that leading up to Manafort's first federal indictment — along with Rick Gates — in late October 2017, friends of Manafort formed a group to try to help him out. Part of their strategy was to circulate a biography of Manafort to elected officials and the press.
The Story of Manafort, by Manafort
Manafort himself wrote the biography, which was reviewed by members of the informal group in an email attachment entitled "Draft Paul Manafort Biography," and which appears to include the claim that "[n]one of the public affairs activities" that Manafort organized "were conducted in the United States" — Manafort would later admit to orchestrating lobbying activities in the United States as part of his plea deal. After he was indicted, including on charges that he used overseas accounts to hide money from the IRS, Manafort told his supporters "there was a good explanation for all of it" and that it was his clients who insisted he use banks in Cyprus to receive their payments for his services.
A Pardon for Gates?
Black also talked about helping out Gates as the criminal case against him unfolded. Weighing his options, Gates in either December 2017 or January 2018 reached out to his former employer for advice on whether he should take a plea deal or hope for a pardon from President Trump. Black "told Gates that Trump would only pardon Gates if it was in the best interests of Trump," according to the summary.
Gates eventually opted to take the plea agreement and cooperate with the special counsel's office. In February 2018 he pleaded guilty to lying to the FBI and conspiring against the United States and was eventually sentenced to 45 days in jail and three years probation. This April a judge suspended his jail time due to COVID-19.
Although Trump has issued 25 pardons since taking office, he has yet to pardon anyone indicted as part of the Mueller investigation.
The final 448-page Mueller report, released in April 2019, was the most hotly anticipated prosecutorial document in a generation. But it reflected only a tiny fraction of the primary-source documents that Mueller's team had amassed over the course of its two-year probe; much of the content of the hundreds of interviews taken by the special counsel's office has never before been reviewed publicly.
For example, interview summaries released late last year showed that Paul Manafort was still advising the Trump campaign three days before Election Day in 2016 — despite having been fired as campaign manager nearly three months earlier. That fact, wrote Trump's next campaign manager, Steve Bannon, in an email, needed to be kept secret or "they are going to try to say the Russians worked with wiki leaks to give this victory to us."
In May 2019, BuzzFeed News sued the FBI and the Department of Justice under the Freedom of Information Act seeking access to the thousands of pages of interview summaries of the witnesses who spoke to FBI agents and prosecutors. That litigation was subsequently joined by CNN.
In October, a federal judge ordered the release of the documents, and the two agencies began releasing 302s last November. Under the court order, records must be disclosed every month; to date, the government has produced in excess of 2,000 pages of summaries from interviews with more than 500 witnesses who spoke to Mueller's team during the course of the investigation.
The vast majority of the 302s have been heavily redacted, leaving vast swaths of information about what witnesses told investigators obscured from view. BuzzFeed News has challenged some of those redactions, arguing in court that one category of exemption that the government has cited to justify the withholdings was legally unfounded, politically motivated, and implemented solely to protect the president.
Although the Mueller investigation led to 37 indictments and seven convictions, Trump has aggressively sought to discredit it, repeatedly referring to it as a "witch hunt." His efforts have been supported by Attorney General Bill Barr, who has been accused of intentionally misrepresenting Mueller's findings and who has taken the highly unusual step of intervening in several cases related to the investigation, including the prosecutions of former national security adviser Michael Flynn and political consultant Roger Stone. Last year, Barr also tapped a US attorney in Connecticut, John Durham, to investigate the origins of the Russia probe.