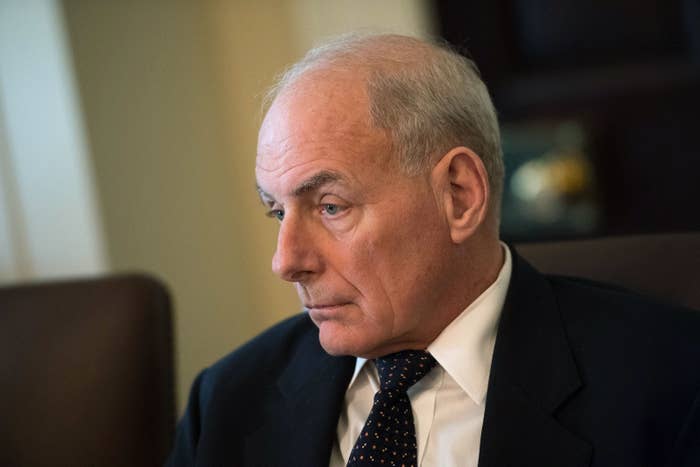 When John Kelly was Secretary of Homeland Security, he instructed an official to refrain from sending emails to staff about the department's work to limit public scrutiny and leaks.
"As we discussed in NYC about the toxic atmosphere here in the D.C. cesspool, my folks are nervous about e-mails you send and ask that you no longer include them on any postings," Kelly wrote in a June 8, 2017, email. Referring to the Freedom of Information Act, which allows journalists and the public to petition the federal government for emails and other official records, Kelly added: "FOIA is real and everyday here in the cesspool, and even federal court action on personal accounts is real."
BuzzFeed News obtained Kelly's email in response to a FOIA lawsuit.
The identity of the person to whom Kelly sent the email was redacted on privacy grounds. Two DHS sources with direct knowledge of the matter told BuzzFeed News Kelly sent the email to another DHS official. A spokeswoman for the agency disputed that, saying Kelly sent it to a private citizen who was bombarding Kelly and other DHS employees with emails. However, the spokeswoman, who would not allow her name to to be used, declined to provide evidence that the recipient of Kelly's email was a private citizen.

Kelly, now President Trump's chief of staff, also confirmed in his email what had been rumored: that his personal email account had been hacked. Due to the breach, Kelly said he rarely communicates electronically and instead does "almost everything now by phone or face-to-face comms."

He told the person who he sent the email to that some DHS employees, notably employees who voted for Hillary Clinton, were rankled by the person's frequent emails.
"The other issue is that roughly 50% of the great people who work for me voted for Clinton and the other roughly 50% for Mr. Trump. Some in the first category find some of the postings offensive."
The substance of the person's "postings" is unknown, but the agency's main focus at the time was on immigration.
Kelly also warned the person about leaks to the media.
"Again, the atmosphere in the cesspool makes it a blood sport to leak so if and when you enter the fray you need to be very-very careful," he wrote. "Infinitely more than you had to in the past."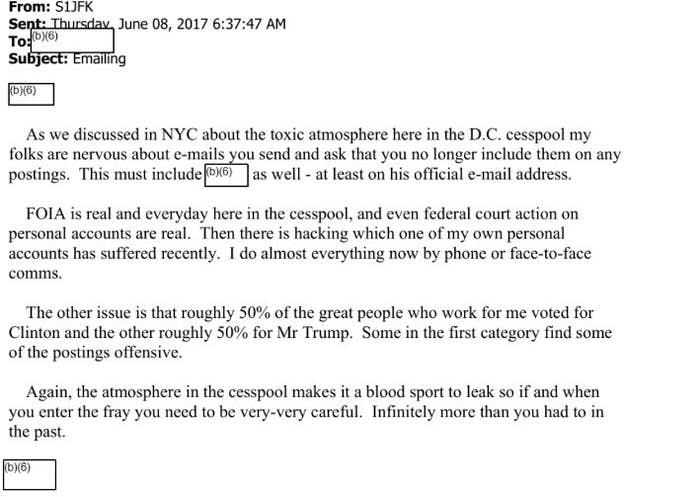 UPDATE
This post has been updated to include more information on the person who received Kelly's email.