A few weeks after the 2016 presidential election, a handful of Democratic senators sent a top secret letter to President Barack Obama.
They wrote that they had "serious concerns" about classified information recently provided to the Senate Intelligence Committee about "Russian Active Measures and election related cyber activity associated with the Russian intelligence services."
"Despite the broad national interest in this topic, this new information has not been provided to the American people," states the Nov. 29, 2016, letter signed by eight Democratic senators, including the incoming ranking member of the Senate Intelligence Committee, Mark Warner.

Although the details of what the senators wanted Obama to share with the public were redacted for national security reasons, three intelligence sources told BuzzFeed News the redacted portion refers to specific efforts by the Kremlin to steer people to cast votes for Trump.

The letter was obtained by BuzzFeed News and Ryan Shapiro, the executive director of the transparency group Property of the People, in response to a Freedom of Information Act lawsuit against US intelligence agencies. It has not been publicly disclosed before. A two-sentence, unclassified version of the letter was released by Sen. Ron Wyden on Nov. 30, 2016.
This document, along with a handful of heavily redacted emails and previously unpublished talking points prepared prior to the 2016 election, provides new insight into the intelligence community's behind-the-scenes efforts to respond to Russia's interference and the pressure Democratic senators placed on the Obama administration to go public with what it knew.
But Obama never responded to the senators' letter.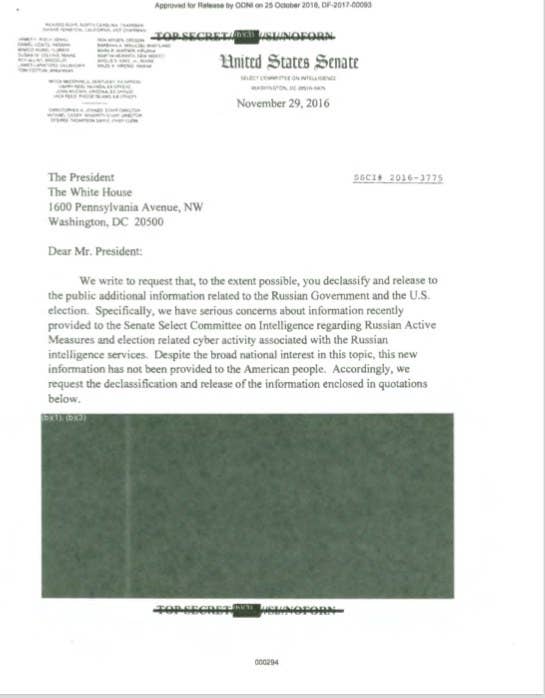 It wasn't until Jan. 27, 2017 — a week after Donald Trump was sworn in as president — that the senators received a formal response. It was a letter from Michael Dempsey, then the acting director of national intelligence. Dempsey told the senators the only public disclosure the office intended to make would be an intelligence community assessment that was released earlier that month about Russia's interference in the election that was short on details.

The letter also makes reference to an FBI assessment of "2016 general election related cyber activity" within the US that was prepared by the bureau on Nov. 7, 2016 — one day before voters went to the polls. But that information was also redacted for national security reasons and because it pertains to an ongoing law enforcement investigation.
The intelligence sources familiar with the portion referring to the FBI declined to discuss details. But they said it relates to ongoing counterintelligence investigations and special counsel Robert Mueller's probe.
The talking points included in the cache were prepared by the Office of the Director of National Intelligence and the National Security Council to assist US officials in responding to public and media inquiries about the government's conclusions that Russia interfered in the electoral process.
The talking points explain that the US government decided to publicly point the finger at Russia prior to the election "in order to provide state and local officials sufficient time to fortify their infrastructure."
One question in the talking points US officials were set to answer if they were asked: "ls Russia trying to alter the outcome of the US election?"
The prepared response: "The Kremlin probably expects that publicity surrounding the disclosures will raise questions about the integrity of the election process and would undermine the legitimacy of the President-elect."
Another possible question: "ls the Russian effort intended to assist the Trump campaign?"
"Whatever the Russian Government's motivation, its interference is a source of concern."