When the Department of Justice announced this month that investigators had pieced together records found in a shredder belonging to the president's former lawyer Michael Cohen, critics, legal experts, and journalists feverishly speculated about what they might contain.
Michael Avenatti, the lawyer for adult film star Stormy Daniels and Cohen's devoted nemesis, tweeted that the shredded documents could be a "huge problem." MSNBC host Ari Melber devoted a large part of his program in May to the shredded documents and suggested that "something is going down." Asha Rangappa, a former FBI agent and CNN analyst, tweeted: "This is not going to end well for the defense."
Now, BuzzFeed News has obtained documents reconstructed by the FBI. A close examination shows that the records are a combination of documents that prosecutors already had, handwritten notes about a taxi business, insurance papers, and correspondence from a woman described in court filings as a "vexatious litigant" who claims she is under government surveillance.
Rebuilt from thin strips of paper, the shredded records are sometimes difficult to comprehend. One page doesn't include full words and is a jumble of numbers, letters, and bar codes. One document appears to be part of an envelope. There are fragments of handwritten notes. There is an invitation to a reception in Miami to meet with business representatives from Qatar. Several of the records seem to be insurance forms for an apartment.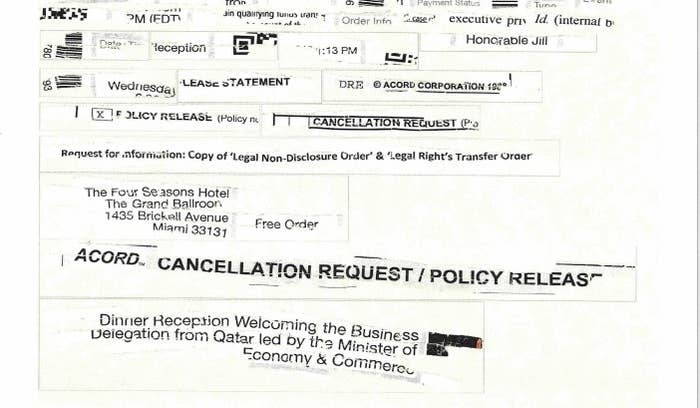 The clearest page documents a payment that has already been reported: a $62,500 wire transfer from March into a First Republic Bank account controlled by Cohen. This would fit with a series of payments reportedly from the Republican fundraiser Elliott Broidy. He reportedly paid Cohen to negotiate a nondisclosure agreement with a former Playboy model with whom Broidy was romantically involved. A federal law enforcement source told BuzzFeed News that prosecutors already possessed some of the records dealing with Cohen's financial transactions.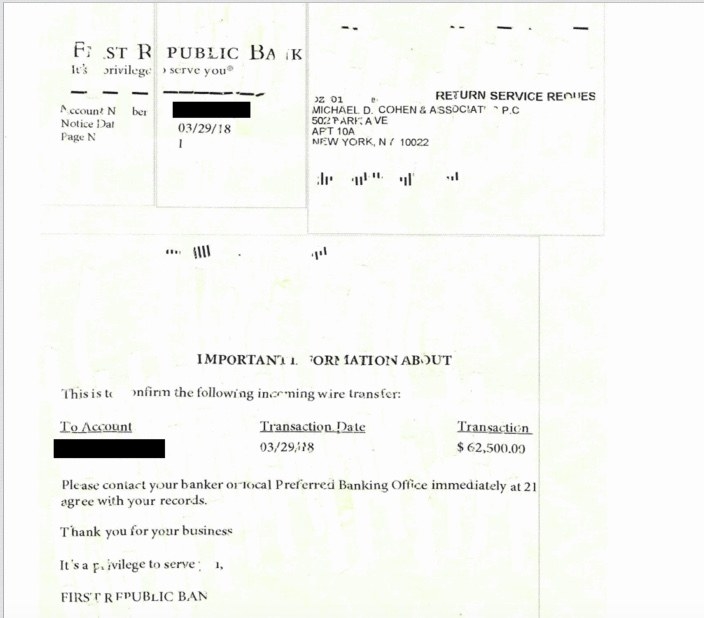 Several shredded documents are pages from rambling letters that don't seem to have a connection to the current investigations by the Office of Special Counsel and Southern District of New York. The writer, Karen Wickman, who claimed that she was harassed and blackmailed by President Donald Trump in the late 1980s, told BuzzFeed News that Cohen never responded to her letters. She has brought forward 42 "unmeritorious motions, pleadings, and other papers," according to a legal filing last year.
The letters, which Wickman also posted to her website, Letters to Celebrities, appear to have been copied to the White House, Avenatti, the House Armed Services Committee, the FBI's Sacramento field office, and California Gov. Jerry Brown. One letter includes this line: "NEVER MET: Donald Trump, George Lucas, Harrison Ford, Steven Spielberg, Michael Jackson, The Jackson's family, Sony."

It remains to be seen whether any of the reconstructed documents are of use to federal prosecutors from the Southern District of New York in their ongoing probe into Cohen, whose home, office, and hotel room were raided by the FBI in April. They are among nearly 4 million individual paper records or electronic files discovered on more than a dozen cellphones, computers, and other devices. Some of the devices — including old cellphones, cameras, and laptops — belonged to Cohen's wife and children.
Prosecutors said in a recent letter to a judge that they also obtained more than 700 pages of messages extracted from encrypted apps such as Signal or WhatsApp.
Cohen has been in the spotlight of the Trump–Russia investigation since January 2017, when BuzzFeed News published a dossier that was circulating at the highest levels of the federal government and that alleged Cohen helped the Trump campaign collude with Russia to interfere in the 2016 election. Cohen would not comment for this story, referring reporters to his attorney, who did not immediately return a message.
In his first extensive interview since the April raid, Cohen told ABC News that his loyalty was to his family, not to the president. He has adamantly and repeatedly insisted that the dossier's claims are false, including in a tweet last week:

Last year he showed BuzzFeed News his passport to refute the dossier's claim that he visited Prague during the summer of 2016 to meet with Kremlin representatives and hackers. He sued BuzzFeed for defamation over claims in the dossier, although he later dropped the suit.
Cohen has been interviewed by House and Senate investigators and is the subject of inquiries by the Special Counsel's Office and the Southern District of New York.
It is unclear what, specifically, prosecutors in New York are looking into, but news organizations have reported that investigators are interested in his handling of payoffs to two women who said that they were romantically involved with Trump, Cohen's taxi business, and consulting work he did for major companies such as AT&T and Korea Aerospace Industries. He has not been charged with a crime and has denied any wrongdoing.
The reassembled records are below. BuzzFeed News has redacted personal information, such as account numbers, from the records.
Prosecutors told US District Court Judge Kimba Wood that the documents are 16 pages long. Two sources with knowledge of them said that attorneys for Cohen and the Trump Organization, who are reviewing the records for possible attorney–client privilege, received 13 and that multiple documents were photocopied onto the same page.

A spokesperson for the Southern District of New York, Nicholas Biase, declined to comment. A spokesperson for the Office of Special Counsel did not respond to a request for comment.