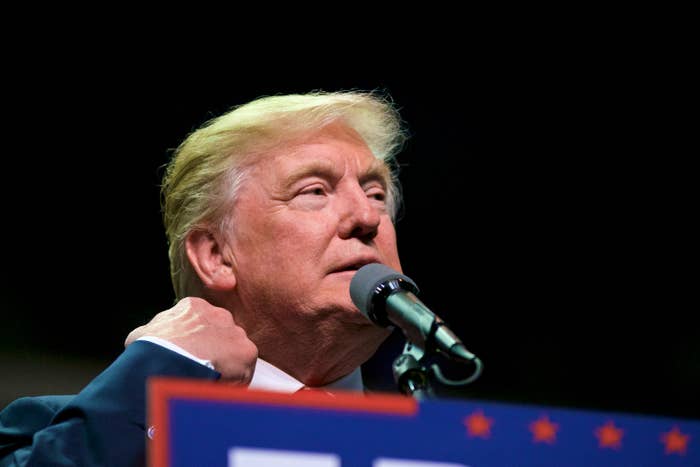 A former Russian spy helped Donald Trump's business team seek financing for a Trump-branded tower in the heart of Moscow during the 2016 presidential campaign, according to two sources familiar with the matter.
This connection between Trump and Russian intelligence — made public here for the first time — is known to special counsel Robert Mueller's team and raises fresh questions about the president's connections to the Kremlin. The former agent, who had served in Russia's military intelligence arm known as the GRU and later worked as an arms dealer, negotiated for financing from a Russian state-owned bank that was under US sanctions at the time.
But there is a twist: The former Russian spy also helped pass intelligence to the United States government on key national security matters, including al-Qaeda's weapons caches and North Korea's attempts to develop nuclear weapons. BuzzFeed News is not naming the Russian agent because two US intelligence officials said that doing so would endanger his life.
The Trump Moscow Project
Plans to build a Trump tower in Moscow were underway in late 2015 and early 2016, while Trump was running for president. A key player in the effort was Felix Sater, who had worked with Trump on real estate deals around the world.

In November 2015, Sater emailed Trump's longtime personal attorney, Michael Cohen, famously saying in one message that he would "get all of Putin's team to buy in" on the Trump tower deal, and boasting that he could get Putin to publicly praise the Republican candidate during the campaign. There is no evidence that Sater delivered on those promises. Sater previously told BuzzFeed News that his emails amounted to salesmanship, and the whole Trump Moscow project ultimately fizzled.
But a later message from Sater to Cohen, sent in early 2016, mentions a contact in Russia who could help facilitate the deal. That individual is a former colonel with Russia's military intelligence, the two sources told BuzzFeed News. He did not immediately respond to requests for comment. Cohen also did not immediately respond to requests for comment sent through his attorney. Sater told BuzzFeed News, "I will not comment on anything related to ongoing investigations."
Got a tip? You can email tips@buzzfeed.com. To learn how to reach us securely, go to

tips.buzzfeed.com

.
Sater contacted the former GRU officer in 2015 to help arrange financing. In Russia, where the president himself is a former KGB officer, it isn't unusual for companies to work with former intelligence officers, who often retain key connections. To Sater, the former agent mentioned two banks: GenBank and VTB Bank. State-owned VTB was one of the top financial institutions in Russia for real estate projects at the time, but it was also on the US Treasury Department's sanctions list. The former Russian agent told Sater that he could get financing through VTB Bank, but it is unclear how far negotiations may have progressed.
"VTB never held any negotiations on any matter relating to the construction of the Trump Tower," a VTB spokesperson said in a statement to BuzzFeed News. "We'd like to stress that no VTB group subsidiary ever had any dealings with Mr. Trump, his representatives or any companies affiliated with him."
GenBank did not immediately respond to a request for comment; it could not be determined how far talks went with that bank.
Sater hoped to push the deal forward by attending the St. Petersburg International Economic Forum with Cohen in June 2016. Considered the most important economic gathering in Russia, the forum is regularly attended by business executives and top politicians, including President Vladimir Putin. The former Russian intelligence officer helped arrange an invitation to the conference for both Sater and Cohen, the sources said.
But neither Cohen nor Sater attended. Sources said Cohen canceled at the last minute and put the Moscow deal on hold until after the Republican National Convention. After Trump won the presidential election, the Trump Organization announced it would no longer be working on international deals, and Sater stopped working on the project.
Last year, after Sater, Cohen, and the Trump Organization turned over emails and documents to congressional and special counsel investigators, details leaked about the Trump Moscow deal and the attempt to get VTB to finance it.
Special counsel Robert Mueller's team questioned Sater extensively about the officer and his role in the deal, as did House and Senate Intelligence Committee investigators, sources said. Spokespeople for the Senate Intelligence Committee declined to comment. Spokespeople for the House Intelligence Committee and the special counsel's office did not respond to requests for comment.
BuzzFeed News has independently confirmed with three former US intelligence officials that the man worked as a GRU officer — but also that he had been a source of important intelligence for the US.
Again, Sater was the link. Sater first met the former intelligence officer in 1997 in Moscow, and the officer in turn introduced him to Milton Blane, an American arms dealer who held contracts with the US Defense Intelligence Agency. Blane, who died last year, recruited Sater to work as a confidential source for the US government. Code-named the Quarterback, Sater served for decades as a source for US law enforcement and intelligence agencies, and he continues to do so.
Information that the former Russian spy passed to Sater included details about Russian military technology, the satellite phone numbers of Osama bin Laden, the locations of al-Qaeda weapons depots and training camps, and photographs of a North Korean military official purchasing nuclear materials.
Another alleged former GRU military officer has recently been in the news, as a business associate of Trump's former campaign manager, Paul Manafort. The Washington Post has reported that a description in court documents matches Konstantin Kilimnik, who worked with Manafort in Ukraine. Kilimnik, whose spokesperson has denied that he was ever in Russian intelligence, is not the former GRU officer who worked on the Trump Moscow project.
Emma Loop contributed to this story.
UPDATE
This post has been updated to include a comment from VTB Bank.
CORRECTION
Milton Blane's name was misspelled in an earlier version of this post.