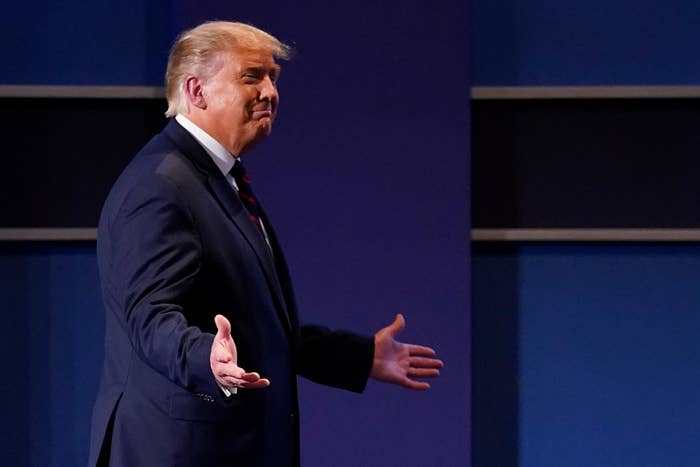 Prompted by recent tweets from the president, BuzzFeed News has asked a federal judge to order the government to declassify and release thousands of pages of documents about investigations related to Russia's interference in the 2016 presidential election and allegations that President Donald Trump tried to obstruct one of the inquiries.
BuzzFeed News is requesting that the documents be released before the presidential election, Nov. 3.
In an emergency motion filed Thursday in US District Court in Washington, DC, BuzzFeed News cited two tweets by Trump late Tuesday night in which he said, "I have fully authorized the total Declassification of any & all documents pertaining to the single greatest political CRIME in American History, the Russia Hoax. Likewise, the Hillary Clinton Email Scandal. No redactions!"
Last year, BuzzFeed News, and later CNN, filed Freedom of Information Act lawsuits to gain access to the FBI summaries of witness interviews from former special counsel Robert Mueller's investigation. Since last November, the Department of Justice and FBI have turned over more than 4,000 pages of documents. But the records are heavily redacted.
In a second tweet Tuesday night, Trump said, "All Russia Hoax Scandal information was Declassified by me long ago."
In response to Trump's assertion, BuzzFeed News and CNN have asked the judge presiding over the case to order the government to remove the redactions and rerelease the FBI interview summaries by Oct. 28 and to set a hearing to discuss the matter as early as Friday afternoon.
Later Thursday, US District Judge Reggie Walton directed the Justice Department to "confer with the White House" and report back to the court the "official position regarding the declassification and release to the public of information related to the Russia investigation." The judge gave a deadline of Tuesday.

Separately, BuzzFeed News filed emergency court papers related to two additional FOIA lawsuits it has filed that requested documents related to other aspects of the Russia investigation; among the documents being sought is a fully unredacted copy of the Mueller report. BuzzFeed News' lawyers asked federal judges presiding over those cases to also order the government to release the records before Election Day.

Judge Walton, handling the filing on the Mueller report, again responded on Thursday by requesting the Justice Department report back on the White House position on declassification. A different judge handling a separate lawsuit gave the department until Oct. 16 to respond but didn't order that it confer with the White House.

Government attorneys on Thursday indicated they are opposed to these requests, despite Trump's order.
Last year, Justice Department lawyers claimed the volume of records requested could total 18 billion pages and take centuries to produce.