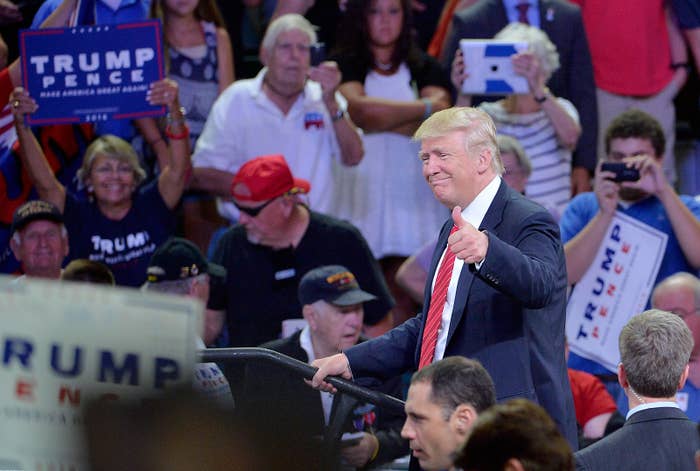 The Secret Service conducted only cursory reviews into more than a half-dozen social media threats against Hillary Clinton's life after Donald Trump floated the idea that "Second Amendment people" could act against her.
The threats were posted on Twitter, Facebook, and YouTube. Internal Secret Service incident reports and emails obtained by BuzzFeed News reveal that agents did not locate or speak with any of the individuals who made the threats because their social media profiles did not reveal personally identifiable information. The documents also show no attempt by the Secret Service to contact Twitter, Facebook, or YouTube for help identifying the people who made the threats. The Secret Service closed all the cases within a few days of opening them.
Trump's comment, made at an August rally, sparked a storm of controversy. Addressing a crowd in Wilmington, North Carolina, he said that if Clinton won the election she would get to "pick her judges."
"Nothing you can do, folks. Although the Second Amendment people — maybe there is, I don't know," Trump said.
A day later a person using the Twitter handle @santiagold316 tweeted, "yall mad at trump for saying what everyone thinkin?? lol maan give me the gun i'II john wilkes booth her ass."
In response to a question by another Twitter user who asked, "lol so would you kill her if you had the chance?" @santiagold316 posted a tweet that the Secret Service transcribed as, "i mean i have had some pretty fucked up thoughts about murder, maybe we can make them a reality?? (2 thinking emojies) you & me-together."
The Aug. 10, 2016 tweets, which @santiagold later deleted, were forwarded to the Secret Service's Twitter account a day later. An agent at the Secret Service's Protective Intelligence Operations Center drafted an incident report. Intelligence agents were unable to unmask @santiagold316, so the Secret Service never attempted to interview @santiagold316 to determine if they intended to make good on the threat, according to the incident report. Reached via a direct message on Twitter, @santiagold316 would not say whether they spoke with the Secret Service.
The threat was one of at least seven reported to the Secret Service about threats to Clinton's life immediately after Trump's incendiary comment. But the agency did not appear to take any seriously, according to 268 pages of internal Secret Service documents obtained by BuzzFeed News and Ryan Shapiro, a PhD candidate at MIT and research affiliate at Harvard in response to a Freedom of Information Act (FOIA) lawsuit filed last year. The documents provide a rare glimpse into how the agency charged with protecting America's most visible political leaders acted during one of the most volatile presidential elections in memory.
The Secret Service did not respond to requests for comment about the files. As it does with all major-party candidates, the agency was providing around-the-clock protection to Clinton at the time the threats were made.
The Secret Service was also contacted on Aug. 10 about a death threat contained in the comments section of the YouTube video "No Donald Trump Did NOT Threaten Hillary Clinton." Someone using the name "Morte Sumus" wrote, "ehhhhh I might shoot her. No lie. only if she wins tho."
A "concerned citizen" called the FBI's Public Access Line Unit, which fields tips about criminal activity and threats to national security. The bureau forwarded it to the Secret Service's Protective Intelligence Operations Center, where agents tried to identify Sumus. They didn't, the documents show, but "based on photos found" they concluded Sumus was "underage" and "heavily involved in gaming," and therefore not a threat.
Before releasing the documents, the Secret Service redacted @santiagold316's Twitter handle as well as the usernames of others who made threats against Clinton. But the agency left intact the exact wording of the threats, which made it easy to identify the social media accounts.
The Secret Service did track down and speak with one person who made a threatening statement about Clinton: Al Baldasaro, a New Hampshire state representative who served as an informal adviser to Trump on veterans' issues. Last July, during an appearance on a conservative radio show, Baldasaro said, "Clinton should be put in the firing line and shot for treason."
According to the files, Baldasaro told a Secret Service agent that if Clinton were prosecuted and convicted, then "the punishment for treason is execution."
The incident report states: "Baldasaro believes the U.S. Constitution specifically calls for execution when a citizen is convicted of treason. Baldasaro reaffirmed that he does not believe in physically harming Secretary Clinton. Baldasaro was cooperative throughout our conversation and agreed to continue the dialogue, if needed."
The Secret Service agent noted in a separate email that Baldasaro has a pistol permit.
After Trump made the comment about "Second Amendment people," Twitter and Facebook users posted the Secret Service's phone number and encouraged others to call the agency about it.
"Crazy people calling in," Martin Mulholland, a special agent in charge of government and public affairs, wrote in an Aug. 9, 2016, email to Cathy Milhoan, the Secret Service's director of communications.
The Secret Service was also bombarded with emails from news reporters asking about the agency's response to Trump's comment. Internal emails show the public affairs office was initially advised not to comment on the matter:
On the Record comment:
'The Secret Service is aware of the comment".
••••••••••••••••••••••••••••••••••••••••••••••••••••••••••••••••••••••••••••••
This is ALL we are providing.
Please do NOT provide any additional information on background, etc.
This is it- period. Do not elaborate / add any additional information.
Thx. Faron.
Faron K. Paramore

Assistant Director

Office of Government & Public Affairs
United States Secret Service
The Secret Service later tweeted a similar statement.
A Department of Homeland Security official, whose name was redacted from an email, remarked, "Cathy — the tweet that went out was cryptic. Have you been getting additional queries?"
"No we have not," Milhoan replied. "The tweet was a necessity. People tweeted out our phone number on both facebook and twitter and told people to alert the USSS. Our office phone was literally ringing off the hook. We tried to manage for over an hour with no relieve."
The cache of documents also includes a two-page report prepared by the Secret Service's Protective Intelligence & Assessment Division, titled "Social Media Attention to Trump Remark on Second Amendment." Its contents were entirely redacted.