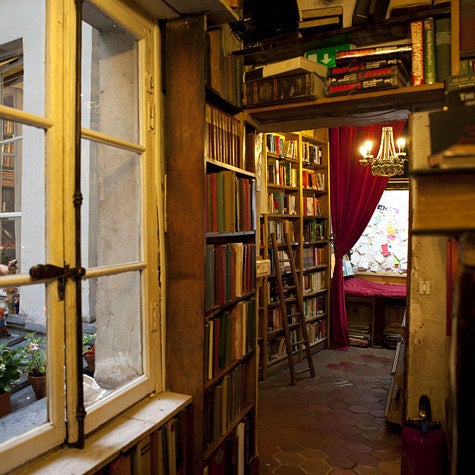 Harriet Alida Lye, a writer-in-residence at the bookstore, described her experience to The Guardian:

We are safe in a bookshop, with the windows blacked out. There are about 20 customers with us who've been sat here for hours calling home. I haven't seen anything but police cars go by, and people stumbling out of bars in central Paris who clearly have no idea what is going on. We are all taking breaks between calling people and checking the news. We're saying it feels like this must be part of something bigger, like we are being senselessly attacked. It feels really close to home, because Paris is just so small and the attacks are all over the city. There are sirens constantly and going in every direction. The lights of Notre Dame have been turned off, which never happens at this time of night.
Rose Alana Frith, a bookseller at Shakespeare and Company, told BuzzFeed about the bookstore's decision to act as a safe haven:
Shakespeare and Company Bookshop has always acted as a place of safety for many, as a warm retreat from reality, and, last night, as a refuge from atrocities. It is a continual home for those who, throughout its history, have slept between its shelves (as Tumbleweeds) and forever return, for those who sat and read a few lines one gray afternoon in 1965 and remain connected to those moments, this place. It is an immense tapestry of things: proposals of marriage in the upstairs piano room and a particular kind of vulnerability which only comes with travel seem to pattern it. Last night we simply continued a tradition: 'Be not inhospitable to strangers lest they be angels in disguise.'

Those hours will be ones many will be unable to forget — colored by a series of devastating news reports, lack of sleep, and hours of blue siren-filled light. People have spoken of these events as a potential dividing line between what was before and what will come; surrounded by a medley of familiar and previously unknown faces in the darkened stairwell, as events unfolded, I felt comforted. Kindness endures. On my way home, after being awake for 22 hours, I stopped at a florist shop on the corner of my street, open in despite of what had occurred, and bought four sunflowers. 'Some light in all that darkness,' the florist said.