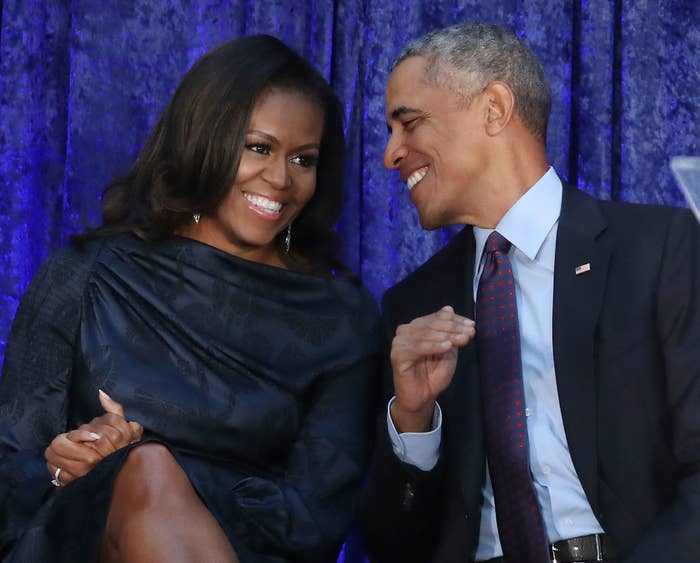 Former first lady Michelle Obama is releasing a memoir titled Becoming on Nov. 13, 2018.
In February 2017, it was announced that Barack and Michelle Obama had sold the rights to their memoirs to book publishing house Penguin Random House after a bidding war reportedly topping $60 million.
In its press release, publisher Penguin Random House called the book "unusually intimate" and written with "unerring honesty" about Obama's experiences from childhood to the White House.
"In her memoir, a work of deep reflection and mesmerizing storytelling, Michelle Obama invites readers into her world, chronicling the experiences that have shaped her — from her childhood on the South Side of Chicago to her years as an executive balancing the demands of motherhood and work, to her time spent at the world's most famous address. With unerring honesty and lively wit, she describes her triumphs and her disappointments, both public and private, telling her full story as she has lived it — in her own words and on her own terms. Warm, wise, and revelatory, BECOMING is an unusually intimate reckoning from a woman of soul and substance who has steadily defied expectations — and whose story inspires us to do the same."
Obama wrote on Instagram that writing the memoir was a "deeply personal experience" and she hopes readers will be inspired to pursue their aspirations.
Here's the full text of her caption:
Writing BECOMING has been a deeply personal experience. It has allowed me, for the very first time, the space to honestly reflect on the unexpected trajectory of my life. In this book, I talk about my roots and how a little girl from the South Side of Chicago found her voice and developed the strength to use it to empower others. I hope my journey inspires readers to find the courage to become whoever they aspire to be. I can't wait to share my story.
Some people have expressed their excitement for the book on Twitter.
Others, however, are already criticizing the memoir.
Meanwhile, some people are calling the timing of the book's publication (a week after the US midterm elections) "interesting."
Becoming will be published in 24 languages and also available in an audio version narrated by Obama. After the book's publication, she will go on an international tour.
You can learn more here.