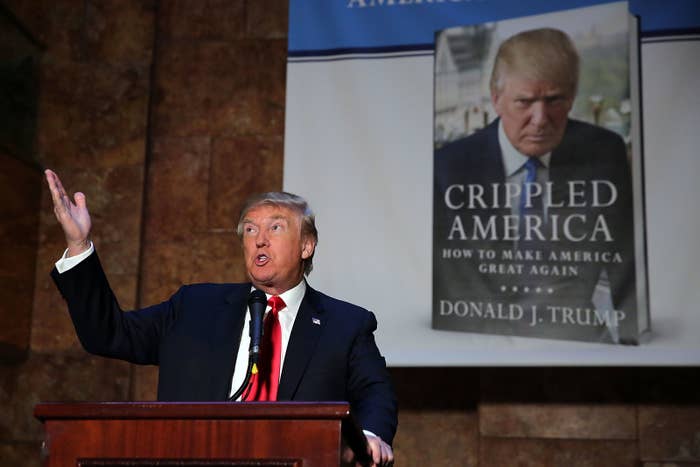 Donald Trump's campaign paid a Barnes & Noble in New York $55,055 to buy more than 3,500 hardcover copies of his book Crippled America: How to Make America Great Again, the Daily Beast reported.
Bulk orders are supposed to be made through the book's publisher — often at a discounted rate — rather than through a brick-and-mortar retailer like Barnes & Noble in order to avoid falsely boosting sales figures, which could manipulate best-seller lists.
The purchase was so large that it even it pushed the 2015 title onto the bestseller list of Nielsen BookScan, according to data obtained by The Daily Beast.

And if Trump received royalties from the bulk purchase, it would have constituted an "illegal conversion of campaign funds to personal use," Paul Ryan, of the nonpartisan nonprofit Campaign Legal Center told the outlet.
Under Federal Election Committee rules, Ryan said, "It's fine for a candidate's book to be purchased by his committee, but it's impermissible to receive royalties from the publisher...That amounts to an illegal conversion of campaign funds to personal use."
"The bottom line is, no money of this $55,000 from the book can end up in Donald Trump's pocket without violating federal law," Ryan told the Daily Beast.
A spokesperson for the Trump campaign said the books were purchased as gifts for Republican National Convention attendees.
Simon & Schuster and Barnes & Noble didn't immediately respond to BuzzFeed News' requests about whether or not Trump received royalties from the purchase.