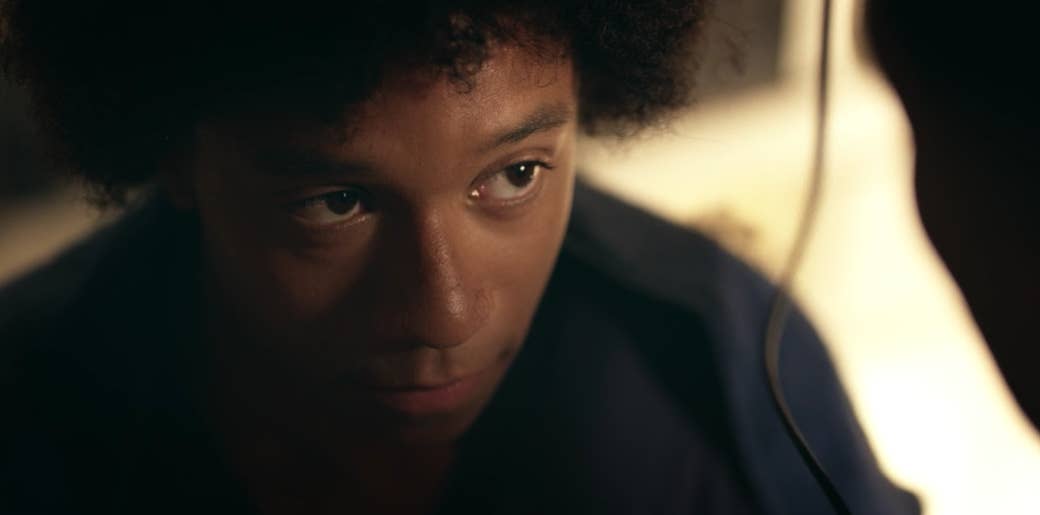 You can easily count the number of scripted television shows that currently feature gay black male characters who are series regulars. There's Empire (Jussie Smollett's Jamal Lyon), Brooklyn Nine-Nine (Andre Braugher's Captain Holt), Hap and Leonard (Michael Kenneth Williams's Leonard Pine), Unbreakable Kimmy Schmidt (Tituss Burgess's Titus Andromedon), The Get Down (Jaden Smith's Marcus "Dizzee" Kipling), Being Mary Jane (Aaron D. Spears' Mark Bradley), and Arrow (Echo Kellum's Curtis Holt).
Thankfully that paltry figure has just been upped by one thanks to Justin Simien's Dear White People, which dropped 10 wonderful episodes on Netflix this weekend. The show, like the film that inspired it, prominently features a gay college student named Lionel (DeRon Horton takes over for Tyler James Williams) who is coming to terms with his sexuality.
He's a painfully shy and unmistakably awkward journalist with an intense yet confusing crush on his roommate Troy (Brandon P. Bell). When asked if he's gay, Lionel replies with deflections like, "I don't subscribe to those kinds of labels." But after narrowly avoiding a deeply misguided — albeit personally enlightening — threesome, Lionel embraces his label and tells Troy, "I'm gay. I don't know why that's so hard for me to say. I've always known."
It's a beautifully understated moment — but it's significant that the mere act of coming out doesn't fix Lionel's social life in the all-too-perfect way often portrayed in pop culture. He's not suddenly besieged by boys or inundated by a group of girls who want to be his best friend simply because he proclaimed his sexual orientation. In fact, the only thing coming out changes is how Lionel feels about himself and that's because Lionel, like many of the characters on Dear White People, are slightly altered projections of Simien's personal experiences.
"I'm tellin' on myself with every one of these characters," he told BuzzFeed News with a hearty laugh. "All of the dirty secrets of myself and my fellow writers are all mixed into this show. I'm not telling what's who's, but a lot of personal embarrassment is woven into every character and I promise to keep doing that."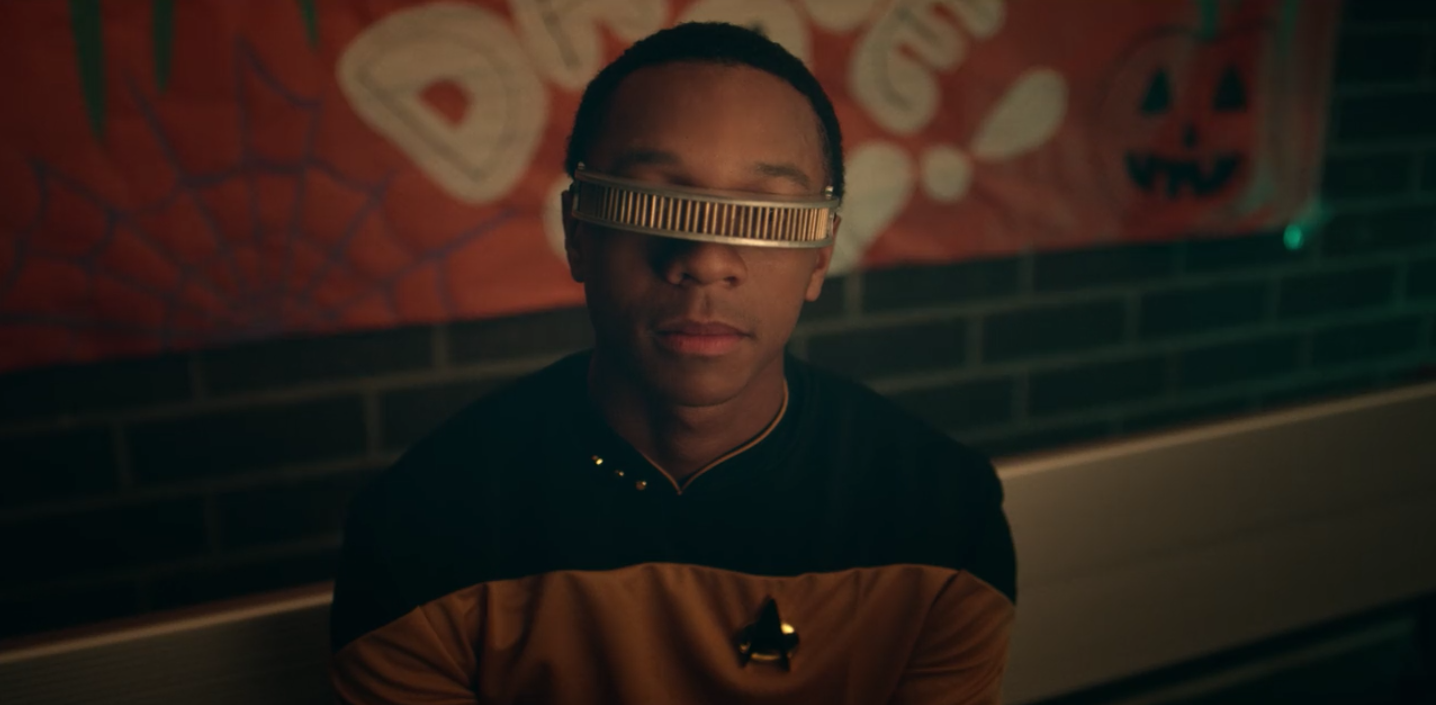 For example, in Episode 2 (which Simien wrote), when Lionel flashes back to his high school Halloween dance and the cool kids are making fun of him and calling him gay for dressing like Star Trek: The Next Generation character Geordi La Forge, that's because La Forge was an important black character during Simien's formative years.
"Lionel is queer but he doesn't really fit any of the gay, black, male projections out there and that was my struggle too," Simien said. "I didn't see myself anywhere in the culture. I had Geordi La Forge, I guess. That was me because I was sort of a dork; RuPaul was out there but I wasn't that kind of a gay. And that really has such an effect on people. So many guys I grew up with were so defeated about their sexuality, were so stuck because of it. They would maybe party at the clubs and stuff, but deep inside they didn't feel they were worthy of any place in society and that is all about the fact they didn't see themselves anywhere."
And that's why Lionel is a particular source of pride for the creator. "It means a fucking lot to put a gay black male character out there in the world that doesn't look like the other ones because there's a lot of us. We come in many different flavors — because, you know, human beings — but black human beings on TV don't always."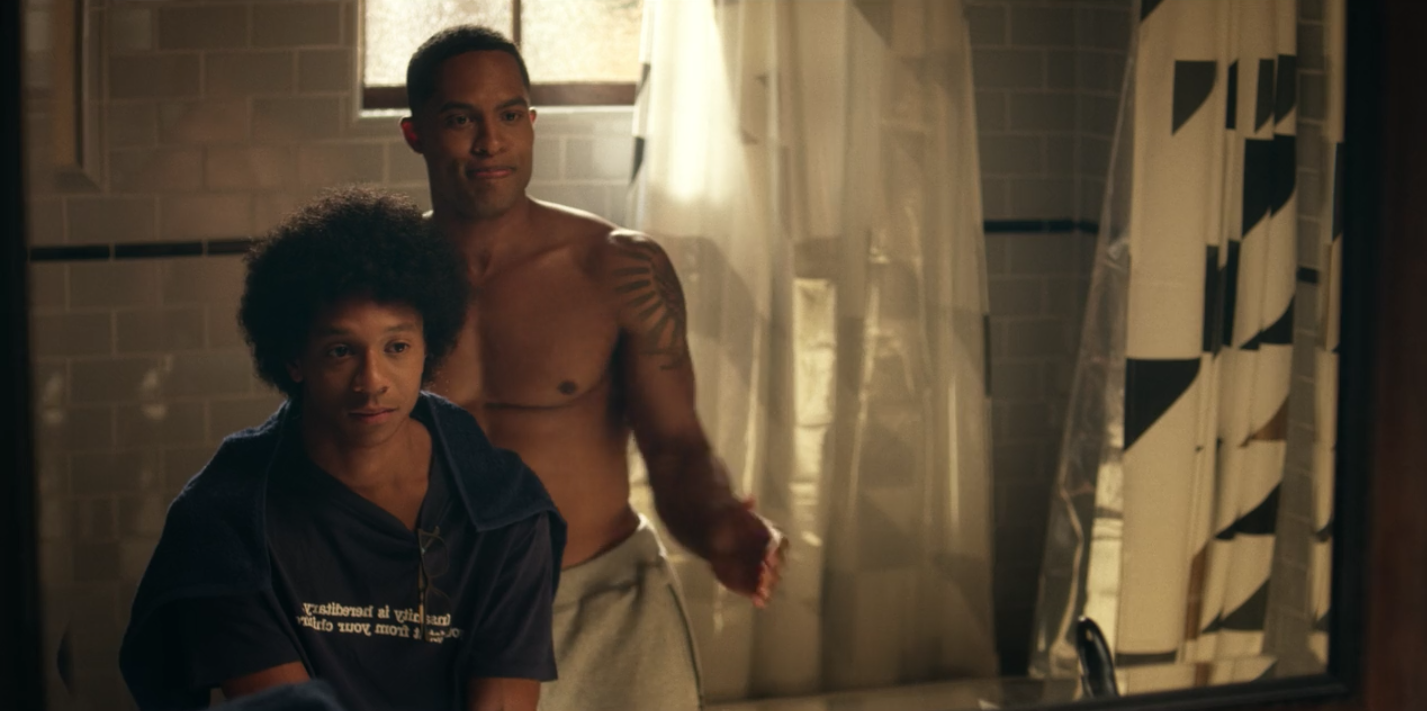 Over the course of 10 episodes, Lionel navigates a side of collegiate gay life not often portrayed in pop culture: There's the aforementioned threesome and crush on Troy, his roommate. But viewers also seem him grapple with how to define himself within the gay community — a quick scan of a Grindr-like app reveals to Lionel a myriad of confounding subcategories, and his editor at the school paper doesn't make the choice any clearer. "Personally I'm a Mexican-Italian gay verse top otter pup," he tells Lionel, who replies, "Individually, I know what those words mean…" Lionel's struggle to relate to other gay men around him is incredibly fresh terrain that Simien hopes to delve much more deeply into should Netflix order additional seasons.
But Simien didn't feel an urgency to create Lionel solely for himself — he also did it for the millions of gay black boys out there whose lives could be changed or bettered by growing up with the ability to watch and relate to a character like this. "To me one of the most lasting impacts a show like Empire can have — it's soapy, it's entertaining, it's all of that, but it's also beaming a black gay male character into the homes of many black families that otherwise would never have to confront that kind of characters," he said. "It's really important. I tell Jussie, 'You're saving people's lives,' and it's not an overstatement to say that. I've lost friends to various things because they were out there in these streets and didn't feel worthy because they were black and gay and living in the South. And that's not right."
UPDATE
Jaden Smith and Aaron D. Spears play gay male characters on scripted shows. The story has been updated to reflect that.