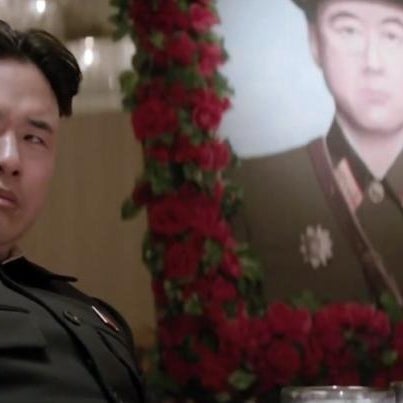 Actors James Franco and Seth Rogen were omnipresent throughout the controversy surrounding Sony and The Interview, but Randall Park — who played Kim Jong Un in the film about an attempted assassination on the North Korean leader — was noticeably quiet. But at the Television Critics Association winter press tour in Pasadena, California, on Wednesday, Park broke his silence, saying, "I was never worried for my safety or for getting hacked during that whole process."
During a panel for his new ABC comedy Fresh Off the Boat, however, executive producer Nahnatchka Khan joked, "Nobody wanted to sit next to Randall on set."
Park added that the series of events surrounding The Interview was "definitely a crazy experience." "Right after the movie came out, everything kind of died down and I was trying to piece everything together," he said. "And I still haven't fully pieced everything together about what that whole experience meant to me. I'm just glad the movie came out and people got the chance to see the movie. I'm excited to move on from that."
Park did reveal an unexpected side effect of his role in The Interview. "It was crazy to turn on the news and see my face on CNN and they'd be talking about Kim Jong Un, but they'd show my face," he said with a laugh. "I am glad that whole chapter is done and I'm excited for this show now."
Fresh Off the Boat premieres on Tuesday, Feb. 10 at 8 p.m. ET on ABC.