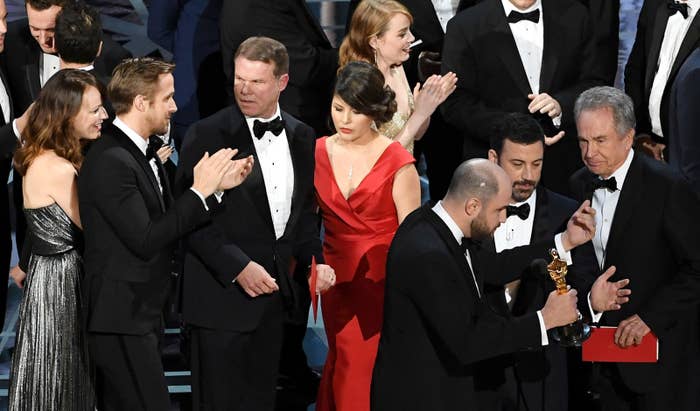 The accountants responsible for handing the winning envelopes to presenters at the Oscars — PricewaterhouseCoopers' Brian Cullinan and Martha Ruiz — will not be invited back, an Academy spokesperson confirmed to BuzzFeed News. The decision has not affected Cullinan's and Ruiz's employment at PwC.
Cullinan and Ruiz were thrust into the spotlight following Sunday's shocking Best Picture flub, in which presenters Warren Beatty and Faye Dunaway were handed the wrong envelope and thus, Dunaway announced La La Land as the winner, instead of Moonlight. The error transpired when Cullinan pulled the envelope from an identical backup stack of envelopes and mistakenly handed them the Best Actress card, which read "Emma Stone, La La Land."
"We are deeply sorry for the disappointment suffered by the cast and crew of La La Land and Moonlight," PwC said in a statement Monday morning. "We sincerely apologize to Warren Beatty, Faye Dunaway, Jimmy Kimmel, ABC, and the Academy, none of whom was at fault for last night's errors. We wish to extend our deepest gratitude to each of them for the graciousness they displayed during such a difficult moment. For the past 83 years, the Academy has entrusted PwC with the integrity of the awards process during the ceremony, and last night we failed the Academy."
In a statement released Tuesday, the Academy said: "We have spent last night and today investigating the circumstances, and will determine what actions are appropriate going forward." Academy President Cheryl Boone Isaacs told the Associated Press that the Academy's relationship with PwC "remains under review."
UPDATE
BuzzFeed News has reached out to PwC and the Academy for information on Ruiz's culpability in the Best Picture flub.
UPDATE
According to The Wrap, Cullinan and Ruiz had discussed a plan for what would happen if the wrong winner was announced: It was decided, stage manager Gary Natoli said, that the accountants would go out on stage and "rectify the situation, ideally before the wrong winners get to the mic." On Sunday night, that did not happen. Natoli told The Wrap: "During that entire time Martha was no more than five feet away from us. When La La Land was announced, she did not try to get my attention, she did not say anything. And she's supposed to have memorized the winners."