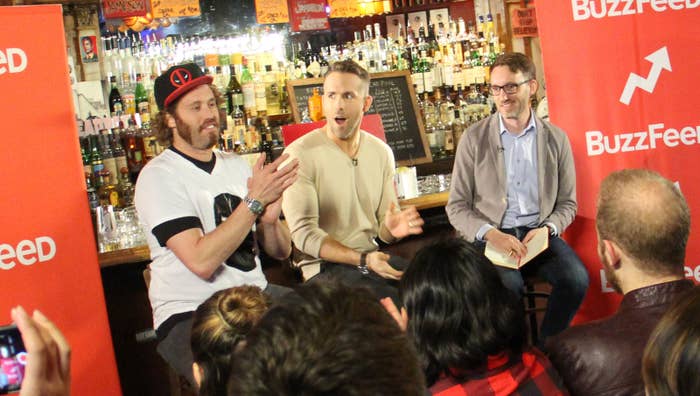 Deadpool is rated R for strong violence and language throughout, sexual content, and graphic nudity, according to the Motion Picture Association of America. That last element is thanks, in part, to a nude fight scene between Deadpool (Ryan Reynolds) and the film's big bad, Ajax (Ed Skrein).

And during a BuzzFeed Brews event on Feb. 6 in San Francisco, Reynolds said that what you see in Deadpool is pretty much what he's working with. "There was a lot of me there," he admitted of going full-frontal. "There's nothing else you can do except to just sorta grin, bear it, and go, 'All right guys, we're all going to get to really know each other today. I may be sitting on this man's face at some point, he may be sitting on mine.' It was ugly but necessary."
The scene, Reynolds said, was an homage to Eastern Promises, David Cronenberg's Oscar-nominated 2007 drama that memorably features a nude fight scene in a sauna between star Viggo Mortensen and a bevy of mobsters. "I always thought there's nothing more frightening than trying to fight a nude man in a Russian sauna," Reynolds said. "That's my version of just hell I think right there. Like, if a guy is willing to fight you totally naked, that guy's nuts. If [I'm] punched in the penis, I'm down. The fight is over. Just take my life."
But Reynolds also said he had some practice for the scene. "I'm the youngest of four boys, so it's not the first time I've fought another man naked in a burning building," he joked.
For anyone who wants a hint of what Reynolds' penis looks like before Deadpool hits theaters on Feb. 12, he offered this tease:
Watch Ryan Reynolds discuss his Deadpool nude scene during BuzzFeed Brews below.