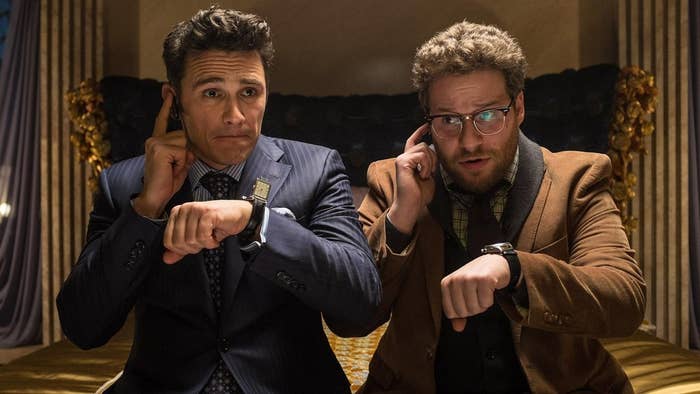 Netflix CEO Reed Hastings told shareholders in a letter that, beginning Jan. 24, The Interview would be available on the streaming site. "We are thrilled to offer exclusively the controversial comedy, The Interview, to our US and Canadian members beginning this Saturday, Jan. 24 — just 30 days after it debuted in theaters and pay-per-view," he wrote.
Here's the original report:
When it became clear that Sony Pictures would be seeking online distribution for The Interview at the end of last year, many assumed that Netflix would be the chosen outlet, given its high profile and widespread availability. However, in a twist, Netflix did not end up streaming the film, and the company's chiefs had remained quiet on the reasons behind that decision, until today.
Speaking at the Television Critics Association winter press tour in Pasadena, California, Netflix Chief Content Officer Ted Sarandos was at first hesitant to elaborate about the company's decision not to stream the film ("I'm not going to talk about The Interview right now," he said). When pressed by reporters, Sarandos addressed the matter directly, saying that it was simply not feasible for Netflix to properly consider the coming on to stream The Interview, given the timing.
"You have to remember ... not only was the situation incredibly fluid, it was happening on Dec. 24 when no one was even in the country in most cases," Sarandos said. "It's pretty difficult to make things happen in that two-week time frame — particularly that two-week time frame."
Although he called the film "an incredible outlier," Sarandos added, "it's been a great example of what can happen with a big budget movie if you give people distribution choices."
"When you give people distribution choices, you can actually create a lot of revenue around it," he said. "I think it might be eye opening for the industry what happened with The Interview."
As of Jan. 6, The Interview (which debuted online on Dec. 24) has earned more than $31 million via VOD sales and been downloaded or rented 4.3 million times, according to a Sony press release. (It has earned $5 million in theaters.)