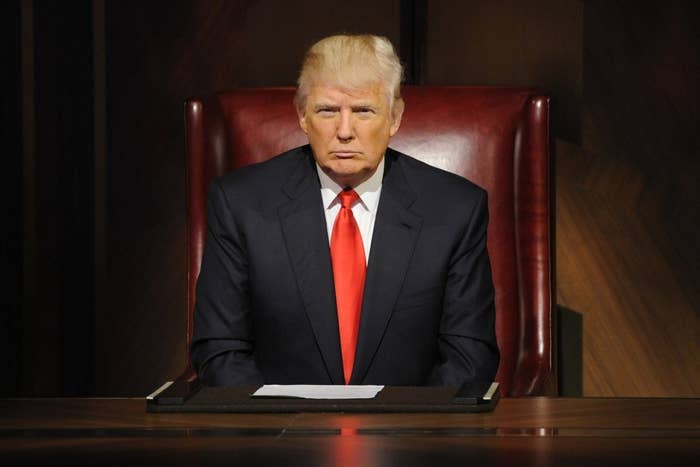 President-elect Donald Trump will remain an executive producer on the new season of NBC's The Celebrity Apprentice, BuzzFeed News has confirmed. The story was first reported by Variety, and Trump's spokeswoman Hope Hicks told the outlet: "Mr. Trump has a big stake in the show and conceived of it with Mark Burnett."
Trump hosted The Apprentice offshoot for seven seasons, but NBC cut ties with Trump in June 2015 after he called Mexicans, among other things "rapists." In a statement, the network said, "At NBC, respect and dignity for all people are cornerstones of our values. Due to the recent derogatory statements by Donald Trump regarding immigrants, NBCUniversal is ending its business relationship with Mr. Trump." But NBC did maintain a relationship with Burnett. MGM Television, of which Burnett is the president, produces The Celebrity Apprentice and will pay Trump's executive producer fee, an unknown sum.

On Saturday, Trump tweeted that he would devote "zero time" to the show, and called reports he would actively work on the show during his presidency "FAKE NEWS" and "rediculous." [sic.]


The Apprentice and The Celebrity Apprentice were popular programs and boosted visibility for Trump starting in 2004. Many have gone so far to say that the Mark Burnett–produced reality shows actually made his presidency possible.

Trump and his relationship to Burnett came under scrutiny during the 2016 election as interest in Trump's behavior — including alleged racist and sexist comments — from the sets of The Apprentice and The Celebrity Apprentice increased. Archival footage and b-roll from the shows were sought from Burnett, but recordings have yet to surface. As pressure mounted against Burnett, he released the following statement: "I am not now and have never been a supporter of Donald Trump's candidacy. I am NOT 'Pro-Trump.'"
Trump seems keen to further his relationship with Burnett, as the New York Times reports that the two met to discuss attention-grabbing ideas for his inauguration. Proposed ideas included a parade on New York's Fifth Avenue and a helicopter ride (which could span from the capitol to NYC), to "hold the attention of millions of people expected to watch from around the world."