Cuba Gooding Jr. Promises A Powerful Look At The O.J. Simpson Trial In New Mini-Series
The Academy Award winner spoke to BuzzFeed News about playing the controversial O.J. Simpson in FX's upcoming American Crime Story: "Wait till you hear the stuff we're dealing with." Plus, why The Book of Negroes is more timely than ever.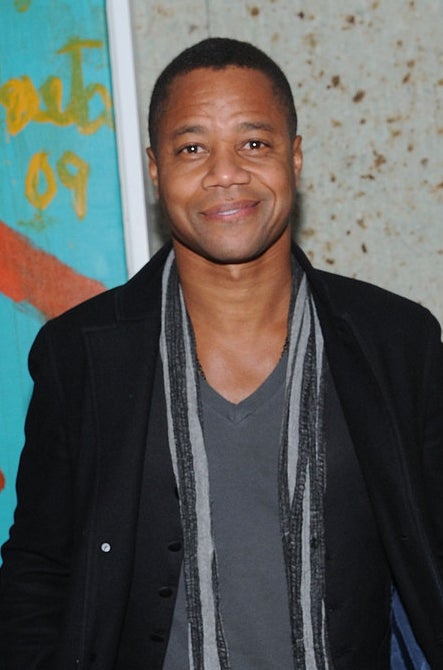 Cuba Gooding Jr. will tackle the highest-profile role of his career since winning the Academy Award for Best Supporting Actor in 1997 when he plays O.J. Simpson in FX's American Crime Story: The People v. O.J. Simpson — a mini-series that will chronicle the high-profile 1994 court case that saw Simpson being tried (and later acquitted) for the murder of his ex-wife, Nicole Brown Simpson, and her friend Ronald Lyle Goldman. But rather than simply sensationalize the already infamous trial, the details of which are seared into the public's collective consciousness, the mini-series has higher aims.
"I'm so excited," Gooding Jr. told BuzzFeed News while promoting BET's The Book of Negroes at the Television Critics Association winter press tour in Pasadena, California. "Everybody's like, 'Oh, he's playing O.J. — funny, funny.' Wait till you hear the stuff we're dealing with. We break apart the Los Angeles Police Department and we go into the aspects of the trial and we really expose a lot of what's going on during that time in America and society and the racial temperature of that time. It's very reflective, it's very powerful, and hopefully very entertaining."
Joining Gooding Jr. in American Crime Story: The People v. O.J. Simpson — which is being produced by Ryan Murphy and Brad Falchuk (American Horror Story) as well as Nina Jacobson (The Hunger Games) and Brad Simpson (World War Z) — are Sarah Paulson as Marcia Clark, John Travolta as Robert Shapiro, and David Schwimmer as Robert Kardashian Sr.
"Ryan Murphy is a true artist and he's got a true vision for this," Gooding Jr. continued. "And I'm so proud to be a part of it. It's going to be an event." As for his personal opinions of Simpson's culpability, Gooding Jr. said, "I can't say anything about my opinion of him because I'm too close to it now. I have to form an opinion and I don't want that to bias anybody. I want them to watch it."
But before viewers get to see Gooding Jr. as Simpson, he will first star in BET's The Book of Negroes, a six-hour mini-series (premiering Feb. 16) based on Lawrence Hill's novel, Someone Knows My Name. Given the fraught cultural climate after recent events in Ferguson and New York City and the deaths of Michael Brown and Eric Garner, Gooding Jr. said this mini-series could not be more timely.
"People are frustrated when they're looking at the value of black life in America when it comes to our institutions, our prisons," he said. "The young people of America are rebelling against what they see as authority figures that are trying to have a double standard in terms of how they view race and people are fed up with it. A lot of times people act out of ignorance — anger and violence comes out of ignorance. And it's projects like this that help educate people and let them know their worth. I think it's just a very timely piece."