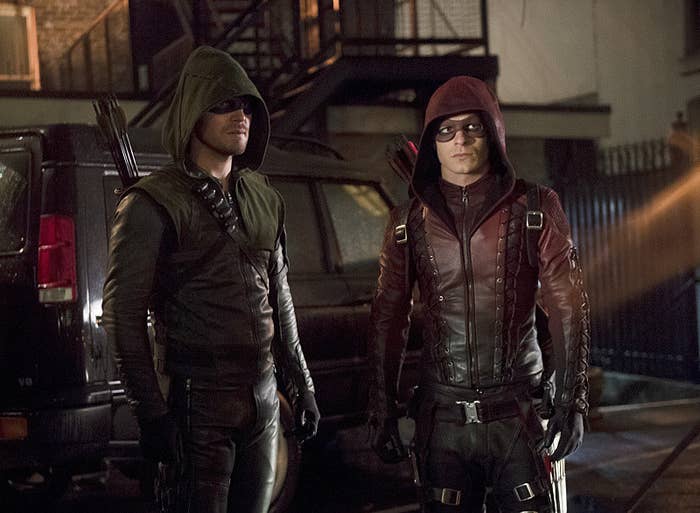 After taking the fall for Oliver Queen (Stephen Amell), going to jail, and faking his death, Arrow bid adieu to Roy Harper (Colton Haynes) in the April 15 episode. The character left Starling City for parts unknown at the end of the installment and BuzzFeed News can confirm that along with Roy, Haynes has exited the show as a series regular.
While the news might come as a shock to fans, Arrow executive producers Greg Berlanti and Marc Guggeinheim tell BuzzFeed News in an exclusive interview that this was always the plan.
"When we made Colton's deal, he was coming off of Teen Wolf where he was beloved, and he had a lot of opportunities," Berlanti said during a recent phone interview. "So we did a trial thing where we said, for his sake and ours, 'We'll just do a bunch of episodes and see if you like it and if you enjoy it.' And he did. Then pilot season came up that year and before another pilot could snatch him up, we made a two-year deal, so we always knew we were on a clock."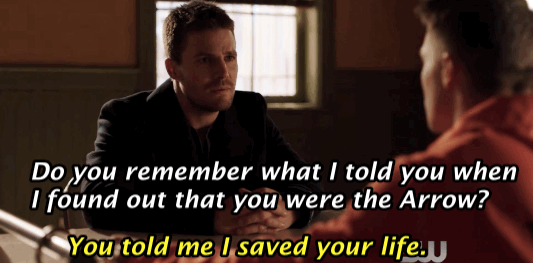 Ultimately, Berlanti is just glad they were able to keep Haynes on Arrow for as long as they did. "We're grateful that he, in the nascent stages of our show, really gave us the time and commitment to help get the show out there and get seen and talked about," he said. "He was such a wonderful element as a character and a person. It was super sad, but everybody kinda looked at each other and realized that he's at the start of, what I'm sure will be, an incredibly incredibly impressive career. It's great that he gets to go on and have that and we got to have him while we did."
Although, the executive producers were quick to add that Arrow fans haven't seen the last of Roy as he'll appear in one more episode this season and could pop up on any of the shows that are part of Warner Bros' ever-expanding TV empire (like The Flash or a new superhero series in development, starring Brandon Routh and Caity Lotz from Arrow and Wentworth Miller and Victor Garber from The Flash). "He said he wanted to be able to come back at any time and we felt the same way," Berlanti said.
While Roy's exit isn't a true death, it does serve as the catalyst for the kind of seismic shift Arrow has historically executed towards the end of a season. "It's going to be really challenging for Team Arrow," Guggeinheim said of the final Season 3 episodes. "First the loss of Roy and there is more stuff coming for the remaining threesome of Oliver, Diggle [David Ramsey], and Felicity [Emily Bett Rickards] that is not going to get neatly resolved by the end of the year. We shot a scene last night where Diggle [David Ramsey] talks about the hurt feelings and broken trust. That will resonate not only through the remaining episodes of the season, but into Season 4."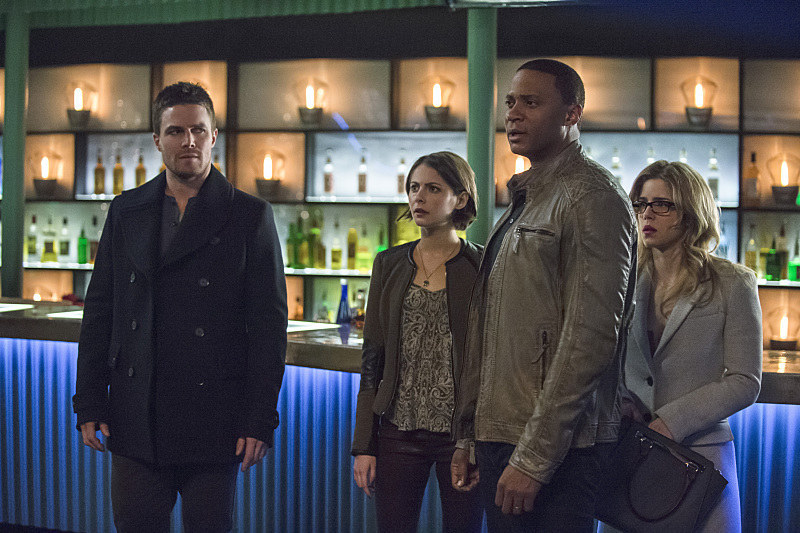 Berlanti added that the final handful of episodes get a lot darker and that's something fans should get used to. "Oliver is going down a whole new rabbit hole," he said, possibly hinting that Oliver finally accepts the position in the League of Assassins offered to him by Ra's al Ghul (Matt Nable).
Whether or not Oliver becomes the new Ra's, now that Arrow, the vigilante, is presumed dead in Starling City, it's safe to say Arrow, the show, is entering uncharted territory. "Once you play the card of the city potentially knowing the identity of your hero and how we undo that, you can't really do it again," Berlanti said. "Every year our challenge is to keep doing more of what's successful and fun, but also make the show different. We've managed to get the characters to a new kind of brink that people won't have seen, which feels fitting [since] they're now three years on this journey together. We're really evolving the characters. We don't feel like we're making the same show and the actors don't feel like they're acting the same show and viewers won't feel like they're watching the same show."
Arrow airs Wednesdays at 8 p.m. on The CW.