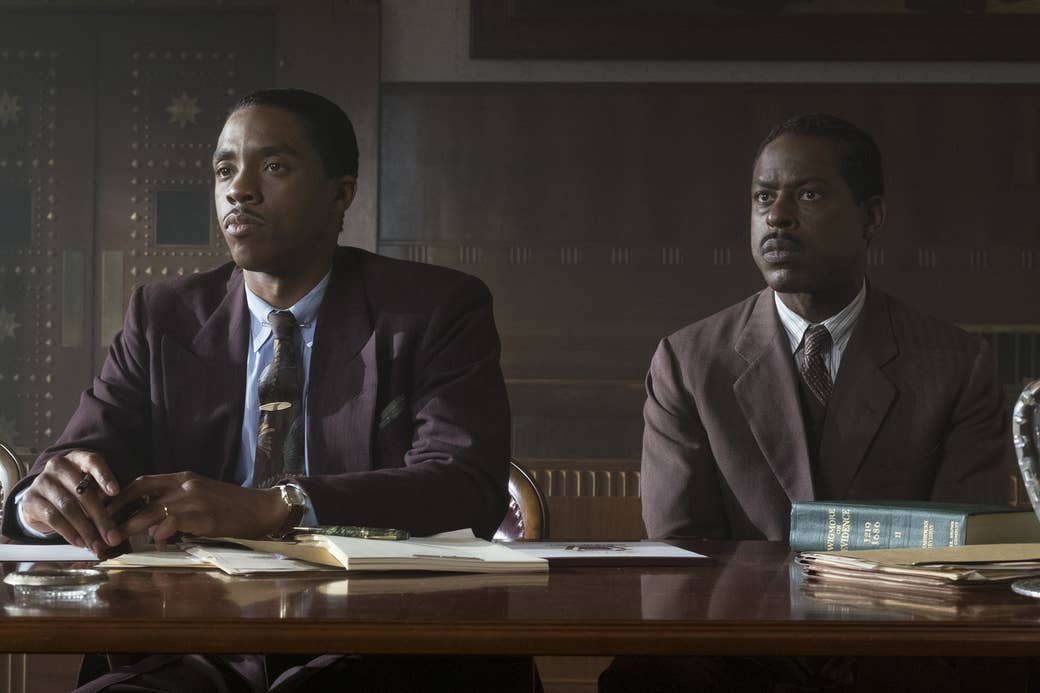 Not too long ago, the idea of two prominent black actors starring in the same film was practically unheard of. So the fact that Chadwick Boseman and Sterling K. Brown share the screen in Marshall — a movie about Thurgood Marshall (Boseman) defending Richard Spell (Brown) after a white woman (Kate Hudson) accuses him of rape and attempted murder — is particularly worth celebrating. "There was a period of time where it would only be one person," Chadwick Boseman told BuzzFeed News. "It'd be Denzel [Washington] in this movie, it'd be [Lawrence] Fishburne in that movie, Sam Jackson in that movie, and Morgan Freeman in this one. ... Very few opportunities where you would see them working together."
So while there's still quite a long way to go until there's true equality in Hollywood, Boseman and Brown are glad to be a part of the improvements that've been made. "I feel blessed to be in a time where I can do this movie with him ... and I can do a movie with Michael B. Jordan and it's okay," Boseman said, referring to Marvel's Black Panther. "It doesn't even have to be such a big deal because the opportunities are not so scarce. And that's an important moment to note."
That progress is reflected in both actors' upcoming projects. In February, Boseman and Brown will reunite in Black Panther, which co-stars Jordan, Lupita Nyong'o, Danai Gurira, Daniel Kaluuya, Angela Bassett, and Forest Whittaker. In addition to working with Susan Kelechi Watson and Ron Cephas Jones on NBC's This Is Us, Brown will co-star with Trevante Rhodes and Keegan-Michael Key in next summer's The Predator.
Brown hopes similar substantive opportunities are afforded to actors of every background. "I want to see a diverse enough landscape where everybody gets a chance to shine," he told BuzzFeed News. "You know, everybody gets a chance to eat ... and not just a tasty side dish, but folks are getting some meat and potatoes into their bodies."