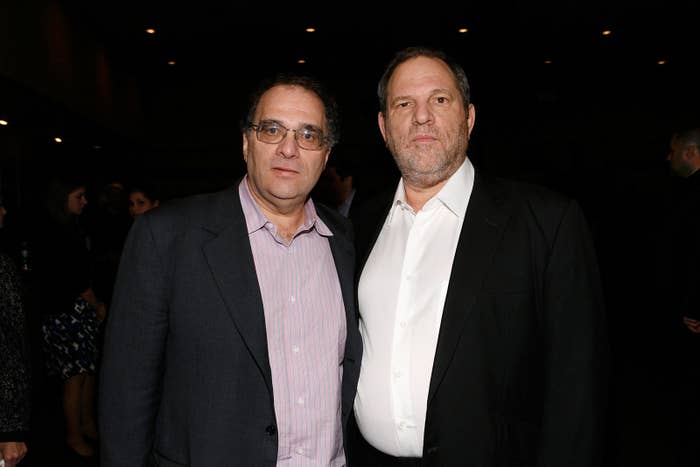 Amanda Segel, an executive producer on the Spike series The Mist, told Variety that Bob Weinstein sexually harassed her during the time she worked on the show, which was produced by The Weinstein Company.
Segel told Variety that during a dinner with Weinstein at Dan Tana's in LA in summer 2016, Weinstein asked her "highly intimate questions and made romantic overtures." According to Segel, he asked how old she was "because he told her he didn't want to date anyone younger than his daughter." Segel also said Weinstein told her "he was staying at the Beverly Hills Hotel because his daughter was staying at his home in Los Angeles."

At the end of the night, Segel said he invited her to his hotel room and she declined. After that, Segel told Variety she declined additional invitations from Weinstein for about three months until her lawyer told The Weinstein Company executives she'd leave The Mist if Weinstein's overtures didn't cease. "'No' should be enough," Segel told Variety. "After 'no,' anybody who has asked you out should just move on. Bob kept referring to me that he wanted to have a friendship. He didn't want a friendship. He wanted more than that. My hope is that 'no' is enough from now on."
Weinstein's representative denied Segel's claims to Variety, releasing the following statement: "Bob Weinstein had dinner with Ms. Segel in LA in June 2016. He denies any claims that he behaved inappropriately at or after the dinner. It is most unfortunate that any such claim has been made." A representative for The Weinstein Company denied to Variety that Segel's lawyer contacted the company.
This allegation comes less than two weeks after a pair of explosive articles in the New York Times and The New Yorker reported that Weinstein's brother and Weinstein Company cofounder, Harvey, has been harassing and assaulting women for decades. As a result of more than 43 women coming forward to share their stories, Weinstein was fired from The Weinstein Company and he may face criminal charges.
While many have accused Bob Weinstein of covering up his brother's crimes, he has denied that he knew about Harvey's actions, telling The Hollywood Reporter, "No F-in' way was I aware that that was the type of predator that he was. And the way he convinced people to do things? I thought they were all consensual situations. I'll tell you what I did know. Harvey was a bully, Harvey was arrogant, he treated people like shit all the time. That I knew. And I had to clean up for so many of his employee messes. People that came in crying to my office: 'Your brother said this, that and the other.'; And I'd feel sick about it."
BuzzFeed News has reached out to a representative for The Weinstein Company for further information.