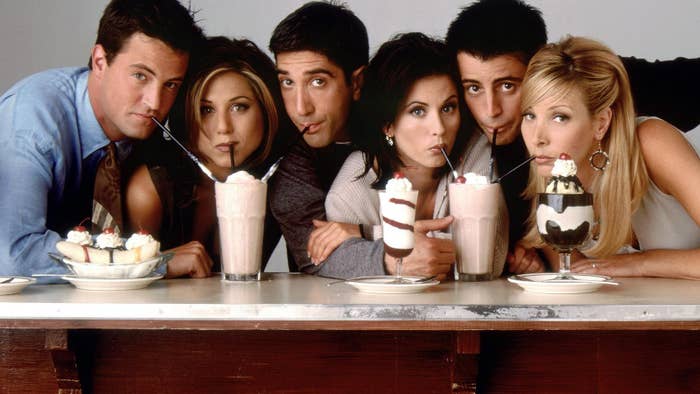 UPDATE
Matthew Perry's publicist tells BuzzFeed News that the actor will not be present at the special because he will be in London, rehearsing for his play, The End of Longing.
Speaking on tonight's The Graham Norton Show, Perry confirmed this and explained that he will be taking part in some way – by introducing the rest of the cast from the UK. When asked about rumors of a traditional reunion, he said, "It's not true. It's not the reunion everyone is hoping for – they are celebrating Jim Burrows who was a director of Friends. The other five [Friends stars] are going to be on this special and I am going to introduce them from London. I'm doing the play here so I can't be there."
Matthew Perry, Jennifer Aniston, David Schwimmer, Courteney Cox, Matt LeBlanc, and Lisa Kudrow will all appear in an upcoming NBC special honoring James Burrows, a TV legend who directed 15 episodes of Friends.
Although the six actors will all participate in the special, they may not "reunite" as many fans are surely wishing.
"I'm hoping all six of them will be all in the same room at the same time, but I'm not sure if we can logistically pull that off," Bob Greenblatt, NBC's chair of entertainment, said at the Television Critics Association winter press tour in Pasadena, California, on Wednesday. Greenblatt's announcement came shortly after TVLine first reported the story.
The special, scheduled to air on NBC on Feb. 21, is produced by Sean Hayes, who worked with Burrows when he directed nearly 200 episodes of Will & Grace. Burrows has been an industry staple for more than 40 years and has directed episodes of The Bob Newhart Show, Laverne & Shirley, Taxi, Cheers, Frasier, and Mike & Molly. Many of the actors from those shows are also expected to appear on the special.