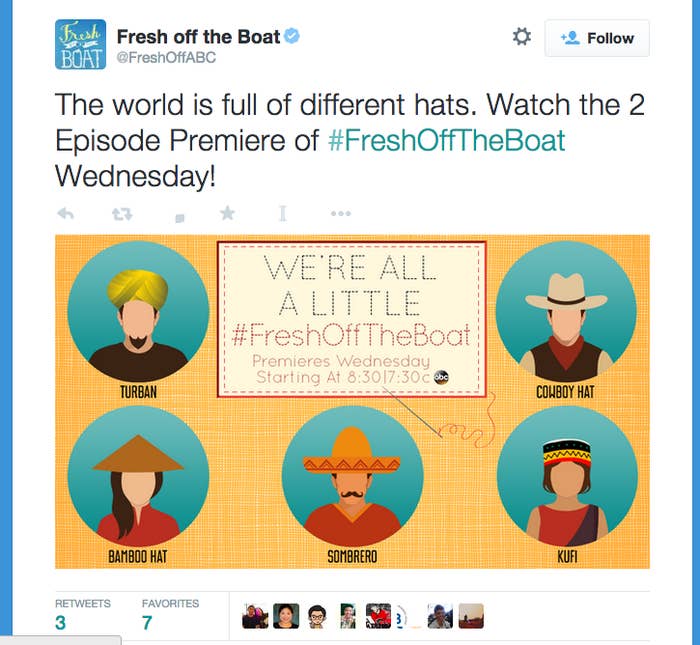 Less than a week before the premiere of ABC's Fresh Off the Boat, the official Twitter account for the show tweeted the above promotional image for the comedy (which has since been deleted), depicting various cultures through their choice of hats. Executive producer Eddie Huang — who wrote 2013's Fresh Off the Boat: A Memoir, the book on which this upcoming comedy is based — immediately kicked off a Twitterstorm, which was mostly a back-and-forth with Wall Street Journal columnist Jeff Yang, the father of Hudson Yang, who plays Huang on the series:
Huang, an author and chef, immediately kicked off a Twitterstorm:
This isn't the first time Huang has clashed with the powers behind Fresh Off the Boat — in January, New York Magazine published an article where Huang called into question the hiring of Nahnatchka Khan (Don't Trust the B---- in Apartment 23), who identifies as a Persian American, as the showrunner on Fresh Off the Boat.
"Why isn't there a Taiwanese or Chinese person who can write this," he told the magazine. "I'm sure there's some angry Korean dude in Hollywood who grew up eating Spam, watching his dad punch his mom in the face, who knows how to use Final Draft!"
ABC's publicity team was only just made aware of the promotional image after Huang started tweeting about it.
When reached by BuzzFeed News, an ABC spokesperson had no comment, saying that the matter was being looked into. A representative for Huang had no additional comment. Representatives for Khan did not respond to requests for comment.
Story developing.