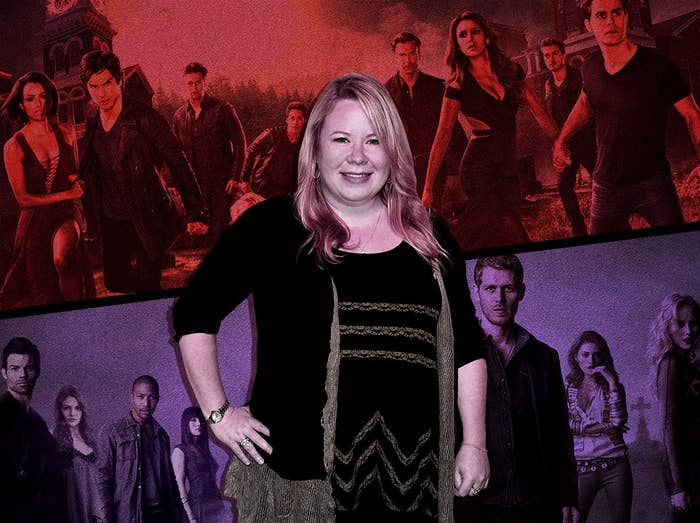 11 a.m. — Julie Plec arrives at work
Julie Plec's black Porsche pulled into her assigned parking spot outside the unassuming office building that has housed The Vampire Diaries writing staff since 2009 (and, since 2013, the brains behind its spinoff, The Originals) almost mid-day on Sept. 2.
While Plec's employees — who number in the hundreds and are spread between Los Angeles and Atlanta, where both shows film — arrived at the office hours ago, the executive producer and showrunner has always done her best work late into the night.
"I'm a night owl; I could work until 6 in the morning without even thinking about it," Plec later told BuzzFeed News. "I tend to go to bed when I'm done working, so there's no way in hell I could turn around and come back into the office at 9 in the morning. I also build in enough time to make sure that I have a good night's sleep, which is a rule I made for myself late in Season 2. I just realized that if I kept everyone else's schedule, I would burn out. So my start time is based on my end time."
As Plec — clad in a black tee and jeans, her hair still wet from the shower — made her way inside, she walked past a row of framed Vampire Diaries posters that serve as an unofficial timeline of the show's evolution: from presumed attempt to capitalize on the world's Twilight infatuation to a pop culture obsession in its own right. Since launching in 2009, The Vampire Diaries has become a signature show for The CW, turned its leads (Nina Dobrev, Ian Somerhalder, and Paul Wesley) into teen idols, lit up social media every Thursday, and launched the first successful CW spinoff ever in The Originals. With the sixth season premiere on Oct. 2, TVD is set to become the network's second longest-running scripted series (behind Supernatural) currently on the air.
Plec's first stop of the day is an impromptu pow-wow with Michael Narducci — a former Vampire Diaries writer who is now the co-executive producer on The Originals — in the massive kitchen that serves as the equator between the two hemispheres of Plec's world. As Plec switches between water and Diet Coke with Splenda, the two craft an informal schedule for the day. She will begin the morning hearing TVD story pitches, participate in a conference call with The CW to get their thoughts on the upcoming episodes (referred to within the industry as a "notes call"), and wrap up her day with The Originals writers. With that plan in place, the two share a nod, and go their separate ways for now.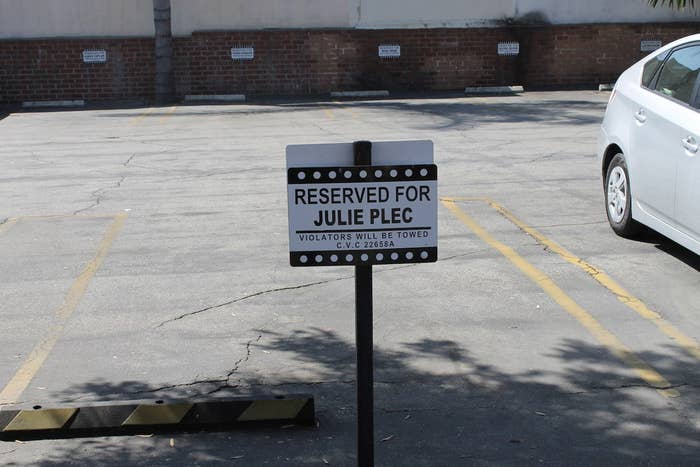 11:16 a.m. — The Vampire Diaries writers room
Two things immediately jump out about The Vampire Diaries writers room. One is that a massive TV in the corner is playing unedited footage — called, in industry parlance, "dailies" — from the Atlanta set on a loop, displaying every take from every angle.
"It's just efficient," Plec said. "The joke of being a showrunner is that people ask how you get it all done, and you don't. The list of things I don't get done in a given day is longer than the list of things I do. And one of the things that's first to go is watching dailies. There's nothing I can do about what's already been shot, so I've decided that spending the five hours scrolling through what was shot instead of moving forward is not the best use of my time. But this way I can see out of the corner of my eye if a director isn't using enough movement, if the close-ups are too tight, or if someone's hair looks terrible, and I can make adjustments."
The second thing that's palpable is the sense of camaraderie permeating the room. As Plec walked in, the room erupted in excited greetings (akin to Norm's Cheers greeting) from the writers, who seem genuinely excited that Plec has arrived. That air of familial cheer is something the 42-year-old actively cultivated by instituting an unofficial No Assholes Policy. "Unlike working on a feature film, there is no end date to this process," said Plec, "and, unlike a feature, you're spending every single day with these people, sometimes for upwards of six years, and one bad personality apple can really ruin the room."
One of the most important ways Plec discovered she could create this welcoming environment was by essentially eradicating the importance of titles within the writers room. "I didn't come up through title politics, which can be the worst," she said. "Other showrunners will tell you a million horror stories about the hierarchy of who's supposed to talk the most and who's supposed to be quiet. I've never played by those rules. So it's easy to create a comfortable environment when you're not over- or under-empowering someone because of their title. Therefore, personalities tend to come out and flourish."
11:30 a.m.
After pleasantries were exchanged and everyone re-settled into their seats, all eyes fell on executive producer Caroline Dries. The morning's first task was to run through Episode 10 and hear her pitch for the hour, which will serve as TVD's midseason finale. Dries — or Driesy, as the staff calls her — is the perfect example of Plec's business model at work. Dries came to TVD having written on Smallville and the network's Melrose Place reboot, but over time ascended to become Plec's second in command, and now co-runs the series.
The same goes for Michael Narducci, who now co-runs The Originals; he was a TVD executive story editor and writer that Plec handpicked to lead the show's spinoff. While Plec doesn't play title politics inside the writers rooms, outside, she is committed to moving talented people quickly up the ladder, an attitude that was directly informed by her professional ascent years earlier.
"The people I worked for before I was doing Vampire Diaries were very generous to me," Plec said of working for director Wes Craven (she began as his assistant on 1995's Vampire in Brooklyn), his longtime producer Marianne Maddalena, and Kevin Williamson, who began working with all three with 1999's Scream.
"I was promoted before I had to ask for it, I was given bonuses without having to demand them; Marianne and Wes were incredibly generous to me and then Kevin was the guy who would go to bat to make sure I got full producer fee and credit when I was 26 years old on a series we produced together. So I feel like, that's just what you do when you believe in someone and believe in their talent: You should nurture them and encourage them."
She continued, "There was a writer, who will remain unnamed, that, in Season 3, said, 'I don't know how much longer I can work on a show that's not mine. It gets hard, day after day, working on someone else's show.' I said, 'You're looking at it all wrong. This can be your show. There's no reason why it shouldn't be your show. If you can grow into a position where it is your show, that just means I don't have to work as hard.'"
At the moment, however, there is still a lot of hard work to be done, despite Plec tapping talented people to run each show by her side. A normal day for Plec clocks in around 18 hours and includes several hundred emails that run the gamut from signing off on new promotional artwork and approving wardrobe choices to viewing casting tapes and approving rewrites from the set, to watching rough cuts of episodes, scheduling interviews, and the general minutiae that fills up her days. "Paul Wesley made a joke once," Plec said. "He said, 'If you ever fall in love, we're so screwed.' And he's right. If I ever fall in love, I will be like, 'See you, work! I'm going on a date!' Being able to juggle all this is part of the workaholic in me — for now..."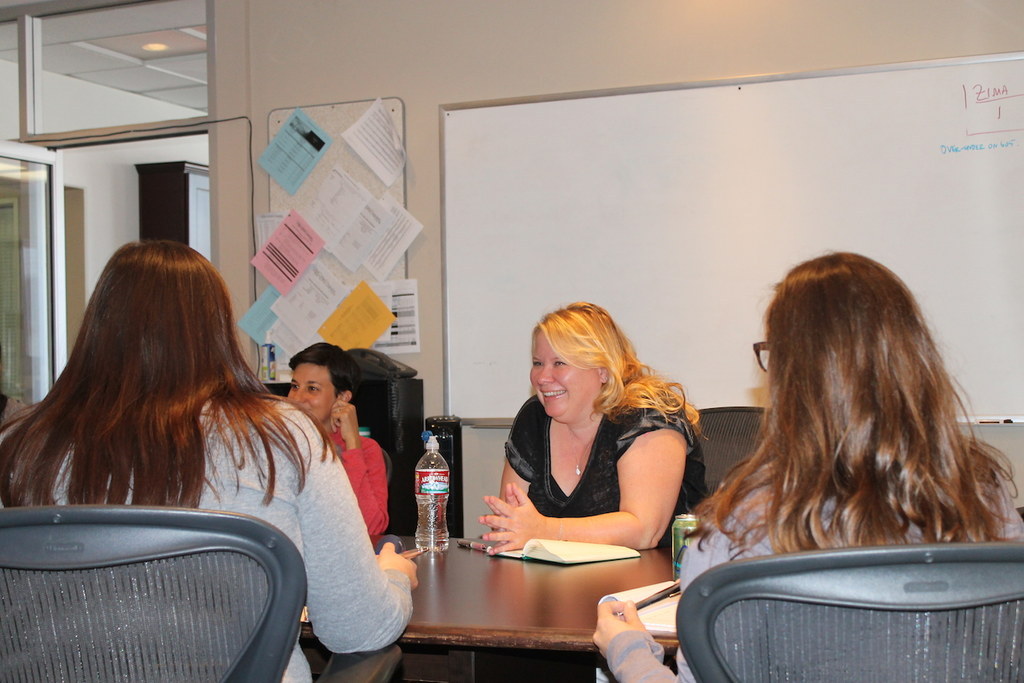 12:12 p.m.
Dries finished her pitch and the room clapped; surprisingly, it was not the day's final round of applause by a long shot. Then Plec turned to the green notebook she had been jotting notes in and began to go back over the pitch, beat by beat, with suggestions, tweaks, and praise.
She repeatedly restated the season's big theme — You can't go home again — to remind the writers to reinforce the metaphors in each episode, suggested they find a medical consultant to ensure an upcoming storyline is grounded in reality, and debated the implementation of special effects ("our favorite," she deadpanned) in the episode's awesome-sounding climax.
Once Episode 10 was thoroughly discussed, the room turned its attention to Episode 11 and began hashing out rough plot points, act breaks, and possible deaths. While in the end, no characters were harmed in the making of this episode, a TV show writers room is quite literally a Choose Your Own Adventure novel. Down one path, a character is murdered and that drives the story in a certain direction. Down another path, a different character is turned into a vampire, which throws the season for an entirely unexpected loop. It reinforced the reality that people's livelihoods ultimately hang on every decision made by the seven people in this room.
"The funny thing about the entertainment business is that we all feel like kids playing in a candy store, but we are entrusted with millions and millions and millions of dollars and an entire industry that can thrive or die on whether or not we do our jobs well or not," Plec said. "So it feels humbling and awe-inspiring to think, I'm in charge here. This is big. It makes you feel very proud and happy that it went the right way, because it could just as easily go the wrong way."
And Plec is the first to admit the show, and she, have taken some missteps along the way. "We made several mistakes over the course of five years in trying to one-up our mythology each year and then you find yourself drowning in mythology that's so convoluted, audiences need to watch your show with a bible to figure out what's going on," she said, with a chuckle. "That's us letting the mythology get away from us. When you free yourself from that and say you're going to get back to tension and mystery and suspense and our mythology will be clear and direct and character-driven, you feel this beautiful wave of fresh storytelling wash over you. But you have to free yourself of expectations of having to top yourself."
As the pitch session began to wind down, one of the writers threw out the idea of a magical key. When pressed by Plec to explain the origin of the key, how it got to Mystic Falls, and how it would factor into the season at large, the writer fell silent and the idea was quashed. This is indicative of a larger storytelling rule Plec put in place years ago.
"There are a lot of writers that came through this show that have those great, I'll call them Twilight Zone pitches, because I don't want to actually name the two shows that do this all the time, which I resent," Plec said, suddenly serious. "There are writers who will pitch, 'There's a body buried in the forest and in the last scene of the episode, someone is digging and digging and digging and then it's a skeleton! And that's the show out!' And I'm like, 'OK, but who's the skeleton?' To me, it very much matters we have answers before we put things like that into the show.
"This train moves so fast that if we don't know how we're answering that, we'll have a crappy payoff. I don't think ending a show on a wow matters if you can't pay it off. That negates the wow. The audience may not know it yet, but you do as a writer, and as a writer, you should be ashamed of yourself."
Plec's steadfast dedication to banning the unfounded wow has been reinforced over the past few years, as Netflix and TV on DVD have become more omnipresent ways that people consume entertainment. "For storytellers who were raised in the world of 'What's the cool wow?' that was pre-DVD and pre-Netflix and pre-watching a show 75 times," she said. "The burden of the binge-watch didn't use to be on us as storytellers. Now, it's like, if you make one mistake, someone on Netflix is like, 'But, wait, just last episode, you said it that way.' Your fans know more about your show than you do at a certain point, so you can't get tricky like that."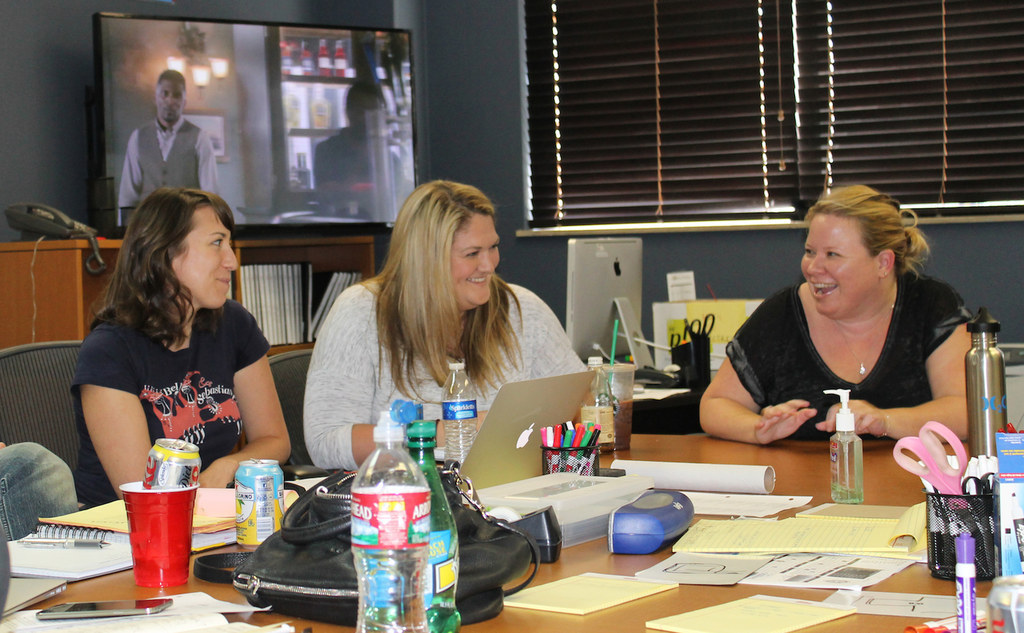 1:30 p.m. — Lunch break
After nearly two hours of brainstorming, The Vampire Diaries and The Originals writers pause their respective rooms to eat. Instead of retreating into her office or assembling senior staff for an elite lunch hour, Plec headed into The Originals writers room, where everyone began to recap their long holiday weekends over a meal.
"I'm a little bit like Jerry Maguire: A terrible fear of being alone, so for me, I love the camaraderie and community of a writers room," Plec said. "Mostly, you get so lonely when you're writing. If all you did was break story on your own, like a feature writer, you'd be so lonely. And it would be hard to break 22 episodes a year if you didn't have a group of people who were there to pitch ideas. Having a room full of storytellers that are meant to be collaborating, the structure of that keeps things on track and it keeps people invested in the global show and not just in their own episode contributions."
The benefit of a truly supportive support staff was arguably the most important lesson Plec has learned as a writer — and one she truly learned the hard way. In 2011, as TVD was headed into its third season, Kevin Williamson — who had co-executive produced the first two seasons — reduced his role on the show in order to focus on The CW's witchcraft drama, The Secret Circle. Suddenly Plec found herself with the keys to a multimillion dollar castle and an equivalent amount of fears.
"The weight of the show was left to me and I didn't want to be the one to screw it up," Plec said. "I didn't want anyone to say, 'Kevin left the show and Julie ran it into the ground.' I worked very hard in the first eight episodes of Season 3 to make sure I could stand behind every single word and every single story point, and I did a lot of writing and a lot of work and almost had a nervous breakdown because I was so exhausted and overcommitted that I shut a lot of people out of the process. We got to a point where everything was behind and I realized if I didn't get out of bed tomorrow, or didn't have a solution to a problem, I had no one who could help me. I realized I had actually done myself a tremendous disservice by trying to make it all my voice. I stopped instantly, evaluated everyone's strengths and weaknesses and started building them up, so, before the year was out, they could run the show without me. It was a real turning point for me professionally."
1:53 p.m. — The Originals writers room
While The Vampire Diaries writers room is aptly dark and sunless, The Originals writers room is bathed in so much sunlight, the blinds must be closed. That shade was especially helpful as Marguerite MacIntyre, a TVD actress (she plays Sheriff Forbes) turned writer for The Originals, was Skyping in from New Zealand.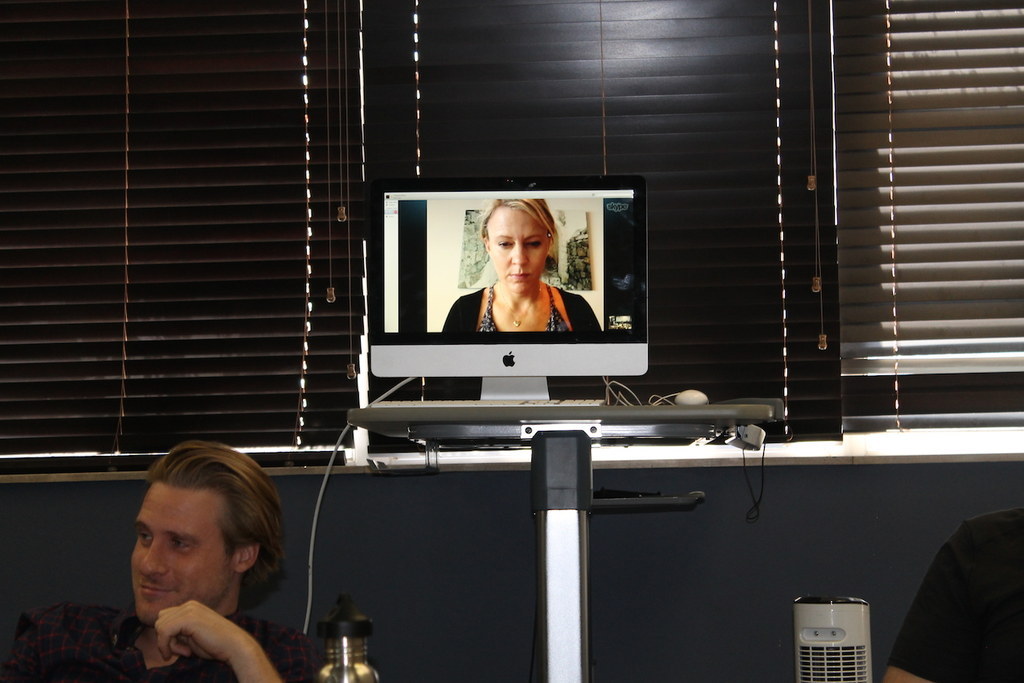 The other major distinction between the two rooms is the intention of the storytelling. While both shows aim to entertain, Plec said that, in Season 6, TVD is now about the fates of the characters while The Originals, in Season 2, is still very much about establishing the motivations of the characters while adhering to all the rules set forth by the mothership show. Navigating that delicate balance has proven unexpectedly tricky for Plec.
"What's hard is when one show accidentally mirrors something on another show without realizing it's a mirror," she said. "For example, both shows had events in the works that were similar and it didn't occur to me until today. Also, we came across a magic rule that was created on Vampire so therefore we can't reuse it on The Originals. Last year, we realized at the end of the year that The Travelers were trying to take back Mystic Falls and get the vampires out, but that's what the werewolves were trying to do in New Orleans. So without realizing it, we'd almost given a duplicate drive for our villains."
While the onus to recognize these similarities does fall directly on the writers' assistants, Plec insisted long ago that everyone on staff self-police so the two shows feel as distinct as possible.
Another unexpected hurdle she faced in launching a spinoff cropped up in brainstorming sessions. As both shows revolve around supernatural creatures trying to survive and thrive, similar storylines were repeatedly pitched. So, in order to avoid playing favorites, Plec decided that whichever show pitched an idea first got to run with the storyline. Well, almost always. There were times when she had to take a step back, look at the franchise as a whole, and put one show ahead of the other.
"Last year, we had talked about the body jumping for The Originals and then I got pitched that Katharine (Nina Dobrev) would take over Elena's (Dobrev, again) body," Plec recalled. "We'd intended to kill Katharine in the 100th episode, but the writers came in with a story that extended her life in a really great way, and gave us some great juicy plot twists, so I had to go in and put the brakes on that story in The Originals room because what they were trying to do was less impactful on the season than what the writers wanted to do on The Vampire Diaries. If it's something that's part of canon in Mystic Falls that seems redundant or we'd be duplicating ourselves, the mothership wins."
Although The Originals is still in its nascent stages, Plec is incredibly proud of the world she created with Narducci — although she's the first to place much of the credit on his shoulders. "I think The Originals is, in a way, more Narducci's voice than mine," she said. "That's a true compliment because I think it's an incredibly sophisticated and smart and wonderful show and that has much to do with the intelligence and poetry of his writing. I could have written it entirely, been a credit hog and a word hog, but it wouldn't be as good."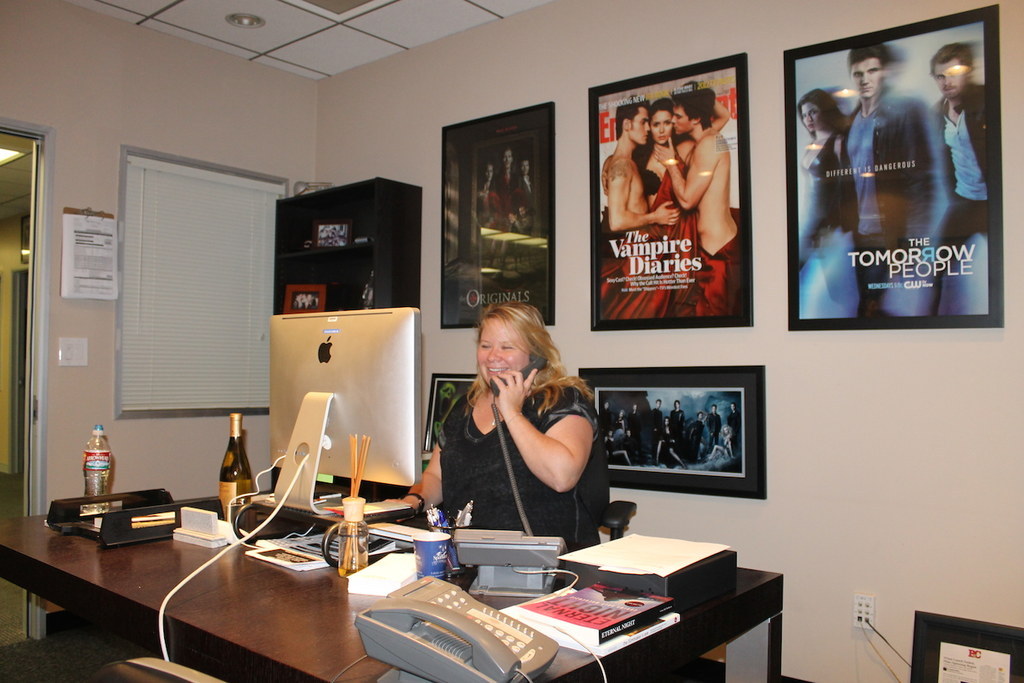 3:30 p.m. — Notes call with Warner Bros. Television
As is standard practice in television, nearly every week the executive producers speak with the studio (in this case, Warner Brothers Television) to hear their thoughts, questions, and concerns about upcoming scripts. These closed-door meetings have gotten longer as Plec has become responsible for more current and upcoming series — a fact that still astounds Plec, since this is a career path she never intended to walk down.
"The one thing I was certain I would never, ever, ever, ever be was a writer," she said, with a laugh. "I didn't think I was any good at it, I didn't think I had the gift for dialogue, I didn't think I had the storytelling skills to put words on the page in the way that Greg [Berlanti, Plec's friend since college and executive producer of Everwood and Arrow] or Kevin have. I set out to work with writers, be a help, a sounding board, or a muse to them."
She continued, "In doing so, I got a lot of experience writing as them to help them out. 'Here, I wrote these two scenes for you that shoot in a day. See if you like and change what you don't.' Years of trying to write in their voice actually made me perfectly equipped to get into television and write in other people's voices. Like on Kyle XY, I produced it and then I became a writer on that show, so I was mimicking the voice of the show that had already been established. Vampire, early on, I was mimicking Kevin's voice. Success grew from there with my own confidence."
Given that atypical route to writing, it took a while for Plec to truly trust her instincts. Looking back on the last six years, Plec would impart one piece of advice to herself, circa 2009, when TVD was taking shape: "You will earn your confidence."
"When I started, I didn't have it," said Plec. "And every move was excruciating and every detail was so heavily controlled. Not out of confidence, but out of fear. It took a while and was hard in the beginning, but once I felt confident, I started trusting my instincts and every decision was made from a gut decision or a gut response or trying to over control things. It got better."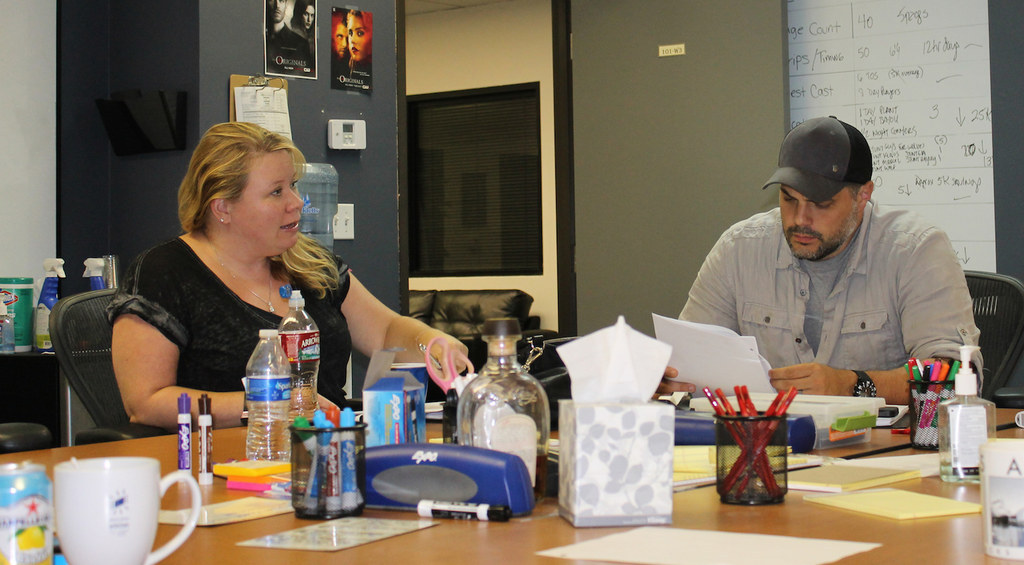 4:30 p.m. — Long-lead Originals planning
After Plec ended her call with Warner Bros., she faced a jam-packed afternoon: Listen to writer Ashley Lyle's pitch for Episode 10, begin to plot Episode 11 and 12, screen casting tapes for a major new character, and approve ideas for an upcoming webseries starring Nathaniel Buzolic's character, Kol. Throughout all those tasks, Plec's high-tech watch repeatedly chimed, a signal she had received a new email ("My watch buzzes 15 times in the span of 10 minutes," she said, reinforcing the sheer volume of emails received every day).
But Plec thrives on the madness. "I'm the kind of person who, when I find myself with nothing to focus on, I get a little edgy," she said. "I spiral a little bit because I'm so used to being so busy. I have to schedule in, 'This is the night I want to have nothing to do.'"
So after running through Lyle's pitch, beat by beat, with Narducci, tweaking scenes, act outs, and the episode's title, Plec turned her attention to the handful of other looming tasks.
Having previously tackled the second season of a television show imbued Plec with the skills required to, she hopes, avoid the dreaded sophomore slump. "Weirdly, people always used to say that it gets easier and I would laugh," she said. "I thought the second season of Vampire Diaries was as hard as, if not harder than, the first. And the third, trying to do it alone was incredibly difficult. So the latter half of the show has been easier because I recognized there was a whole team of people here that could do this with me, and, therefore, I'm not on this island by myself. For me, it's been so much fun watching other peoples' points of views and ideas and voices bleed onto the page. I always say, I never want the show to suck. I want to go out being able to say there was never the hate-watch season. People will obviously hate certain storylines or romantic pairings, but when all is said and done, if you stack the seasons next to one another, I genuinely feel we've done really good work every season of both shows."
6:30 p.m. — End of day recap with Narducci
Plec ended her day as it began: with her Originals counterpart. She and Narducci recapped what worked, what didn't work, and what should be working better. Overall, the two felt their long day was ultimately a success. The episode Lyle pitched provided an excellent spine for Episode 10, the writers came up with a potentially astounding lynchpin character for Episode 11, the webseries is developing nicely, and they saw a legitimately exciting actress for the new role.
"I'm very proud of The Originals because it's mine and Narducci's and it's so good," Plec said, as a smile erupted on her face. "But it's new. It's the new toy. Vampire Diaries is my security blanket — and I don't mean that financially. I mean that emotionally. Originals is the scary thing; it's challenging and fascinating while Vampire is Chicken Soup for the Soul."
7:22 p.m. — Last looks
With The Vampire Diaries and The Originals writing staffs long gone, and only a few bodies left in the office, Plec found herself with a rare moment of quiet inside her office, a non-ostentatious room covered in memorabilia from her nearly 20-year career: a poster for Stab — Scream's movie-within-a-movie — Teen Choice surfboards won by TVD, a Paul Wesley cardboard cut-out, blown-up TVD magazine covers, posters for The Originals, a cartoon rendering of The Tomorrow People, and — oddly — a framed button-down shirt.
(When asked later of the shirt's significance, Plec wrote in an email to BuzzFeed News, "During an episode last year Matt Donovan [Zach Roerig] was wearing that shirt. When I saw the cut, I couldn't believe anyone had let him wear it, so I made a funny stink of it in my editorial notes — something about burning the shirt, burying it, shredding it, whatever. It became a private joke in the office. For Christmas, we do Secret Santa, so the writers of that episode who had approved the shirt had it framed for me as my gift. It now hangs proudly on my wall, where it's still ugly.")
As Plec sat behind her monitor, surrounded by physical representations of her daily workload, she made it clear that dedicating so much time to work has never felt like a sacrifice. "If you ask any of my friends, they'll say that instead of going out on dates or having a life, I'm buried in my work," she said. "But I don't mind the amount of work I put into these shows because I like it. If I hated my job I would put in less work and I would be miserable. But it makes me happy."
And while the day will come when eventually Plec will have to put Mystic Falls behind her, there are no plans for that day to come any time soon. "It's always going to be a balance of what the studio and the network want versus what I want and what I know I can do," she said of setting an end date for The Vampire Diaries. "I have my own ambitions; I want to create another show and I'm going to direct an episode this season, so I'm not sitting huddled around my two shows, screaming, 'I'll never leave!' But on an emotional level, to walk away would be absolutely devastating. I don't know that I could ever step away clean. I don't know that I could ever stop thinking of The Vampire Diaries universe as homebase, despite my ambition."
8:29 p.m. — Lights out
After a flurry of emails are sent and her assistant is consulted about tomorrow's workload, Plec powered down her computer, assembled her bags, grabbed her keys, turned off the lights in her office, and walked back past the floor-to-ceiling cast photos that greeted her 10 hours earlier.
Six years after The Vampire Diaries moved into these offices to produce the first season, Plec still finds herself — particularly on her way home — bowled over by the size and scope of what her teams have just spent the day creating.
"Every now and then, at the end of the night, when I'm walking out to my car, I have one of those 'Goodnight, Gracie' moments," Plec said. "I'm turning the lights out, looking at the posters on the walls, taking in the enormity of the joined offices, of the two shows, of the massive suite across the hall, and I think, 'This is pretty special. Most people will never get to experience this.' And that's pretty amazing."
The Vampire Diaries premieres Oct. 2 at 8 p.m. on The CW. The Originals premieres Oct. 6 at 8 p.m. on The CW.